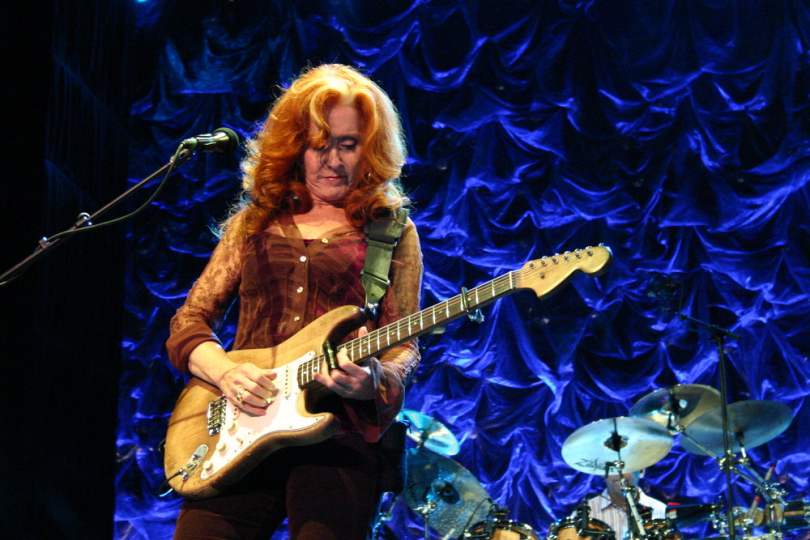 "Bonnie is as true-blue an artist as anyone before or since. She might be singing pop or she might be singing R&B, but she's never far from the source. She has become part of the source herself. She's a master," said Raitt B.B. King about Bonnie. | Photo: Boz Bros (Flickr)
20 Blues Female Guitarists You Need to Know (Part 1: The Founding Mothers)
Blues music has many unique characteristics. One of them is the fact that throughout its evolution, actually from the very beginning, the traditional musical "men's club" has been decently hacked by women – and not only in the traditional role of singers behind the microphone. In the 20s and 30s, when the now-legendary and extremely influential blues singers of the Mississippi Delta were almost begging in the streets, their female counterparts like Ma Rainey and Bessie Smith were commercially successful and, one might say, wealthy artists for their time (and in the context of the harsh racial segregation of the American South). The scene features so many great guitar personalities that a basic overview of the most important ones must be divided into two parts.
1. Elisabeth Cotten (1893–1987)
In terms of year of birth, this left-handed guitarist playing a guitar strung in the classic right-handed style is the oldest traceable blues female guitarist, and her story is incredible. Originally from North Carolina, she worked from the age of nine and it was around that time that she also began playing and writing her own songs. She got married at seventeen and gave up the guitar. It wasn't until she was sixty, when she started working as a housekeeper in the musical family of the Seegers, that she remembered she had once played guitar herself, and basically relearned her original style from scratch. Her song "Freight Train" became a folk revival hit, which was sung by Bob Dylan, Joan Baez and Jerry Garcia. She toured major festivals including Newport, and even won a Grammy in 1984, three years before her death.
2. Memphis Minnie (1897–1973)
The first female guitar star of her time and a very emancipated lady with all that entailed. Before she became one, she was making a living on the corners of Memphis' famed Beale Street with her guitar (and when that wasn't enough, allegedly with her own body). She was married three times, each time to musicians she worked with who usually broke up with her because they were jealous of her fame. She achieved her major success in Chicago, where she recorded her biggest hit, "Me and My Chauffeur Blues", but also "When the Levee Breaks", a song that Led Zeppelin made famous among the rock generation. Memphis Minnie was a brilliant guitarist who switched to electric guitar in 1941. She didn't stick to one blues style, her range included contemporary hits and even hints of jazz. Sadly, she ended up in obscurity and poverty, her tombstone was paid by Bonnie Raitt as a tribute to her distinguished predecessor.
3. Etta Baker (1913–2006)
The guitarist from North Carolina is the personification of the so-called Piedmont blues, a style linked to guitar ragtime characterised by perfect fingerpicking. She mastered the six-string and twelve-string guitars and the five-string banjo, and late in life was not afraid of the electric guitar. Etta was never a music professional, instead, she supported herself with odd jobs and played the guitar as an amateur. She made her first recordings in 1956 and began releasing albums in the 1990s. She worked with Taj Mahal, among others, and was admired by Kenny Wayne Shepherd, who jammed with her shortly before her death as part of his project 10 Days Out: Blues from the Backroads.
4. Sister Rosetta Tharpe (1915–1973)
Not for nothing is she called the Godmother of Rock 'n' Roll. Although she played other guitars for most of her life, thanks to several crucial video recordings, she is mostly remembered with a snow-white Gibson SG, which the company now produces as her signature model. She started playing guitar at the age of six and was considered a child prodigy. She performed at evangelistic meetings, and all her life remained loyal to gospel music, which she played with a strong blues feel. She began recording in 1938, and her very first songs became hits that were later loved by artists such as Elvis Presley. She influenced many other early American rock'n'roll musicians including Johnny Cash and Little Richard, and her 1964 tour of England with Muddy Waters was the first live glimpse into the real world of blues for personalities such as Eric Clapton, Jeff Beck and Keith Richards.
5. Jessie Mae Hemphill (1923–2006)
This native of the small town of Como, one of the epicentres of the style known as Hill Country Blues, may not have been a virtuoso, but there's one important thing no one can deny her. If you look into this blues sub-genre, whose most famous representatives are R.L. Burnside and Junior Kimbrough, and which inspired for example The Black Keys' early albums, you will only find male musicians. Indeed, Jessie Mae Hemphill is probably the only known and recorded female representative of this style which is characterised by an insistent groove and defies most of the established rules of the blues twelve. She was also a distinctive singer-songwriter, and the "big" blues world honoured her twice with the prestigious W.C. Handy (today's Blues Music Awards).
6. Odetta (1930–2008)
She was one of the biggest stars of the folk revival of the 1950s and 1960s, whose broad repertoire contained gospel and folk songs alongside blues, and she had a unique way of accompanying herself on guitar. Her fans included Bob Dylan and Janis Joplin. Odetta was aiming for a professional singing career from an early age, even training in opera singing and performing in theatres. However, she found her true place in the music scene during the revival of folk music and remained there until her death. Like Aretha Franklin, for example, the fight for civil rights was an integral part of her artistic career.
7. Beverly "Guitar" Watkins (1939–2019)
One of the first female electric guitar "pyrotechnicians" in the blues. She started as a bassist, then switched to guitar, and although she never left the music scene (she worked with B.B. King, James Brown, and Ray Charles, among many "no-name" groups and artists), it wasn't until 1999 that she made her solo debut with the ironically titled album Back in Business, for which she was nominated for a W.C. Handy Award. Unfortunately, she didn't have time to catch up with what she rightfully deserved.
8. Peggy "Lady Bo" Jones (1940–2015)
The New York Harlem native earned the nickname "Lady Bo" as a member of the band of famous electric bluesman and rock 'n' roll pioneer Bo Diddley – he recruited the young girl in 1957 when he happened to see her walking down the street with her guitar (which she had only been playing for two years at the time). She stayed with Diddley until 1963 but then remained on the music scene for the rest of her life, although she never made it big. Nevertheless, she is considered one of the first female guitarists to play rhythm & blues – but with a truly rocky touch. It's not without interest that she experimented with the guitar synthesiser after its invention, which is certainly not common in this kind of music.
9. Rory Block (1949)
Without exaggeration, a guitar virtuoso and arguably the best still-active interpreter of early guitar blues styles, especially those of the Mississippi Delta – which is why she is also one of the notable slide guitarists. She emerged from the heart of the folk and blues revival in the 1960s – her father had a store right in New York's Greenwich Village, "where it all began." She was lucky enough to be around such stars as Son House, Mississippi John Hurt and Reverend Gary Davis, who introduced her to their way of playing. She made good use of this training on a long series of albums, some very successful in the blues world, for which she has received six Blues Music Awards. Today, she is one of the major celebrities of her genre.
10. Bonnie Raitt (1949)
We recently wrote about her in connection with her excellent slide technique on electric guitar. Although Bonnie Raitt has been transcending the blues genre all her life – sometimes turning to pop, sometimes to folk, rock, maybe even to country – she always returns to the blues because she feels it and knows it like few others. Even B.B. King was blown away by her and said: "I came up in a macho world and never thought I'd ever declare the best living slide guitarist to be a woman. Well, I am declaring. I'm also saying Bonnie is as true-blue an artist as anyone before or since. She might be singing pop or she might be singing R&B, but she's never far from the source. She has become part of the source herself. She's a master."
If you have found an error or typo in the article, please let us know by e-mail info@insounder.org.