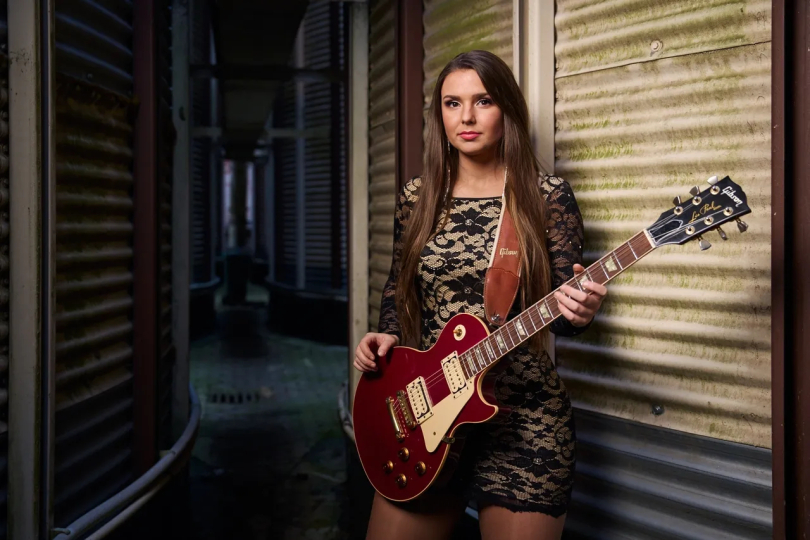 At the age of just twenty-four, the phenomenal guitarist Ally Venable has five albums to her name and numerous awards. | Photo: TIno Sielin
20 Blues Female Guitarists You Need to Know (Part 2: The Daughters – Successors)
Blues music has many unique characteristics. One of them is the fact that throughout its evolution, actually from the very beginning, the traditional musical "men's club" has been decently hacked by women – and not only in the traditional role of singers behind the microphone. In the 20s and 30s, when the now-legendary and extremely influential blues singers of the Mississippi Delta were almost begging in the streets, their female counterparts like Ma Rainey and Bessie Smith were commercially successful and, one might say, wealthy artists for their time (and in the context of the harsh racial segregation of the American South). The scene features so many great guitar personalities that a basic overview of the most important ones must be divided into two parts.
1. Debbie Davies (1952)
The Californian guitarist had her star moment in the late 1980s and early 1990s when she backed Albert Collins himself in the band The Icebreakers. She's also worked in some rather bizarre groups, such as Maggie Mayall and the Cadillacs, led by the wife of British legend John Mayall. But as a solo artist, this stylistically uncompromising electric blueswoman has been very successful, releasing half a dozen albums and winning two prestigious Blues Music Awards.
2. Deborah Coleman (1956–2018)
She started playing the guitar at the age of eight, but for a long time, she was a convinced rocker. It wasn't until she attended a real "dream concert" at the age of twenty-one, when Howlin' Wolf, Muddy Waters and John Lee Hooker shared the same stage, that her life changed. She began to search for her roots, with blues figures such as Albert Collins, Freddie King and Buddy Guy taking the lead in her music. On the other hand, rock divas Patti Smith and Chrissie Hynde are often mentioned in connection with her as well. Deborah Coleman sadly died prematurely from complications related to pneumonia.
3. Joanna Connor (1962)
A guitarist and singer originally from New York made arguably the best decision of her life when she moved to Chicago in 1984. There she was able to let go of her love, the electric blues, and eventually shared the stage with its local exponents James Cotton, Junior Wells and Buddy Guy. On the blues scene today, Joanna Connor is one of the most pursued guitarists. Her latest album, 4801 South Indiana Avenue, was produced and released on her own label by Joe Bonamassa.
4. Sue Foley (1968)
The current Blues Music Award winner in the Traditional Blues Female Artist category comes from Canada. She was introduced to the blues through her father's record collection. As a young girl, she was drawn to early Rolling Stones albums, in particular, the songs by Willie Dixon, McKinley Morganfield (Muddy Waters) and Chuck Berry – and discovered the vast world of blues on her "journey back" to the recordings of these giants. She made her entrance onto the music scene in the early 1990s when she shared a concert with the phenomenal guitarist Duke Robillard. In addition to her own work, she enjoys contributing to projects honouring various musical greats, including Robert Johnson, Fred McDowell and Bob Dylan. 
5. Susan Tedeschi (1970)
Today, everyone sees her primarily as a singer and more or less the backing guitarist for her husband's slide runs in the Tedeschi Trucks Band, but it wasn't always that way. As a confident performer, Tedeschi pursued a professional career from a young age, graduating from the prestigious Berklee College of Music in Boston and diligently attending blues jams.
She formed her own band, the Susan Tedeschi Band, in 1993 and it was a success: radio hits, gold records, opening for bands like the Rolling Stones and big solo shows. She met Derek Trucks when she supported the Allman Brothers (with whom Derek was playing at the time) in 1999. They married two years later and in 2010 announced the merger of their bands into one. Some listeners may regret that, but that's about all they can do about it.
6. Ana Popovic (1976)
She started her career in the mid-90s in the Serbian rhythm and blues band Hush, which quickly became a European sensation. After three years she moved to Holland to study jazz guitar. Her first introduction to the big blues world came when she was invited to play on an album of Hendrix cover versions of "Blue Haze". On this record, she appeared alongside such musical celebrities as Taj Mahal, Buddy Miles and Eric Burdon.
Over time, she began to make her way into the world's top league, even in the USA, where she eventually moved. She has assembled a brilliant band of American professionals and routinely works with the biggest stars on the world stage. Ana Popovic is probably the most followed female guitarist in blues rock at the moment.
7. Laura Chavez (1982)
She was nominated for the 2019 and 2021 Blues Music Awards in the category of Instrumentalist of the Year – Guitar. But it wasn't until her third nomination, the last one last year, that she turned it into a win. What makes Laura Chavez extraordinary is that she apparently has no significant ambition (yet?) to stand on her own two feet, and is happy to serve others (in the best sense of the word) in backing bands on tour and in the studio. Among her colleagues, we can mention Candye Kane, Monster Mike Welch, Nikki Hill and Vanessa Collier.
8. Joanne Shaw Taylor (1986)
The British guitarist and singer was discovered at the age of 16 by Dave Stewart from the Eurythmics. She began her recording and touring career, lined with successful albums on home soil as well as prestigious British Blues Awards, at the end of the first decade of the new century, and since then this very hard-working artist has managed to release more than ten albums. Her last three albums, two made in the studio and one live album, were produced and released on her own label by Joe Bonamassa.
9. Samantha Fish (1989)
One of those guitarists who doesn't worry about genres, though blues definitely represents a significant part of her musical expression. Her sound has been influenced by recordings by Bonnie Raitt, the Rolling Stones and Stevie Ray Vaughan. She pretty much learned the guitar on her own by attending blues jams in her native Kansas City. It wasn't until around 2010 that the brilliant guitarist Mike Zito took her on, and together they performed as an occasional artistic duo for several years. She has received numerous awards including the Blues Music Awards.
10. Ally Venable (1999)
At the age of just twenty-four, this absolutely phenomenal guitarist has released five full-length albums and collected a number of awards since she started as a teenage guitar prodigy. She has worked with genre celebrities such as Buddy Guy, Mike Zito, Jim Gaines and Kenny Wayne Shepherd. That says perhaps more about Ally Venable, one of the most notable names of the youngest generation of the contemporary American blues-rock scene, than the enthusiastic ovations from reviewers of her records and concerts.
Bonus
It has been said that the world blues scene is full of very interesting female guitarists. The twenty we've covered in this micro-series obviously don't even remotely represent all the names worth paying attention to. So, for those who are interested, there are a few more musicians for you to study on your own: Shannon Curfman, Allison Robertson, Becky Barksdale, Bex Marshall, Tracy Conover, Kelly Richey, Hannah Wicklund, Dani Wilde...
If you have found an error or typo in the article, please let us know by e-mail info@insounder.org.