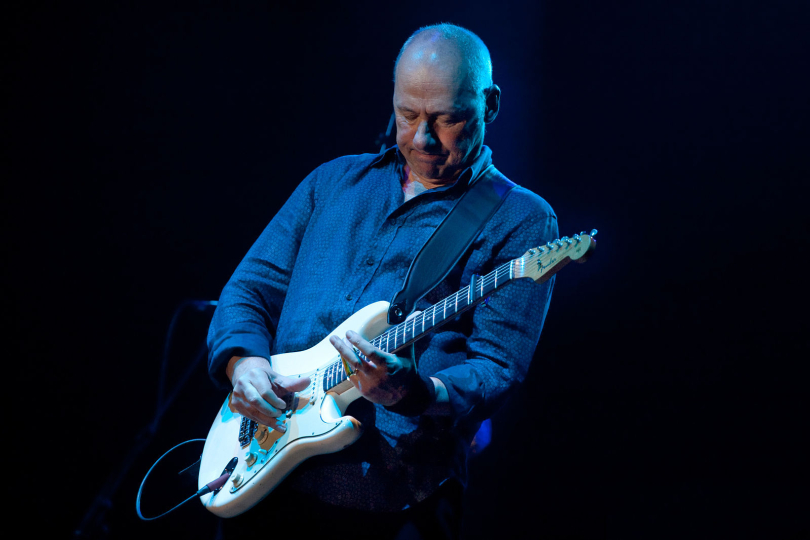 The way Mark Knopfler uses his fingers is absolutely fantastic. The brilliance of his contact with the guitar, the speed, the creation of a distinctive Stratocaster tone like no one else has is breathtaking. | Photo: Wikimedia Commons
5 "Pickless" Electric Guitarists
In order to speak admiringly of guitarists who don't use a pick, we need to set aside a few subspecies beforehand, because naturally, a pick doesn't belong to their style. So, in general, let's talk primarily about electric guitarists because a significant number of "acoustic" players, whether they are masters of classical fingerpicking, folk players, bluesmen or jazzmen, just naturally play with their fingers and it doesn't seem strange to us when we look at them. But the following five "world champions"? Yeah, well, that's a different story.
Hubert Sumlin (1931–2011)
Seeing the singer Howlin' Wolf and his backing band, the hardest band in Chicago blues, at the Blues Alive festival years ago, I had the chance to ask the architect of their sound, why he plays without a pick. He replied, "I used to play with a pick, but I always outplayed Wolf, I just rolled over his music. And so we played together one time, and I beat him again, and what happened – I was sitting behind him, and he turned around and said, 'Go home, you're fired. Go home and put the pick down, you gotta play with your fingers.' Darling, he said it in front of seven hundred people! So I just got up and left. I put the pick down and started playing with my fingers. And I found my sound and everything. That's how it happened."
Jeff Beck (1944–2023)
It's terribly awkward to write about Jeff Beck in the past tense... However, this guitarist, one of the few we can call geniuses, built his original style and tone on finger-playing and his impeccable right-hand work, which you will recognize among thousands of others. He brilliantly mastered the dynamics of touching the strings, which he combined with the boundless use of the guitar pots (in this respect only Roy Buchanan can compete with him in the history of electric guitar). It is also for this skill that he has left such a deep mark here.
Robby Krieger (1946)
We don't hear that too often, but the guitarist of The Doors and the writer or co-writer of some of their biggest hits, including "Light My Fire", is also one of those who despise the pick. This is probably because he started out playing the ukulele in his early teens and eventually switched to classical guitar, which he played flamenco-style (which, incidentally, he recalled while recording The Doors' third album Waiting for the Sun in the song "Spanish Caravan"). He has been using fingerstyle playing also in his solo career, where he flirted with jazz.
Mark Knopfler (1949)
When one says "a pickless guitarist," it's the former Dire Straits frontman who probably jumps out first at most people (that is, at those who pay attention to such trivialities as a guitarist's playing technique). The way Mark Knopfler uses his fingers is absolutely fantastic. The brilliance of his contact with the guitar, the speed, the creation of a distinctive Stratocaster tone like no one else has and nobody could imitate no matter how hard they tried is breathtaking. And one more thing, often underestimated: Knopfler is and always has been immensely creative as a soloist and accompanist.
Derek Trucks (1979)
For the biggest contemporary star of slide technique, playing with fingers is actually quite logical. The instrumental leader of the Tedeschi Trucks Band draws on both the playing of the old country blues classics, who could only dream of picks, and Indian music players on the local exotic stringed instruments. The bottom line, however, is that especially when playing bottleneck, the contact of the fingers with the strings is more sensitive and helps create the distinctive tone that Derek Trucks, this one-time southern prodigy, can boast.
If you have found an error or typo in the article, please let us know by e-mail info@insounder.org.