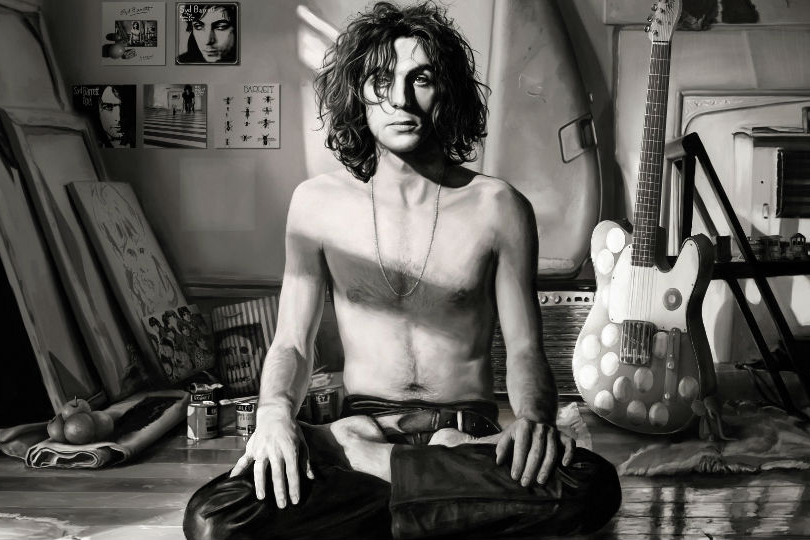 Syd Barrett Tribute "Paintingful of Secrets" | Painting by Salem Shanouh
Milestones in Music History #2: The Lost Prophet Syd Barrett
Noise Music; Barret; Suicide; Velvet Underground; Desert Rock; the history of music is a perilous and yet appeasing path to walk. It has been, since the dawn of time, this powerful gift—and music is possibly the most evolving and sophisticated form of art, which affected culture, lifestyle, society, the history itself. The purpose of this new series Milestones in Music History is to delight you with some of the pivotal moments in music, some acts, facts, and records which delineated and shaped the music for the years to come (actually as far as this series could go on). I have selected a few, based on my personal path through music culture, and because I firmly believe these moments radically changed... everything. In today's episode, I would like to lead you to the core of psychedelia, a journey inside Syd Barrett's Wonderland.
From a very large family (the fourth of five children), Roger Keith (better known as Syd) Barrett was born on January 6, 1946 in Cambridge. Music was not his first interest: in fact, as a teenager he devoted himself to the visual arts or to writing. Regarding the latter in particular, he was attracted by literary experiments and sound games (such as onomatopoeias). His favorite artist as a teenager was Edward Lear, a writer known for his literary limericks, who was also fond of painting and created illustrations for his own written works.
The approach to the musical world takes place at the same time as the first hallucinogenic experiences: LSD was spreading rapidly in the early 1960s. It had been synthesized by Albert Hofmann in 1938 and its consumption had already begun to spread from the early 1950s, especially among hippy communities. 
Legend has it that for a period of his life, Syd found himself living in a commune, where without his knowledge a drop of lysergic acid was dissolved in his coffee every morning. From then on, he started taking it daily, as a routine. Syd's first hallucinogenic journey is also witnessed by a video, where he appears in blurry images and almost dystopian and distant places, with experimental music accompanying the journey. The following scenes are very confusing, but they give a good picture of the psycho-physical state of the musician at that moment and inform us of his "journey."
Syd used his home as a headquarters for his experiments. He started a music project with Roger Waters and Bob Klose, another friend of Syd's, but it ended after a live performance. The two then formed a band without him, named Sigma 6 (also known as Abdabs, Screaming Abdabs, Meggadeaths, and T-Set), playing mainly at college parties. Syd eventually became a part of this group, which changed the name to Spectrum Five and also included Richard Wright (keyboards) and Nick Mason (drums). In this period of time, the band also played some shows under the name Leonard's Lodgers.
Ultimately, in 1965 Barrett invented the name Pink Floyd Sound, which would eventually be changed into Pink Floyd. The etymology of the name derives from the combination of the names of Syd's two favorite bluesmen, Pink Anderson and Floyd Council. Their early recordings already define the band's sound, and Syd's psychedelic and bluesy influences in the group are evident.
1967 marks a turning point for the band: they start with media promotion and the first singles are released on vinyl ("Arnold Layne," "Candy and a Currant Bun," "The Scarecrow"). In the following months, the band prepares and subsequently releases its first EP, The Piper at the Gates of Dawn.
Syd writes the lyrics for all songs (except "Take Up Thy Stethoscope and Walk," which was written by Waters) and sings lead vocal on all of the songs. Syd's experimental and avant-garde touch permeates all the work.
But at the same time, Syd's situation is getting worse: he starts taking more and more drugs (heavy daily doses of acid combined with marijuana and Mandrax) and his temper appears stormy. In the rehearsal room he is undisciplined and withdrawn. He would show up at concerts in his pajamas, or go and sit next to an amplifier, forget about the guitar until it was impossible to play and then just play a single note for the duration of the concert. Sometimes he didn't even sing, letting Roger or Rick handle the vocals.
Although the record was a huge success, the disastrous performance conditions spurred talks about the possible dissolution of the band. On the group's second album, A Saucerful of Secrets, Barrett appears as the author of only one song, "Jugband Blues", while the others are written by Waters and Wright.
By the end of the year, Waters asked Barrett's friend, guitarist David Gilmour, to join the group as a backing guitarist—Gilmour officially joined the band early the following year. Syd was not summoned to the Richmond concert on January 26, 1968, and when Syd showed up to a concert at Imperial College a few weeks later, his band members kick him out. Syd officially leaves Pink Floyd on April 6, 1968.
His mental conditions worsened further, and to the drugs already in use he also added heroin, hashish, and methaqualone. Sometimes he would lock himself in the closet of the house, shouting "Let me out!", or he would hammer at objects in the apartment.
Nevertheless, this is when he started a solo career: in 1970, he published his main works, the EPs The Madcap Laughs and Barrett. A third work called Opel, a collection of unreleased songs, would be published many years later.
On both albums, Syd's genius explores the regions of his mind, fears and visions, the intimacy of the human soul exposed and revealed in unconventional sounds in the form of a private home recording, almost improvised.
Although he pledged to make another album and relaunched the proposal to the record company for the following year (1971), Syd instead did not work on anything new. He gave his last interview to Mick Rock that year.
In 1975, Pink Floyd released the album Wish You Were Here, containing numerous references to Barrett (most notably the song "Shine On You Crazy Diamond").
During the production of the album, Syd appeared in the Abbey Road studios looking like a wreck: obese, completely bald, without eyebrows, and clutching a plastic shopping bag. After lunch, he disappeared, and never resurfaced on the music scene.  
Syd Barrett died of pancreatic cancer in Cambridge on July 7, 2006, aged 60. The musical legacy he left us is enormous—just think of the number of musical genres and bands that have referred to him or his music. Pink Floyd themselves became such only thanks to his genius, and much of contemporary music certainly would not exist today if we had not received his contribution and his prophecy.
The next episode will see us ravaging into the secrets and the controversies of a band that, like Syd, never made compromises: Suicide.
What do you think about psychedelic music? How do you think drugs and music are connected? And how important is experimentation in music? Leave us your opinion below in the comments!