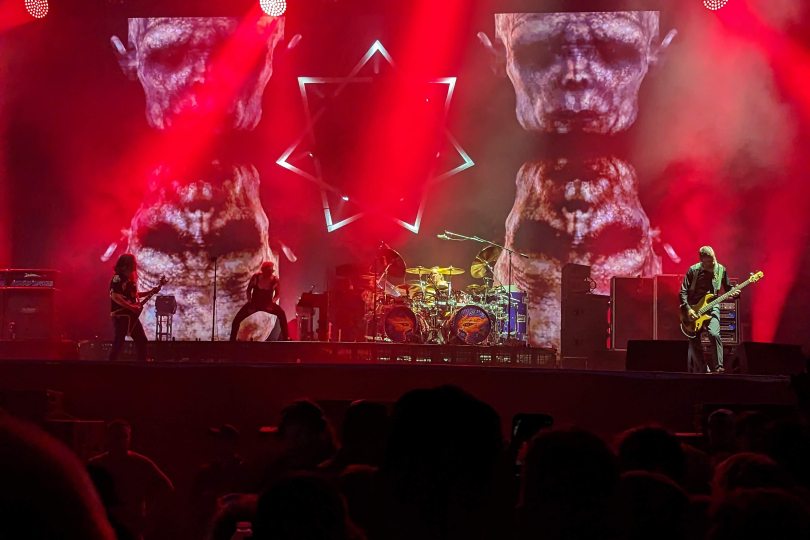 Tool performing at Welcome to Rockville 2023. | Photo: Wikimedia (CC BY 4.0)
Milestones in Music History #47: Tool, Ænima and their Musical Genius
In our last episode, we delved into the twisted and disturbing sounds of NIN. Indeed, the sound of the 1990s had, among its many characteristics, a way of reflecting on the dissensions and conflicts of the human soul. Music became a medium that enabled acceptance of the ugliness of the world, sublimating everyday anxieties and fears. Sound as an instrument itself. As a Tool, to be exact.
In the early 1990s, something was happening on America's West Coast. As we have seen in our last couple of meetings, Los Angeles, with the blossoming of the new decade, was being coloured by new sonic influences. This scenario made it an attractive destination for all those seeking to express their musical selves.
So it was that gradually many people who lived in neighboring areas moved to the big city. Most notably, guitarist Adam Jones and bassist Paul D'Amour moved to LA to make ends meet in the film industry; Danny Carey had moved to the city right out of college and started playing with a few local artists, such as Green Jellÿ, Carole King, and Pigmy Love Circus.
Maynard James Keenan had arrived in Los Angeles after finishing his studies in visual arts in Michigan, and he too had begun to fit into the metropolis scene, playing in Green Jellÿ with Carey. The scene was teeming with artists and musicians, so it was inevitable that Keenan and Jones would meet. Carey also lived upstairs from Keenan, and they had met through Tom Morello, who was playing in Electric Sheep at the time.
Once D'Amour met the others (Carey joined the band because, according to him, he felt sorry for them that they couldn't find other members), Tool was born. In the early days, the band explained that the group formed because of their mutual interest in the pseudoscience Lachrymatory. It was the science of crying, a theory that supposedly had its foundations in the 1949 book The Joyful Guide to Lachrymology by Ronald P. Vincent, of which Jones claimed to have a copy and know the author, but that did not actually exist.
Perhaps it was to create a sort of mysticism around them, or simply for fun, which is one of the most notable characteristics of the group. They chose Tool as the name for their band, which according to Keenan, is exactly what it sounds like: "It's a big dick. It's a wrench. ... we are ... your tool; use us as a catalyst in your process of finding out whatever it is you need to find out, or whatever it is you're trying to achieve."
And it seems that they have remained faithful to their bizarre philosophy. They were lucky enough to make their way into the Los Angeles undergrowth and were noticed by several recording studios. They eventually signed to the Zoo Entertainment label, and in 1992 their first studio effort, the Opiate EP, was released, produced, and engineered by Sylvia Massy and former Minor Threat bassist Steve Hansgen.
A powerful and scathing work considered the band's heaviest album to date, and in some ways desecrating: the cover depicts a fluorescent priest repeated with joined hands – almost like a praying mantis – which refers to the title Opiate, which Keenan himself tells us he says refers to Karl Marx's famous phrase ("religion is the opiate of the masses"). Each piece on the EP has a solid structure and excellent compositional mechanics.
Notable songs include "Hush", "Sweat", and the beautiful finale "Opiate". The video for the first single, "Hush", was censored due to obscenity and strong content, as the members appeared naked and with their mouths covered with duct tape. The EP also included "Cold and Ugly" and "Jerk-Off", recorded live on New Year's Eve 1991 at Jellö Loft.
Opiate guaranteed them almost immediate success, and they soon found themselves touring with many successful bands such as Rage Against the Machine and Fishbone. This experience allowed them to develop a new creative process, which shortly led to the release of their first full-length album. Undertow was released in 1993, and it included songs that had not been included on Opiate because they were not heavy enough.
Undertow is an alternative rock album, with a metal touch, and influenced by the grunge phenomenon that was experiencing its peak at that time. It contains phenomenal songs such as "Sober" and "Prison Sex", and again the band was noted for their outrageousness: the contents of the album's booklet contained obscene photos, and both the video and lyrics of "Prison Sex" were polemical in how it talked about the issue of child abuse.
However, the band's success was steadily growing, as was their evolution in compositional creation and two years after Undertow, in my opinion, came the band's absolute masterpiece. In 1995, their second studio album, Ænima, was released. D'Amour had left for other musical projects and was replaced by Justin Chancellor, a member of the band Peach, who had won the audition by competing with such musicians as Scott Reeder and Eric Avery.
With Ænima, Tool achieved greatness. The album was well reviewed and received, and the cover was nominated for a Grammy Award for Best Recording Package. It depicts several images of strong content: two canvases by Cam de Leon, who had done the covers of Opiate and the 1991 Ep 72826, called respectively "Smoke Box" and "Ocular Orifice"; a photo of contortionist Alana Cain performing cunnilingus on herself while the band sits on a couch next to each other, with Carey naked and Keenan, also naked, rising to throw a rose at Alana; a photo of California before and after an earthquake – all arranged in such a way to create a lenticular effect.
The title refers to two words, "anima" meaning soul, and "enema," the medical procedure by which fluids are injected into the rectum. All the songs, without exception, display brilliant compositional wisdom. The lyrics discuss various themes, such as religious fundamentalism, ketamine-induced dissociative anaesthesia and ritual magic.
The album was dedicated to the satirist comedian Bill Hicks, known for his dark humour and extreme pranks; the song "Third Eye" contains samples of the comedian, and the title perhaps refers to an allusion by Hicks himself to the fact that taking hallucinogenic mushrooms can reveal and purify the third eye. Hicks also appears in the booklet, as a doctor who takes care of a patient in a wheelchair, vaguely resembling Keenan.
The most bombastic song on the album is in my opinion "Die Eier von Satan": a powerful bass intro that unleashes a hell of heavy guitars with industrial tones; the German voice is that of ZAUM and SexTapes bassist Marko Fox, aggressive and resonant, which almost seems to recall Nazi chants, but which in reality recites the recipe for a Mexican wedding biscuit.
Then there is the ironic "Hooker with a Penis", a response to the band being accused of selling out with their first EP, and "Pushit", which is based on the pun push it/push shit (on me). "Useful Idiot" on the other hand, a wonderful song and perhaps one of the most representative of the band's style from that time, bases its irony on the fact that if reproduced on vinyl, the song ends with a locked groove, and you have to move the needle manually, but it also continues at the beginning of side 2. A brilliant joke.
Then there is the phantasmagorical song that has almost the same title as the album, "Ænema", one of the most intense and sophisticated pieces of the band, which won the Grammy award for Best Metal Performance in 1998, and the video clip is beautiful, a stop motion animation created by Adam Jones. Furthermore, the song makes abundant use of the musical technique called hemiola, which consists of the intensification of the triple meter, so that it sounds as if there were a double and a triple at the same time.
In short, a true gem, and one maybe only for true connoisseurs. With Ænima, Tool reached a rare peak in the history of music, demonstrating versatility, technical ability, an excellent sense of irony and profound wisdom – and, of course, genius. Tool has released three other albums over the years, Lateralus in 2001, 10,000 Days in 2006, and, after a long hiatus, Fear Inoculum in 2019, which confirm the group's style and originality.
Their work in the studio, their astonishing and controversial live performances and their artistic ability in video making and visual arts, have made Tool one of the essential elements of the history of music. Ænima is a milestone, which will influence many generations to come. In the same years in which Tool made his entry into the Olympus of metal, industrial and alternative music, another group in France was gaining ground, this time however in clubs and discos. We will talk about Daft Punk in our next episode of Milestones.
What are the components that make an album and a band brilliant? What are the artistic compromises that must be made in order not to be censored today? And how is it possible to demonstrate intelligence in sound? Will the AI universe change the way we think about communication in music? 
Leave your opinion in the comments below!
If you have found an error or typo in the article, please let us know by e-mail info@insounder.org.