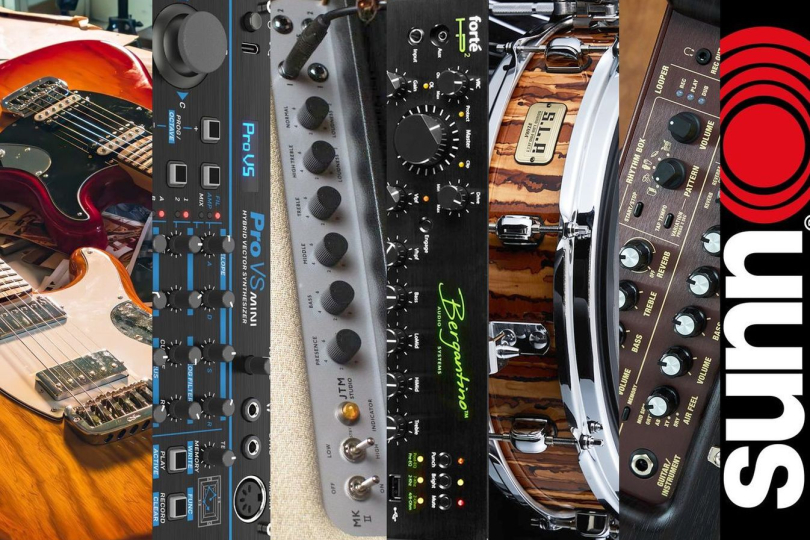 NEW GEAR 34/23: Marshall Amps, IKM Synth, G&L Guitars and the Return of Sunn
Those who are ready are not caught off guard. Welcome to our next weekly roundup of new gear and trivia from the world of music, where we try to sum up everything essential that's currently hitting the market that we should know about. The competitive battle in the field of musical gear doesn't die down even during the holidays, as evidenced by new models from three leading guitar and bass manufacturers – Marshall attracts its customers with their Studio JTM vintage, Boss has created the AC-22 XL acoustic combo with Air Feel technology, bassists can look forward to the upgraded Bergantino Forté HP2 head, and the traditional American brand Sunn Amps has announced its return to the scene. Fans of hybrid synthesis are targeted by the compact Behringer Pro VS Mini, analogue advocates can consider the IKM UNO Pro X synth, and we recommend Tama's additional snare, G&L Telecasters, TAD KT88 tubes and Ernie Ball's signature strings.
G&L Espada HH and HH Active: Leo Fender's lost project in modern terms
After three years, G&L, founded a long time ago by Leo Fender and George Fullerton, revisits the original lost design that Leo created in 1969 and presents two models of Telecaster-inspired guitars. Versions are available with alder or ash bodies, rosewood fretboards and Leo's top-of-the-line G&L Saddle Lock hardtail bridge (1979). Both variants offer a pair of PAF Alnico humbuckers with coil-splitting, volume and two-band corrections, while the Active version adds a Micro-Preamp (passive/active/active-bright mods), whose toggle switch replaces the killswitch used on the passive instrument.
One of the world's largest string manufacturers has introduced a pair of signature sets bearing the name, or rather nickname, of the guitarist of Avenged Sevenfold. The six- and seven-string sets have tin-plated steel cores, and reliable RPS-type end caps to prevent them from unravelling, and high-alloy stainless steel was used for the DAE(H) string windings. This, combined with the company's technology, provides a clear, aggressive sound with a modern character, increased strength and therefore superior tuning stability. EB Synyster Gates 6 String – 10, 13, 17, 30, 42, 52, EB Synyster Gates 7 String – 10, 13, 17, 28, 38, 48, 60.
Amplifier, combo and boxes from the vintage Marshall Studio JTM series
The new Studio JTM series from Marshall should be arriving on the market soon, consisting of the Studio JTM ST20H all-tube head, ST20C combo and ST112 and ST212 cabinets. Fans of traditional British vintage sound from the 1960s will be especially pleased with the concept, which takes the JTM45 amplifier and the Bluesbreaker combo, made famous by Eric Clapton in the era of the band of the same name, as its model. The common feature is the so-called "Plexi" design structure with four inputs and a pair of masters, a power amp switchable from 20 to 5 W, an effects loop and a DI output. The combo and boxes are fitted with Celestion G12M-65 Creamback speakers.
Boss AC-22LX: acoustic combo with Air Feel technology
The latest model in the acoustic guitar combo category impresses not only with its moderate dimensions of approx. 32 x 21 x 27 cm or its stereo concept with a pair of 5-inch speakers (2x 5W), but above all with the new Air Feel technology, which imitates the sound picked up by classic studio microphones. The player has a choice of five modes (Dry, AB, XY, ORTF and Mid-Side) emulating different virtual microphone placements, providing a noticeably warmer and more musical tone compared to a single piezo pickup. The two-channel (mic/inst) combo features independent EQs, an effects section, a looper, a Rhythm Box drum machine, a bank for 15 presets and extensive connectivity.
Sunn: the legendary instrument maker is back
Mission Engineering and Fender have announced the return of the iconic Sunn brand – one of the leading innovators in guitar and bass amplifiers in the 1960s and 1970s, used by Jimi Hendrix, Pete Townsend, the Beach Boys, Kurt Cobain, Adam Jones (Tool) and many others. Thanks to an exclusive licensing agreement with FMIC Corporation (Fender), another traditional manufacturer with a rich history is re-entering the game. Sunn's relaunched product line, ranging in price from approximately 500 to 3,300 dollars, will feature historic reproductions of classic Sunn designs using original working methods, and will also introduce modern models. The first series from the American workshops are expected to hit the global market later this year. The attached video demonstrates an older Sunn Beta Lead head.
TAD KT88-STR REDBASE tubes: precise sound and high performance
A new type of end tube made in the style of the early British versions of the MOV KT88 has been added to the catalogue of the German company Tube Amp Doctor, with robust glass housing and a polished metal base. The tubes are fitted with gold grilles ensuring low noise and reliable stability. The high-end tetrode delivers superior performance, a natural three-dimensional tone with the finest detail in the mids and silky highs with a multitude of harmonic components, excellent dynamics and linear musical response, making the newcomer the leader of the KT88 and 6550A classes. In TAD's opinion, the KT88-STR REDBASE is an ideal choice for high-end audio applications as well as for bass amplifiers or guitar power amps.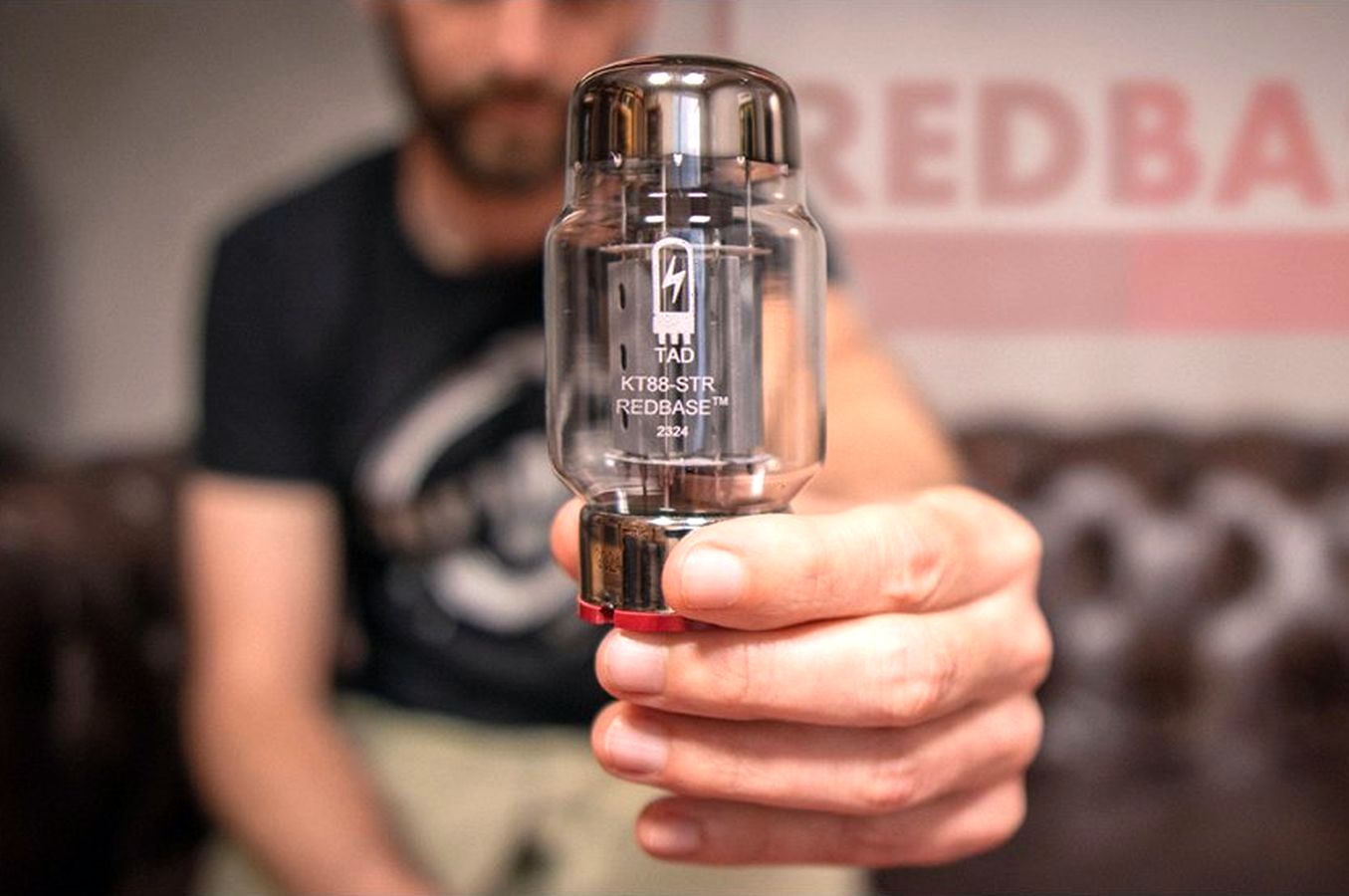 Bergantino Forté HP2 amplifier: flexibility and massive power at 3 kg
This second-generation bass amp delivers up to 1200 watts of power while maintaining transparency, clarity and the necessary articulation of tone thanks to its carefully designed Class-D power amp. In addition to rich bass, warm but punchy mids and clearly defined highs, the HP2 also boasts a 3 dB increase in dynamic projection over its predecessor, a not inconsiderable value in this case. Sound editing is provided by an active four-band EQ with low/high pass filters, gain controls, B.S.D. (Bergantino Smart Drive) and VRC compressor plus Punch, Bright, Mute etc. A wireless Bluetooth footswitch with a range of approx. 9 metres can also be purchased with the amp.
The drum, with the product designation LMP164L-MSP, is designed as an additional snare that is usually placed in the floor tom position or next to the hi-hat stand, which corresponds to the trio of tall feet and appropriate grips on the 4 x 16-inch, 5mm-thick body glued from six layers of maple. Featuring a spectacular Maple Syrup finish, the model delivers a full harmonically rich tone with ample attack and punch, 1.6mm Arm Hoop rims, MCS70A/MCS70A mechanics, a responsive MS20RL16C carbon tailpiece and an EVANS EMAD drum head were chosen. The snare in question allows drummers to expand their kit and their playing to new possibilities and explorations, and to create patterning and fills they would never have considered with traditional components.
For a price of under 100 euros, Behringer offers a four-voice hybrid synthesizer with four vector morphing oscillators per voice, an analogue low-pass filter, a 16-step sequencer and an arpeggiator. Equipped with a four-way joystick for editing the modulation waveform, the new addition has a very compact size, so it fits comfortably in a backpack or gig bag. The authentic reproduction of the original Prophet VS synthesizer has been given individual envelopes for filtering, amplifier and oscillator, in addition to a miniature format with 27 touch keys, there is also a pair of LFOs, studio chorus, OLED display, USB-C port, DIN MIDI In, 3.5mm TRS stereo output, Sync jack and so on.
A compact, paraphonic, dual-filter analogue synthesizer where, according to the manufacturer, "the latest technology meets the timeless allure of analogue warmth". It features a trio of discrete oscillators, OTA/SSI-based multimode filtering, a bassline section, an advanced sixty-four-step sequencer or an arpeggiator with ten modes. There is an effects unit divided into three slots, USB/MIDI/CV/Gate in/out connectivity, audio input, headphone jack, bank for 256 presets and battery power. The Synth comes with an iRig PSU-3A power supply and USB cable, with a gig bag available separately.
If you have found an error or typo in the article, please let us know by e-mail info@insounder.org.