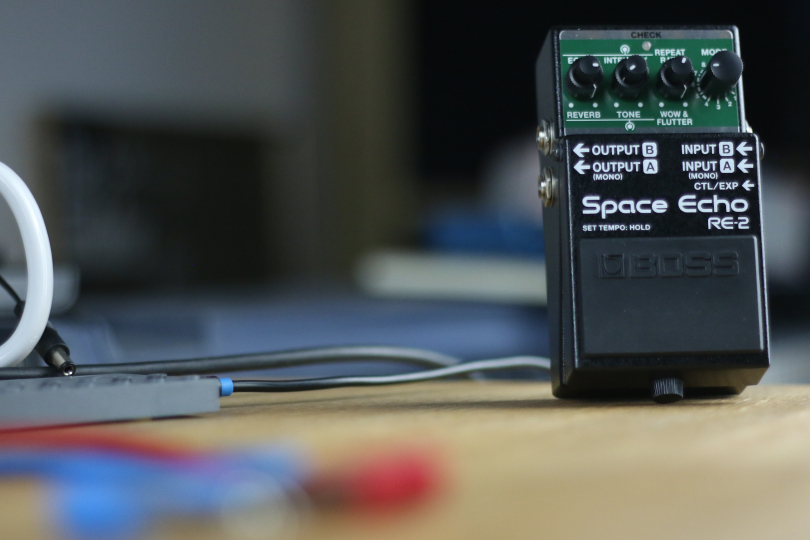 Boss RE-2 Space Echo
Quick Pedal Review: Boss RE-2 SPACE ECHO
Would you like to get the legendary sound of the Space Echo tape effect but don't have about 1,600 to 2,000 euros to spend on the original model? No problem. The Boss RE-2 Space Echo offers the sound of a tape echo at a much more affordable price.
An analogue tape echo uses an audio tape to create the echo. As a result, the sound of such an echo is gently compressed, warm, nicely saturated, and, thanks to mechanical flaws, pleasantly oscillating.
It is these qualities that the Boss Space Echo RE-2 seeks to achieve. But with the help of digital technology.
Delay, reverb and vintage preamp in one
And what can you look forward to? The RE-2 combines delay, reverb and a simulation of the vintage preamp from the original Space Echo.
The delay offers – in addition to the standard speed and echo count controls – three digital simulations of tape heads that you can use in different combinations via a switch to achieve unusual rhythmic variations.
You can filter the delay sound using the Tone knob, both at the lower and upper end of the frequency spectrum. For a warmer and darker sound, you simply pull back the highs, while if you want to support the guitar sound in the mix, you can easily turn down the lower frequencies.
A little nostalgic sonic "dirt"
The most fun control is undoubtedly Wow & Flutter. It adjusts the amount of oscillation in the digital tape, adding some nostalgic modulation to the echo sound. The equation is simple. The further right you go, the "older" the tape.
As in the original Roland RE-201 Space Echo, there is a spring reverb, or rather its digital simulation. It gets the job done, but for fans of more sophisticated and longer reverbs, I'd rather recommend placing another reverb behind the RE-2.
Last but not least, we should also mention the simulation of the original preamplifier, which will make your tone sound "period" as needed. But beware. The timbre remains even if the pedal is turned off.
This and other advanced settings can be accessed by a combination of pots, pressing the pedal and inserting the power supply, so I definitely recommend reading the guide or checking out YouTube.
Verdict
If you're a lover of vintage and slightly dirty delays with character, then the Boss Re-2 Space Echo is the right widget for you. Lovers of complex delays and long reverbs, however, might want to look somewhere else.
If you have found an error or typo in the article, please let us know by e-mail info@insounder.org.