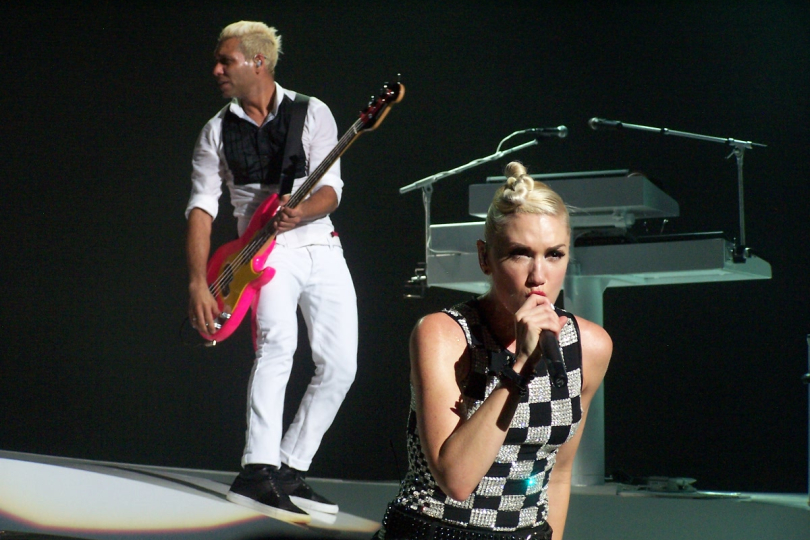 As a response to her breakup with bass player Tony Kanal, Gwen Stefani rewrote the lyrics and gave "Don't Speak" a complete facelift. | Photo: Jim Trottier (CC BY-SA 2.0)
Story of a Hit #6: "Don't Speak"
Some great songs have gone through a long and evolving process to become the hit that we know today, and we might never guess that when only listening to the finished product. This is true of "Don't Speak", the smash-hit 90s breakup song from No Doubt. Today we're going to look at its story, the ups and the downs and the journey that it made to fame.
No Doubt released their first album in 1992, their second in 1995, which faired a little better, but it wasn't until Tragic Kingdom, that they made it big. The first single released was "Just a Girl", which peaked at number 23 on the US charts – today it's regarded as the breakthrough song that made them popular. It's a fun and feminist ska-punk-rock number and it's easy to see why it did well.
"Just a Girl" is also the first song that Gwen Stefani, singer of No Doubt, wrote without her brother Eric. What, you haven't heard of the co-founding member of No Doubt, Eric Stefani, sometimes accordion-playing keyboardist?
That's because Eric left the band in 1994 to pursue a career in animation, working on The Simpsons, no less. However, being a part of the band from the start, he left a legacy in the form of songs that he had co-written, one of them being "Don't Speak". The song was quite different originally, more of a love song than a breakup song, and it was jazzier. Oh, and it had accordion – apologies in advance for the quality of this old video.
Originally co-written by the Stefani siblings, it started off as a love song, which is evident by some of the lyrics: "Because we're always together, and we will be forever, such a special treasure, you and I." This verse is quite different and as you can hear, there is a whole other section before the chorus that didn't make the cut. While the chorus itself is basically the same, melody, chords, lyrics and all. There is a notable difference in the last line, however, which apparently used to be "It's nothing new that I've heard." This later became "Don't tell me 'cause it hurts," which is much more fitting with the tone that the song would aquire.
Gwen Stefani and bassist Tony Kanal started dating in 1987, shortly after he joined No Doubt. They dated right through the early days of the band, but broke up in 1994, before the band made it big. And as a response to the breakup, Gwen rewrote the lyrics and gave "Don't Speak" a complete facelift, becoming the version that we know today. It's a powerful song of loss and regret, of retrospect and distress, which Stefani performs with utter conviction.
Of course, the bass player in the video IS Tony Kanal, and not only that, he's also the figure who picks the rotten orange from the tree at the start (not sure what the symbolism is there). Watching the official video clip, knowing that the song is about the breakup between the singer and bass player, you can see all sorts of references to the tension between them.
There is a playful undertone to the whole thing, if you really watch the exchanges between band members, it kind of looks like they were having a great time filming it. Although, some reports say that the band were about to break up before doing the clip and that they filmed it as a sort of therapy.
However, Gwen and Tony continued to have a positive relationship, both professionally and personally, and continued playing together for years to come. In fact, Stefani later wrote a song about her relationship with Kanal, aptly named "Cool". They aren't the first band that has survived breakups, written songs about it and continued to have a professional career (looking at you Fleetwood Mac). It seems to be a recurring motif in the music business.
However, it must take its toll, and it certainly says something about the maturity of the relationships in the band that they could get through it. Tony once said: "travelling around the world and you're doing press in all these different countries, and every single question that you have to answer is about the breakup. You do that for a couple years, and it could drive anyone crazy [...] The fact that we got through all that stuff and we persevered through all that is a real testament to our friendship."
In 2000, they performed the two versions back to back, a touching reference to the journey that many great songs make on their way to success. Unfortunately, however, the accordion didn't make it.
What do you think? Does the hearing the old version of "Don't Speak" make you appreciate it in a new way? Would you have kept the accordion??
Leave us your opinion in the comments below!
If you have found an error or typo in the article, please let us know by e-mail info@insounder.org.