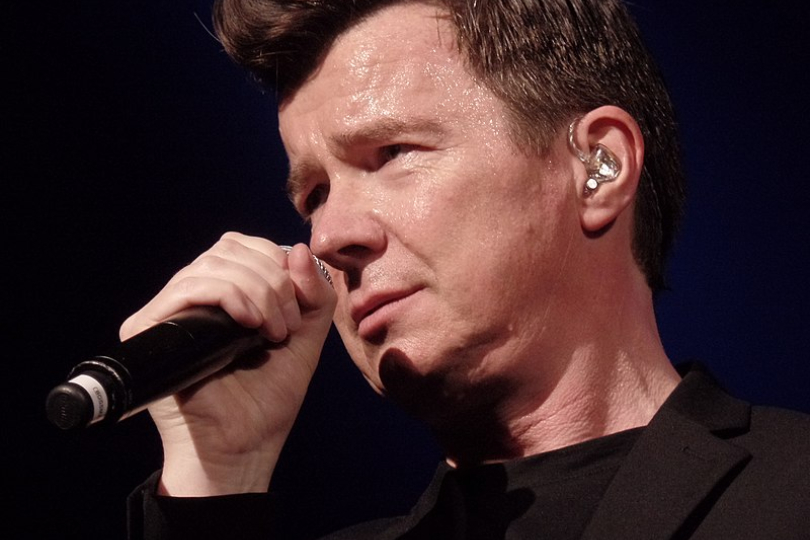 Today it's regarded as one of the most outstanding products from the (in)famous era of 80s music. | Photo: Wjack12 (Wikimedia Commons CC BY-SA 4.0)
Story of a Hit #8: "Never Gonna Give You Up"
Rick Astley was just 21 when he released his now iconic hit "Never Gonna Give You Up". It soared to fame in the 80s, but its story didn't end there. In the mid-2000s, it was given a new breath of life in the form of Rickrolling, a meme-like phenomenon that has brought countless new listeners to this classic.
Astley started out singing in a soul band called FBI in Lancashire, Northern England, in the mid-80s. After being discovered, supposedly for his unique voice and singing style, he went to London. He signed onto production super-trio Stock Aitken Waterman (SAW) who started working with him towards his first record. Supposedly in those first couple of years, they had him working as a sort of glorified "tea boy" to get him into the business and open up, because, according to his own words, he was "quite reserved and quite shy".
A breakthrough hit
A couple of years later, in 1987, "Never Gonna Give You Up" was released to instant success. It topped the UK charts for five weeks, becoming the best-selling single that year and eventually charting in another twenty-five countries. It was a breakthrough hit, thrusting Astley to fame and today it's regarded as one of the most outstanding products from the (in)famous era of 80s music.
The video clip was put together rather quickly with a low budget, which is rather obvious if you pay attention. It's not hard to tell Astley used his own moves and his costumes were apparently chosen from a haphazard collection of what he brought along himself in a bag. In today's era of glossy overproduced clips, it's rather refreshing to see something so down to earth.
Composed by legends in the music business
The song was composed by SAW themselves specifically for Astley. They would become a powerhouse in the music business, composing dozens of hits, actually recording the parts themselves as well as producing big names like Kylie Minogue and Bananarama. But they were still in their early days when they started working with Astley, having produced their first No. 1 UK hit only a few years earlier with "You Spin Me Round (Like a Record)".
After Dead or Alive's 1984 hit, SAW would go on to write and record many of the songs they produced themselves – they are one of the most important partnerships in the history of the music business. So it's no surprise they hit it big with "Never Gonna", although they weren't expecting it to do as well as it did. 
According to Mike Stock, they took inspiration from Colonel Abrams' "Trapped" and recreated the syncopated bassline in a way to suit their song. They used a combo of synths, including a Yamaha DX7, Roland Juno 106, and a Linn 9000 for the drums, and the final synth strings and brass were added by Ian Curnow using the Fairlight audio workstation. The title and theme of the lyrics were drawn from Astley's devotion to his girlfriend at the time.
The perfect 80s combo
But what made it so good, how did it capture the attention of listeners worldwide? Well, Time Out wrote: "those synthesized strings, that thumping boots-and-pants beat, Astley's weirdly robust croon and his romantic-wooing-as-used-car-salesman pitch ('You wouldn't get this from any other guy')… It all adds up to three-and-a-half of the most effervescent minutes in the '80s canon."
Rick Astley went on to have a successful music career with several hits, however, his last top 10 single was released in 1991. He took a break from music in 1993 to focus on his family, and if you weren't paying any attention to his comeback in the early 2000s, you might well have thought he disappeared from the music business altogether.
Enter: Rickrolling. 
Rick Astley found a surprise bounce back in the form of, arguably, the most famous internet meme of history.
If you haven't heard of it, or you've never been quite sure what it IS – it deserves a quick explanation. Rickrolling is the process of baiting someone to click on a link, maybe they think they're going to a cooking recipe or perhaps a funny cat video, and instead, they are sent to a video of Rick Astley's most famous song.
It's a bizarre and hilarious phenomenon that took off in the mid-2000s following a series of seemingly unrelated events – starting with the Duckroll meme, the earliest type of "bait and switch" from 2006, and culminating in the 2008 mass April Fool's Day Rickroll. Even YouTube got on board, sending people to "Never Gonna Give You Up" when they clicked on previews of other videos. If you hadn't heard of it before, well, there was no escaping it after THAT. And it isn't just an internet meme – Rickrolling appears in all sorts of places.
Could Rickrolling have happened to anyone else?
How is it that such a meme became so popular as to cause a worldwide collective prank? It would take a much longer article than this to explain the complexities and eccentricities of the internet. Could it have happened to just any hit from the past? It's hard to say, but you have to admit, taken at face value it fits the bill pretty accurately. "Never Gonna Give You Up" is a rather funny piece of music history. 
Whether it's Rick Astley's somewhat awkward dance moves, the extremely 80s combination of synths and drum machines, or the washed-out setting and mish-mash of costumes (hello trench coat, I'm looking at you). Not to mention Astley's characteristic "robust croon", which when you hear it for the first time coming out of the mouth of a 21-year-old, certainly defies expectations.
Are you having a laugh?
But if Rick Astley ever felt like the internet was laughing at his expense, he's never expressed it. He has been so cool and humble about his song being turned into a global meme 20 years after its release. Of course, his career has seen a major comeback in recent years, which is definitely partly due to the popularity of Rickrolling, but he has ridden the wave with dignity and humour, which I think has just given him more respect.
In fact, he has participated himself in his fair share of Rickrolls – a quick search on YouTube will attest to that – and perhaps that has contributed to the endurance of the meme. It must be pretty cool to be sitting in an audience listening to Kylie Minogue only to get Rickrolled by the man himself.
Listen to how the crowd cheers when Kylie starts singing "Never Gonna", and then how they just go wild when Rick himself starts and walks in. It couldn't really have happened to a cooler and more willing person.
"Never Gonna Give You Up" is one of those treasures from a bygone era that has been unearthed and rediscovered. I think we should be thankful for that, even if its rediscovery came in the form of jest. I'm sure it has introduced many new listeners to the wonders of 80s music, to the glorious sounds of synths and electronic drum beats, and helped revive the sounds of a very curious decade of music.
An enduring career
In 2016, Rick Astley released a new album, 50, marking the year he turned 50 years old. He wrote, sung and recorded all the tracks himself, no small feat, and it reached no. 1 on the UK charts – the first in 29 years since his debut album in 1987. He keeps releasing new material, including Beautiful Life in 2018 and The Best of Me in 2019. On the latest, you can find a stripped-down soulful piano cover of his classic hit.
What do you think of "Never Gonna Give You Up"? Does it deserve its place in the pantheon of 80s classics? Got any memorable Rickrolling stories?
Leave us your opinion in the comments below!
If you have found an error or typo in the article, please let us know by e-mail info@insounder.org.