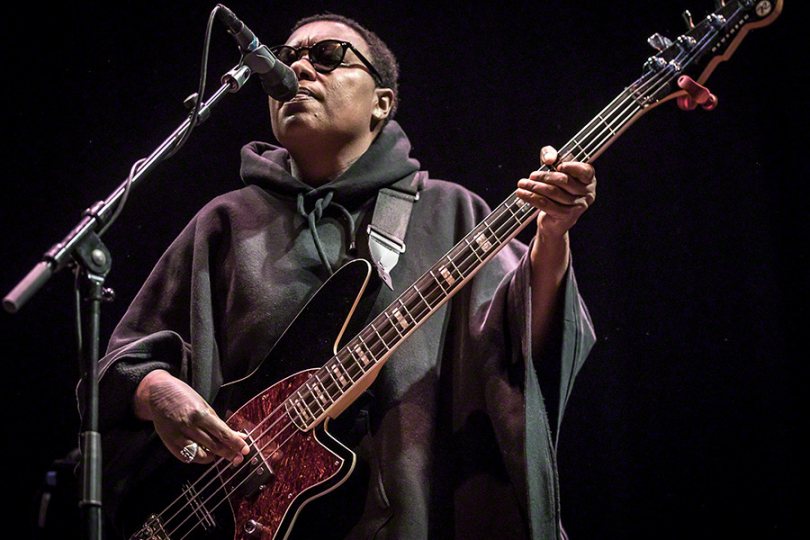 Meshell adopted her famous surname Ndegeocello which means "free as a bird" in the East African Swahili language. | Photo: Tore Sætre (Wikipedia)
TOP 5 Female Singing Bassists
Anyone who tried to play bass line while singing simultaneously will confirm that it is a pretty demanding task. Coordination of bass line with vocal phrasing is quite tricky as it is easy to lose rhythm, pitch or to miss out desired emotion. Dealing with too many eggs in one basket. However, there are very talented individuals among us who would manage it with elegance and a nonchalant manifestation. You are in awe of them performing such skill as if there is nothing easier than to grab a bass—and hooray to compose, play and sing some songs. Today we look at the TOP 5 singing female bassists.
1. Suzi Quatro
In the Czech Republic, Quatro is considered one of the most famous singing bassists as she succeeded there with a series of hits in the 1970s. Although her native country is the US (born in Detroit), she made an impact mainly in Europe and Australia. Her songs' style oscillates between hard rock and glam rock. Quatro's creative process is rather unusual as first she would decide on the name of the song, then outline the basic harmony with the piano just to look for the right bass line, then return to the piano, write the lyrics and at the end she would record all the instruments on her trusty vintage tape recorder.
2. Meshell Ndegeocello
Ndegeocello was born as Michelle Lynn Johnson in West Berlin to the family of American sergeant and saxophonist Jacques Johnson and nurse Helen. Later in her life, she adopted her famous surname Ndegeocello which means "free as a bird" in the East African Swahili language. Her music is based on various influences but is probably most associated with the renaissance of the neo-soul movement.
3. Esperanza Spalding
There are extraterrestrial beings living with us on planet Earth, such as Spalding. Her every performance is oozing with talent, charisma and unstoppable joy mixed with an adequate portion of good spirits. The effortlessness with which she sings and, at the same time, delivers jaw-dropping virtuoso bass lines is magical. As a five-year-old, she played the violin with the Chamber Music Society in Oregon, and later self-taught bass, double bass and guitar. Her enormous talent was noticed at Berklee College of Music, where she eventually became one of the instructors at the very young age of twenty. Her enormous success was proven by five Grammy Awards, and Spalding became the first jazz artist to win the Best New Artist category in 2011.
4. Tal Wilkenfeld
She began her career firstly as a professional session bassist, just barely out of puberty, and then started performing with legends such as Jeff Beck, Prince, Eric Clapton, Herbie Hancock and Mick Jagger. Only at the age of 14, she began to play her first musical instrument – the guitar, to be followed by the electric and bass ones later on. At the age of eighteen, she made a move from her native Sydney to New York. Wow, what courage and character so early on. Wilkenfeld is a fascinating artist not only from a bass player's perspective but also as a singer and especially a very sensitive and authentic songwriter. In 2019, she released her first solo album Love Remains which helped her achieve worldwide success.
5. Gail Ann Dorsey
Her career is strongly associated with David Bowie, as she was a bass player in his band from 1995 until Bowie's death in 2016. There are not many people who can take over a vocal part after such a legendary singer as Freddie Mercury and accompany themselves on bass, too. Well, this is exactly the case of Dorsey, who can sing Mercury's vocal lines in the iconic "Under Pressure" when playing the song live. Otherwise, she is Bowie's singing partner in "The London Boys", "Alladin Sane" and "I Dig Everything". Dorsey also released three solo albums and, as a session bass player, performed with a music aristocracy such as Lenny Kravitz, Gwen Stefani, Seal and Charlie Watts.
Of course, I can hear you arguing that we have forgotten about the funky wonder Ida Nielsen, queens from Pixies Paz Lenchantin and Kim Deal, soul master Yolanda Charles, extravagant Nik West and Beyoncé's band leader Divinity Roxx.
Do you miss any other name or personality that should not be omitted in our TOP 5?
If so, please, share your opinion in the comments below.
If you have found an error or typo in the article, please let us know by e-mail info@insounder.org.