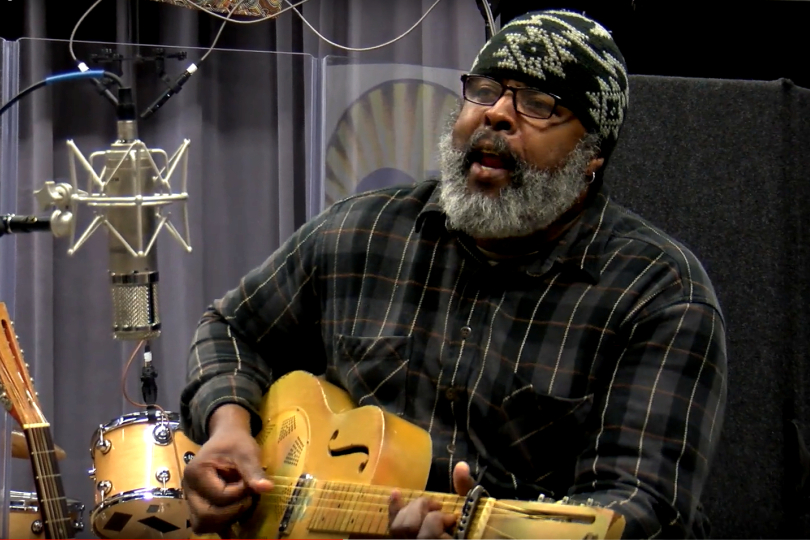 Alvin Youngblood Hart is one of the Taj Mahal's protégés. | Photo: Zach Powell
10+1 Guitarists Who Prefer Metal to Wood
This instrument is most often called a dobro and its typology can be quite confusing. But that won't be the topic of this article, nor will the history of this acoustic guitar whose basic sound component is a metal resonator. Let's just mention that the slightly confusing name "dobro" comes from the name of a company founded by an American of Slovak origin John Dopyera and his brothers, and is a compound of the words DOpyera BROthers. Resophonic guitars come with all-metal or wooden bodies and usually have one or three resonators. They are played either horizontally, especially in bluegrass, or as a standard guitar, which is typically the case in blues or other genres. Out of the latter two, we have selected the following ten masters. Plus one extra who, although he didn't record that much on the instrument, made it famous like few others.
1. Son House (1902–1988)
Among the famous "metal users", Son House, who forms a sort of blues bridge between Charley Patton and Robert Johnson, is definitely the oldest. This is because after his rediscovery in the 1960s, his wild style was not missed by filmmakers and TV people alongside record companies, so there are relatively many recordings of him. And it's an unrepeatable experience.
2. Bukka White (1906–1977)
Another Mississippi star who fell for the tin devil. Like Son House, Booker T. Washington White, as his real name goes, interrupted his musical career in the 1940s for more than two decades (among other things, he served time in prison) until he was rediscovered by folk revivalists. His brilliant style was loved by Bob Dylan, Johnny Winter, Led Zeppelin and, among our contemporaries, blues singer-songwriter Eric Bibb, who dedicated the album Booker's Guitar to him.
3. Taj Mahal (1942)
In some of the following profiles we will talk about the revivalists of the rural blues, who made the resophonic guitar their "logo". Their forefather is undoubtedly Taj Mahal, who – in various modifications – has been drawing on the deep roots of American music since the beginning of his career. The resophonic guitar serves as one of his main "means of production".
4. Johnny Winter (1944–2014)
Of course, Winter is mainly associated with his rapid-fire runs across the strings of a roaring electric guitar, but the acoustic resophonic instrument was his love and another speciality, and he played it really well. We can hear this on many of his albums, where he often treated himself to at least one take in this acoustic, usually entirely solo, setting. And they tend to be the real ornaments of the albums.
5. Keb' Mo' (1951)
It was this guy who, after years of ignorance, sparked an interest in blues – especially acoustic blues from the Mississippi Basin – in the mid-90s. He was already in his forties at that time, but he had made a great career lined with eight Grammys. He no longer sticks to the humble acoustic model; you can often see an electric guitar in his hands, sometimes even a symphony orchestra behind him. But if you really want to hear him in his most graceful, classical form, you can't miss him playing the resophonic guitar.
6. Bob Brozman (1954–2013)
If anyone in our selection was a true virtuoso and a pure specialist in resophonic instruments (and all sorts of string weirdness), it was this musicology professor. He designed his own versions of resonator instruments, wrote a seminal book, The History and Artistry of National Resonator Instruments, and besides that was absolutely fabulous at playing music of all genres, from blues to country and American folk to Hawaiian, Indian, Irish, and African music. 
7. Alvin Youngblood Hart (1963)
Another member of the 90s blues revivalist generation and one of the protégés of Taj Mahal. He started with a fairly orthodox blues focus, but over time began to add rock and funk elements, until the inevitable happened: he switched from acoustic playing (which he now employs mainly in solo concerts using both acoustic and resophonic guitar) to fully electrified performance with a band. 
8. Corey Harris (1969)
Another musician who inspired the 1930s Delta blues wave in the 90s, along with Keb' Mo' and Alvin Youngblood Hart (plus a few others). Harris was a real specialist in the resophonic guitar for a long time, he even used it as a "prop" on several of his album covers and he plays it really well. But throughout his career, he grew out of the acoustic blues and got inspired by reggae and West African music, sometimes he would experiment quite a bit, and it was never uninteresting.
9. Eric Sardinas (1970)
Undoubtedly the greatest showman on our list. Many music fans sometimes argue whether Sardinas is not more of a showman than a musician (which is quite common in many genres, but in blues or blues-rock it is usually unforgivable), but his energetic concerts tend to be a real experience – perhaps because he doesn't approach the resophonic instrument dogmatically and sometimes he plugs in into something that makes it sound like a normal electric guitar.
10. Roberto Luti (1977)
Compared to the other musicians on the list, he stands out in many ways. Firstly, he is a European from a completely "non-resophonic" background, Livorno, Italy. He is not really a well-known solo musician. But at the same time, his videos have millions of views, for which many more famous players would sell their souls to the devil. He was discovered on the street as a busker by the creators of the excellent charity series Playing For Change / Song Around The World where his instrument beautifully brightens up most of the items in the project's growing catalogue, in genres ranging from folk and pop to Latin, blues and even reggae.
... and an extra one: Mark Knopfler (1949)
Anyone who owns a resophonic guitar and occasionally pulls it out in the company of "the uninitiated" will tell you that at the latest the second person who brings up the "strange instrument" will not fail to mention that "it's the guitar from the Brothers in Arms cover". Yes, if anyone really made the resophonic guitar world famous, it was Mark Knopfler, and it will always be to his credit. Even though he's not really a specialist and plays it only very sporadically. However, the accompaniment part to the beautiful song "Romeo and Juliet" is a top example of how to use the resophonic guitar in a completely unconventional way and emphasise its distinctive sound.
If you have found an error or typo in the article, please let us know by e-mail info@insounder.org.