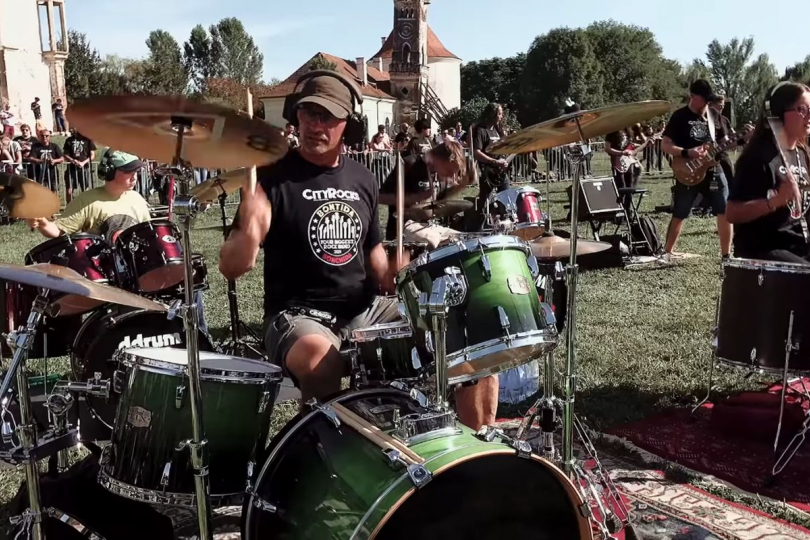 150 Musicians Play Boulevard of Broken Dreams
Musical flashmobs—events where a large number of musicians come together to play a pre-arranged song—are nothing new. Recently, a number of videos have appeared on YouTube, with hundreds of players united in a huge ensemble playing cover versions of classics by Metallica, Nirvana, Rage Against the Machine, etc. There is also a well-known case when a thousand-headed ensemble played Foo Fighters' "Learn to Fly" in Cesena, Italy, and after the clip went viral, the band led by Dave Grohl decided to hold a full concert in this small town.
A similar spirit was also present at the event held under the Bánffy Castle in Bontida, Romania, where 150 musicians joined together for a version of "Boulevard of Broken Dreams" from Green Day's post-punk setlist. Singers, keyboardists, drummers, bassists, and guitarists were complemented by electrified banjo and cajon, also on other hits by Blink-182 and Bryan Adams.
The gathering was organised by CityRocks, a band that describes itself as "the biggest rock band in Central Europe"—as confirmed by, among other things, a musical gathering in Kecskemét, Hungary, supported by five hundred players. Speaking of Green Day, after "Here Comes the Shock" and "Pollyanna," the Californian trio released the single "Holy Toledo!" (see the second video below), which previously appeared on the soundtrack to the film Mark, Mary & Some Other People.
If you have found an error or typo in the article, please let us know by e-mail info@insounder.org.