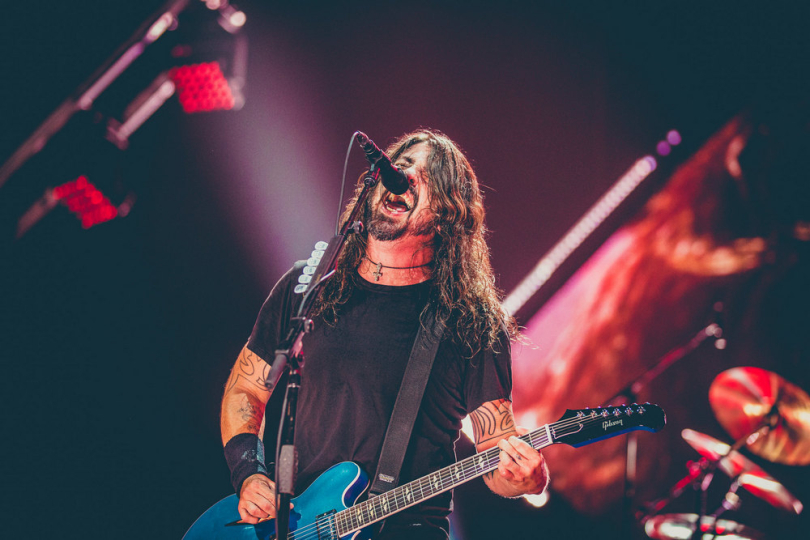 How about a song in 7/4? Such as "Times Like These" by Foo Fighters. | Photo: Freya Goossens (flickr)
5 Rhythm Tricks in Famous Songs
A song in 4/4 time signature? Boring. How about five, seven, nine beats? Or a combination of two rhythms together? It's not as unusual in pop and rock as it might seem. Knowing what beat (or time signature) your favourite badass piece of music is in and where the first beats in the bars are, pays off – especially if you want to play it with your band and not sound out of rhythm right from the very beginning.
1. Dave Brubeck: "Take Five" – 5/4
Typical. You come to a jam session at your favourite refreshment place, someone starts playing Eb minor and Bb minor chords in the familiar rhythm, and everything looks sun-drenched. But if you have not counted it properly, in the B part, where it starts to get harmonically denser, the whole thing usually falls apart.
The trite but good advice is: count in 3+2 rather than 5. In short, "one two three one two" will save you, whether you want to play "Take Five" or, for example, "Animals" by Muse, the theme from Mission Impossible, "Seven Days" by Sting or "From Eden" by Hozier.
2. Led Zeppelin: "Kashmir" – 4/4 vs. 3/4
While drummers can use their classic four-beat pattern and the singer has relative freedom in declaiming lyrics within the phrases, it can take a while for the others to catch the riff, which goes polyrhythmically against the drums in a three-beat bar – at one place they meet on the first beat, then on the second, then again on the first...
A similarly convoluted polyrhythm between guitar and drums awaits the player for example in the Gorillaz track, aptly titled "5/4" – while the guitarist strums the chords in five beats, the drums lay down a four-beat rhythm. Simpler, and more common in pop music, is the use of a three-beat time versus a two-beat, which can be clearly heard in Radiohead's "Daydreaming", for example.
3. Pink Floyd: "Money" – 7/8
The band's coordination in seven beats is supported here by a bass line that fills in any possible confusing gaps. So until the middle, solo part, the band's success in playing the piece depends on the bass player – whether they can play their line facing their bandmates who don't even bother to count beats, strumming chords in a hit-or-miss style.
In 7/4 time, it's again useful to divide the bar into 4+3 or 3+4, sometimes even 3+2+2, depending on the melody. How about more songs in 7/4? "Solsbury Hill" by Peter Gabriel, "Times Like These" by the Foo Fighters, or "The Ocean" by Zeppelin.
4. The Stranglers: "Golden Brown" – 3/4, 3/4, 3/4, 4/4
Not all songs are tricky by having a completely unusual time. The cembalo riff in "Golden Brown" is quite fine in three beats – except that it hides one four-quarter bar in a few places. In layman's terms, the whole theme seems to "limp" in one place.
Irregular addition or subtraction of beats is not unusual in pop music – see "All You Need Is Love" by the Beatles or "Say A Little Prayer For You" by Aretha Franklin. In both cases, 3/4 bars are variously interspersed between those of 4/4.
5. Sting: "I Hung My Head" – 9/8
And this is where it gets tough. With songs like this, one doesn't know if it would be better to count alternately on four and five beats – or to solve it like Johnny Cash or Bruce Springsteen with a Sting song, just "flattening" the cover into a four-beat time. Then, of course, you can settle any naysayers by saying it's your innovative approach to original music.
For more conundrums in nine beats, listen to, for example, Led Zeppelin's "The Crunge" or –surprise –  Taylor Swift's "Tolerate It".
And when your feet are stamping to the rhythm of these songs, you may start analysing the whole album Kid A by Radiohead or watch some nice videos with drummer Matt Garstka.
If you have found an error or typo in the article, please let us know by e-mail info@insounder.org.