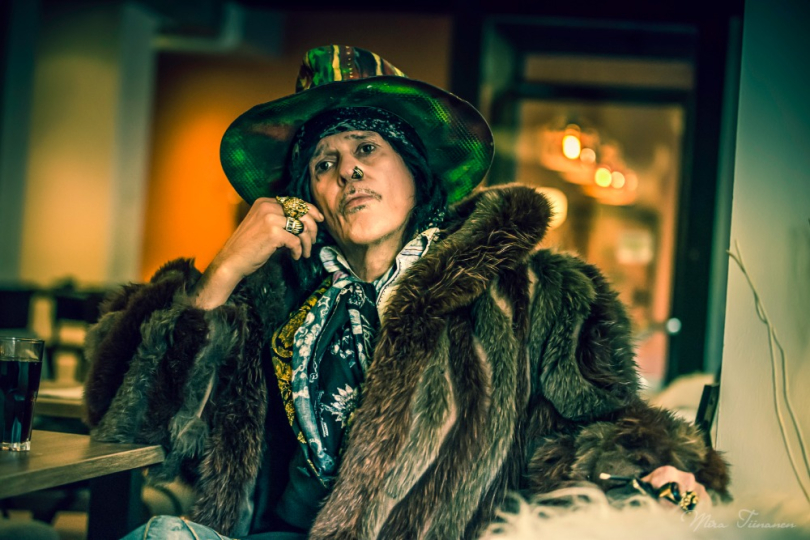 I like to keep that city sleaze in my music so you can smell the smell of the inner city | Photo: Mira Tiinanen
Andy McCoy: I Serve the Song, Whatever It Needs. That's What I See As My Job
More than forty years ago he founded Hanoi Rocks, one of Finland's most successful bands, in which he was also the main songwriter. In the '80s, he played with Iggy Pop among others, had other projects and recorded several solo albums. The latest one, Jukebox Junkie, which consists of covers of his favourite songs, was released by Andy McCoy just last month. During our interview, Andy, who will soon turn 60, was in a pleasant mood, lighting up cigarette after cigarette, sipping grapefruit juice (with gin?) and being exactly what you'd expect him to be. Immediate, funny and original, just one of a kind. The Real McCoy.
You've got a new album out called Jukebox Junkie. It's made up of fourteen covers. It's different from similar compilations released by other artists, and not just because you've chosen interesting, unusual songs. I think it's also a very colourful selection, the listener will find reggae, rock, punk, and country on the record.
I would say it's very much an educational album. It's songs from my youth, written in different eras. It was really hard to pick songs out for one album. I originally had an enormous list of about sixty songs. Some of them we recorded, but they didn't come out because they just didn't fit on one record. They're songs that I think should be really big and deserve more attention. I listen to all kinds of music and I suppose that's the main reason why the album is so colourful. David Bowie once gave me the advice, "If you ever have downtime, make a cover album." Well, and then that corona thing was going on and I was so bored. So I started recording. 
Like you said, there were 60 songs to choose from. So is it possible we'll see Jukebox Junkie part 2?
Anything's possible. I prefer to say never say never. (laughs) But probably not in the foreseeable future. Unless there's another downtime where you can't do anything. Oh, that was awful, really. Everything was closed and I was stuck in my place. It wasn't much fun, let's put it that way. So it was good and healthy to go back to the studio. 
Songs like "Shot Full of Love", "China Girl" and "I Can Feel The Fire" sound like they were written for you. That's always been the interesting thing about you, you can take someone else's song but make it sound like it's your own. How do you do that? 
I've rearranged them all and made a few changes and stuff. I tried to update them a little bit, but at the same time without the songs losing their identity. 
The album is also interesting in that you don't sing all the songs yourself, but you invited a few guests. 
Sofia Zida sings on a few songs where there are female vocals, but she also did some backing vocals, and Deron (Miller), my friend from the States, sings on a couple of songs. I thought this way it would be much more colourful than just me screaming on the album as usual. 
You've known Sophie for a long time, you've played gigs together, but you've also had an exhibition of paintings together. 
Yes, the show was called Like Father Like Daughter. I've known this little girl, basically my daughter, since she was seventeen. I kind of adopted her because she loves exactly what I do. She paints and writes music. She makes just the song demos sound awesome. I really enjoy working with her. I played on her new album and she also appeared on my previous album 21st Century Rocks. She's got perfect pitch and a perfect ear. She's one of those one-take wonders. I haven't seen many of those in my life. I tell her to sing a harmony, she goes and in a minute she says, "Done!" On the first take! And then I'm like, "What the fuck?" (laughs) Keeps surprising me.
As well as music and painting, you also designed and made your own clothes, hats, scarves and such. Do you still make these accessories?
Yes, I still do. All this stuff, look at this hat for example. I like to customize things myself. I've always made my own clothes, even in the early days of Hanoi Rocks I used to make clothes for the other guys in the band. 
So music and fashion have been in your blood since you were a kid.
I guess so. I started learning guitar when I was five. Later I got into old blues and rock 'n' roll, so I wanted an electric. I was about nine at the time. 
You used to play football when you were younger, didn't you?
Yeah before I blew out my knees I was really good. (laughs) I like to watch a good game, I like football. In the old days, I liked hockey too, when they didn't wear helmets. It's kind of embarrassing nowadays. The punishment comes as soon as someone does something. When I was young, they fought as much as they played. I always waited for the fight. That made it exciting for me. (laughs)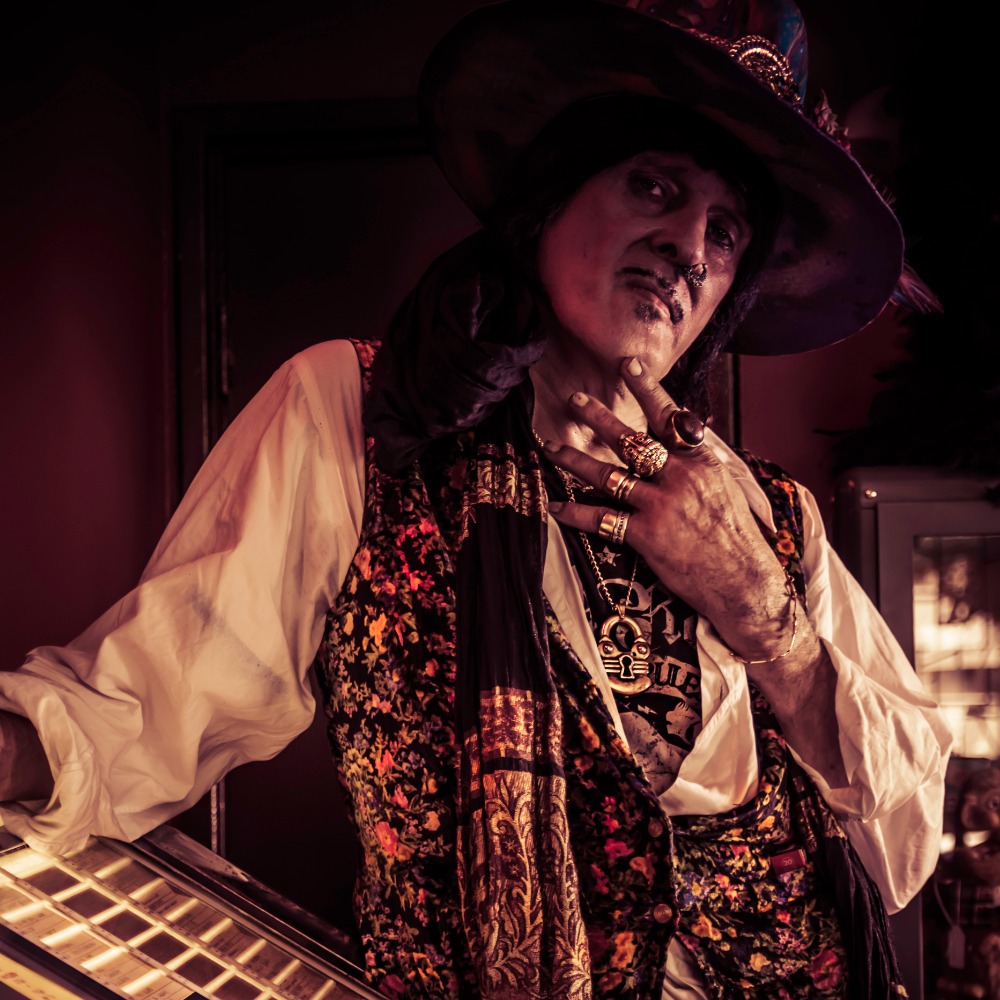 You have shows scheduled at the Whisky A Go Go in December. That's going to be your big comeback. Do you remember the last time you played there, and in America in general?
Yeah, I think it was with Shooting Gallery, around that time. I left the States because it was too easy to get anything there. I don't understand who the hell would want to smuggle dope into the U.S. when it's so full of it anyway.
In your book Sherriff McCoy, you refer to Los Angeles, where you lived in the early 1990s, as a modern Babylon, and you think returning to Europe was the best thing you could have done. 
That's right. Now I live in the south of Helsinki. You know, I'm European. I have a kind of love-hate relationship with America. One thing I don't like about America is that the dollar is their god. That's quite disgusting. They all have European blood basically, except for the natives.
Do you have a favourite place in the world besides Helsinki where you like to hide?
I like South India and Sri Lanka. Thailand used to be good, but now it's full of tourists, so I think Laos or Cambodia is better now. Japan is beautiful too. Everything is so clean there, you don't have to worry about food poisoning or anything like that. (laughs)
In the 2009 edition, you write that you would do a lot of things differently today and that you have different values and priorities. How different is the Andy McCoy model of 2022 compared to the Andy McCoy of the '80s?
Hopefully a little bit wiser. I used to have a hell of a temper when I was younger. If I got mad, I'd hit somebody right away. I've calmed down now. (laughs) As far as playing music goes, not much has changed. I would say I matured as a musician. I always try to serve the song, I don't show off like, "Look how fast I can play." I serve the song, whatever it needs. That's what I see as my job. 
Hanoi Rocks are still a popular band, maybe even more so today than they were during your lifetime. There's even a reissue of Oriental Beat coming out now in November. All remixed with a better sound. 
Yes, the remix was done by me and Michael. Now the album sounds really good because the production on it was really shit. It's like there's no bass drum. I assumed it was because we were young and our drummer couldn't keep a good tempo. But we were listening to the separate drum tracks and going, "Shit, what? They're amazing." Now it sounds like the rough mixes that Michael and I did back in the day. Finally, people are going to hear what the album was supposed to sound like. 
Speaking of Hanoi Rocks albums, which is your personal favourite? Do you have a favourite? 
I think Back To Mystery City. It's a little bit different, it makes sense. "Your hero is a zero and you're just another fuckin' weirdo." The album Two Steps From The Move was too American, too sanitised. I want to keep the inner city vibe, I like to keep that city sleaze in my music, if you know what I mean. So that you can smell the smell of the inner city from the record.
I was introduced to Hanoi Rocks through the Rock 'n' Roll Divorce record, which is a live record from a Polish tour that I found in a second-hand record shop when I was about 16. I've always been fascinated by how a band like you could get to communist Poland to tour. 
Ah, that terrible record. It was our last tour, without Razzle and Sami. We had Terry Chimes on drums, the original drummer of The Clash, who is an excellent musician. But that wasn't really Hanoi Rocks anymore. But then I went on with Terry in the Cherry Bombz project, which I left, actually the day before we were going to sign a worldwide deal. Anyway, the tour in Poland at that time was a huge culture shock for us. You go to a communist country, you've got big amounts of money but nothing to buy with it. I carried it in a plastic bag. (laughs) I remember I went to the public toilet and there was a cleaner-type lady. I wanted to give her a tip, but apparently I gave her more than she had made in the last five or ten years. She took her jacket and announced, "I'm done here. I have money for the rest of my life." (laughs) Well, I hope I did something good. No, it was really a shock. A guy from the West, being in a communist country, a surreal experience indeed. 
The UK Subs were also touring in Poland at that time. Was there always some connection between Hanoi Rocks and UK Subs?
Yes, we were and still are good friends. I once got Alvin (Gibbs) a gig with Iggy Pop, which he deserved. And Charlie's still touring at his age, it's unbelievable. Really top blokes, God bless them.
I came across an interesting story on the internet where the owner of Custom Boards, who was your guitar tech for the last few years of Hanoi Rocks, saw a photo of your pedal board in 2019. He didn't like the condition the pedal board was in, so he contacted you through your managers to help get your pedal board back in shape. 
Sometimes you get beer and other shit spilt on it, but the guitar tech I have now keeps everything crystal clean. (laughs)
Do you plan to go on a bigger tour with the new record?
We're working on it. Hopefully Europe next year. We've already got this year booked. I'm starting in Japan in October, then States and maybe Canada, I can't recall. For me, it's just gigs and I've been to basically all those places before so nothing new under the sun.
If you have found an error or typo in the article, please let us know by e-mail info@insounder.org.