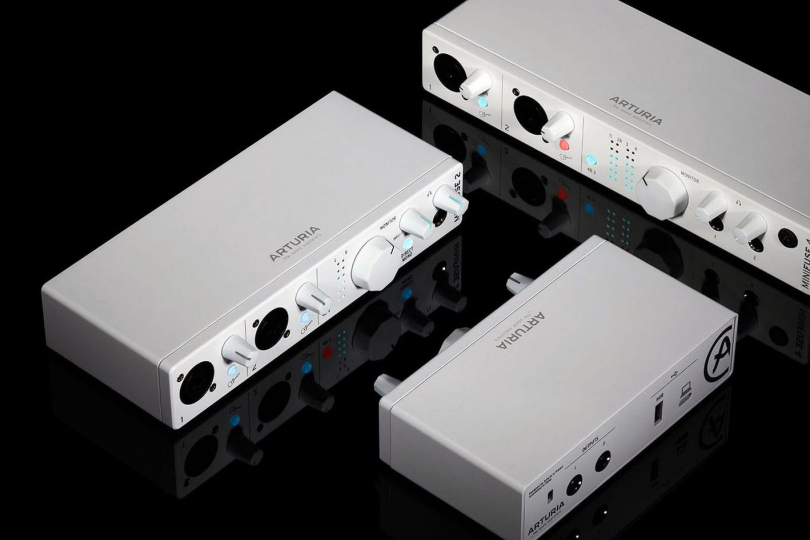 Arturia USB-C Sound Cards From the MiniFuse Edition
Arturia has decided to meet the needs of young and aspiring musicians, bands, producers, and studio enthusiasts with the budget-friendly MiniFuse series of sound cards. The edition, consisting of the MiniFuse 1, MiniFuse 2, and MiniFuse 4 models, is a more affordable alternative to the AudioFuse series and offers connectivity via USB-C port, including versatile features for recording, podcasting, and other related activities.
Apart from the smallest MiniFuse 1 design, the interfaces also feature MIDI DIN input/output, power is supplied by the abovementioned USB-C port, while the second USB-A hub is used to connect MIDI controllers. Of course, there is also a stereo headphone jack with its volume and phantom power. For streaming or podcasting, a useful function is integrated as a virtual loopback channel, which can come in handy e.g., for recording the audio component of computer games, recording phone calls, etc.
The MiniFuse 1 has one XLR/jack combo input to connect the microphone, instrument, or line and a pair of jack outputs on the back. The MiniFuse 2 offers two inputs plus the same number of outputs, and the MiniFuse 4 variant adds an internal digital mixer, a second headphone output, two jack inputs, another pair of outputs, a second USB-A hub, as well as the adapter power.
Interfaces are compatible with both Windows and macOS, and the company's free Control Centre app provides access to all settings and firmware updates. The frequency range is 20 Hz – 20 kHz, the dynamic range hits a limit of 110 dB, the maximum gain is 56 dB, and sampling is supported at 44.1 to 192 kHz.
The offered software package includes the following applications and plug-ins: DAW Ableton Live Lite, Arturia Analog Lab Intro – keyboard emulation, Arturia FX – four premium effects plug-ins (Rev PLATE-140 reverb, 1973-Pre vintage preamp, delay TAPE-201, chorus JUN-6), Native Instruments Guitar Rig 6 LE and a free three-month subscription to Auto-Tune Unlimited and Splice.
The cards from the Arturia MiniFuse collection are available in white or black, the MiniFuse 1 version can be purchased for about 100 euros, while the MiniFuse 2 version costs around 130 euros. The top model, MiniFuse 4, does not have an official price tag yet, as the manufacturer is expected to launch the "four" only in the first half of next year.
If you have found an error or typo in the article, please let us know by e-mail info@insounder.org.