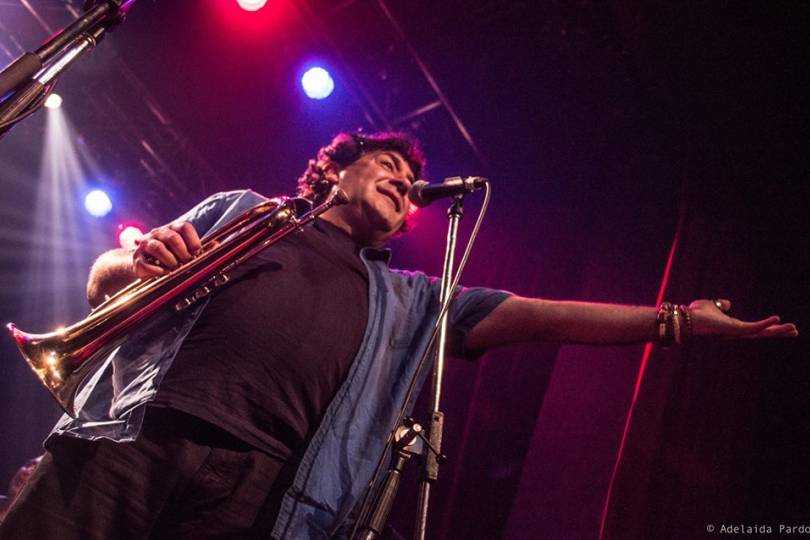 Boban Marković: "We speak in the language of music with each other as well. Maybe if everyone could do that, there would not be so much miscommunication between people." | Photo: www.bobanmarkovic.com
Boban Marković: "We Enjoy Experimenting with Electronic Effects on Stage"
Serbian trumpetist Boban Marković is a living legend in the genre of traditional balkan brass-music, which gained its renown and popularity with Emir Kusturica's movies Underground, Arizona Dream, and Black Cat, White Cat. His band Boban Marković Orkestar, in which his son Marko also plays, released their latest studio album Mrak in 2019. I conducted this interview with Boban Marković right before his most recent show in Czechia on the 21st of August, 2021, at the Artu Kus festival in Trutnov. Can we expect to hear Mesechina, Kalashnikov, Ederlezi and other hits in new arrangements? In what regard is Mrak innovative in the balkan brass-music genre? And how does Boban describe himself as a bandleader?
Your newest album Mrak was released in 2019, and at that time you mentioned that this album marks a new chapter of your career. What makes Mrak such a big change?
Mrak is special because we wanted to experiment with all kinds of modern elements while staying inside of the traditional frame, because our crowd loves us for the good balkan brass sound. We wanted to sound a bit more modern, more familiar to our audience's ears. In implementing electronics, we had special help from our sound engineer Slave Celevski, who also had some part in composing these pieces.
How did you spend your time during the last year and a half, which was difficult for all musicians due to pandemic restrictions? Did you focus on recording or some new projects instead of playing live shows?
We had a very long period without live concerts, so we had some time to kill ;). We started to work on film music for a Hollywood production, but due to pandemic it got cancelled. We also worked on some singles with other artists including Vidiek and my own son Marko Marković.
In 2019, the first edition of your other project, Boban Fest, took place in your hometown Vladičin Han. Did you manage to continue this new tradition as you wanted, despite the covid-restrictions?
We had a very good start with Boban Fest that I am very proud of. We hope to continue this project in the future, but not this year. We also need sponsorship to be able to do that.
Do you regularly change the arrangements to Mesechina and other famous compositions to make them sound ever differently or new, or do you still enjoy playing them at live shows the way they were recorded?
In our live shows now, we play the music material of our new album Mrak, so we need to use some electronic elements from computer, which is totally new for us. This never happened before, so we enjoy experimenting with these high-tech elements on stage.
What do your rehearsals look like—the communication with other members, the entire atmosphere, and so on? And how would you characterize yourself as a bandleader?
Leading a band is always very hard, because it is a big band with all sorts of personalities. We want different things in life and we have different opinions about the same phenomenon, but on stage we have to be united and we have to be cheerful, because we play cheerful music. So it is difficult to be very firm but jovial at the same time. What is very important is not having to worry about nuisances, that's why we work with professionals who help organize our trips so we only need to focus on playing music.
When working on a new composition, what does the entire process look like, from the very first musical idea up to final arrangement and instrumentation?
This is always a different process. Sometimes a melody finds us, sometimes other artists inspire us, sometimes we want to shed some light on a traditional instrument. Every song has its own story.
Your son Marko was taught to play trumpet by your father. In what regard was Marko's musical journey different from yours?
Marko grew up with the band touring all over the world, so he knew this world from a very early age. His talent is unquestionable, but now he wants to walk his own path, which is inevitable for any true artist. His music stems from traditional balkan music, but he uses free jazz elements on stage more often.
You first learned to play music by ear, without written scores. Do you now use scores for the Boban Marković Orkestar, or do the band members learn everything by ear, using musical memory and emotion?
We grew up in a family where music was a big part of our life. We played music when we were happy, when we were sad, when we were celebrating, when we were mourning. Not an hour of a day passed by without music. We speak in the language of music with each other as well. Maybe if everyone could do that, there would not be so much miscommunication between people.
On your album Mrak, in the compositions Dusha and Ederlezi, a certain musical instrument is used that sounds like a saxophone with an unusual tuning. Is it a duduk or another traditional wind instrument?
For these two songs, we wanted to use traditional instruments. The soft sound of this instrument perfectly matches the melancholic sound of these two songs.
Which artists—not just musicians—would you like to work with in the future?
I have already worked with so many famous musicians, such as Goran Bregović or Emir Kusturica. But nowadays, what I really enjoy is composing film music. So I hope to work with one of my favorite film directors, Alejandro Inarritu, on one of his new films.
If you had a moment to chat with Boban Marković before a show, what questions would you ask him? Let's hear them in the discussion below!
If you have found an error or typo in the article, please let us know by e-mail info@insounder.org.