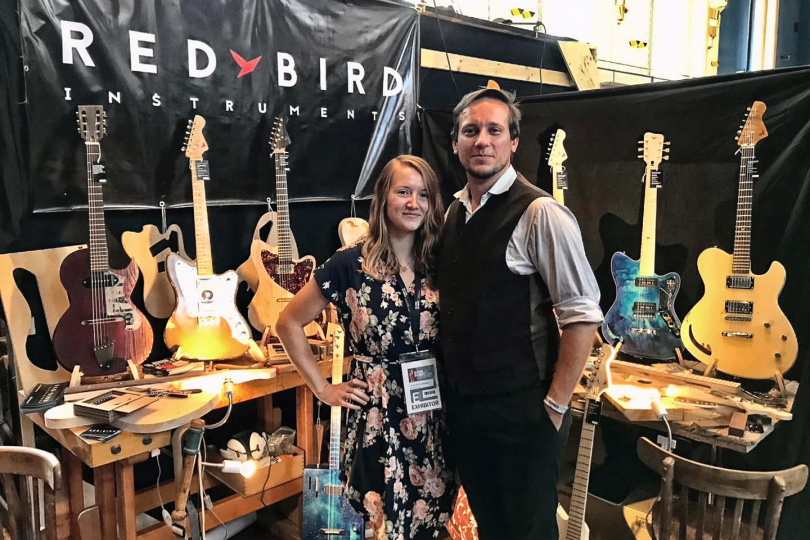 At the exhibition | Photo: Archive of Red Bird Instruments
Dreamstruments #20: Red Bird Instruments
Red Bird Instruments (because it's not just guitars) is already a well-known and popular brand, as the moving story of this part of the Dreamstruments series perfectly demonstrates. In fact, my editorial colleagues have "beat me to it" several times with articles about these strangely beautiful dreamstruments. The journalistic tug-of-war over the topic is clear evidence that Jan Fic and his Red Bird team are doing their job well.
I first met Jan (Honza) Fic in person at the Folkový kolotoč festival (folk carousel), a famous folk festival in the Czech Republic where we got into such an interesting conversation that he almost missed the beginning of his act. Over a year ago, I visited him and Lucie Přichystalová (a great photographer and a budding luthier) in their new workshop and we shared our mutual love of Danelectro guitars, old wood recycling, thin-ply nitrocellulose lacquer, relic finishing, short drive tests making, future plans and much more. Plus, my old friend Robotom (Dark Gamballe) arrived there out of the blue, so it was an intense meeting all round.
So I gradually summarized the Red Bird materials but also watched in amazement as my editorial colleagues kept leapfrogging me with their RB contributions, accompanied by new instruments like Honza Sladek's Pohřebcaster (funeralcaster) or David Pomahač's pink Ffastback. But of course, since Insounder can't just be a Red Bird fanzine, the right time is only now. 
In the meantime, there has been a literal whirlwind of Red Bird stories and activities over the year. From the successful international presentations (German Guitar Summit or Italian Guitar Show), through the absolutely great Kytarová zbrojnice Live (Guitar Arsenal) by Maťo Mišík, the launch of their production of sustainably packaged pickups, lots of interviews and articles, Honza's third solo album Homunkulus, to the long-planned project of the cheerful and playful guitar Finch G.mini. Honza has literally had several irons in the fire. 
That's why we won't dwell on familiar facts like the Red Bird logo inspired by a bloody wound, recycled beams from the legendary Moulin Rouge nightclub in Brno and a guitar equipped with a resonator from a baking tin, although these are of course tabloid-worthy stories. Or the stylish cigar boxes, resonating not only with the blues scene but also with alternative folk, and owned by personalities like Honza Žamboch and Žofie Kabelková. Not even famous Red Bird customers like Rudy Linka, Honza Homola and Jakub König and their guitars. 
I was thus led to the appropriate red thread of this post by the Bass Week by kytary.cz, as well as by the ever-growing enthusiastic and active community of fans, literally the Red Bird family. So let's give space to the not-so-publicized deep red birds.
Red Bird "Cadillac"
This impressive retro bass immediately caught my eye with its uncompromising design. It was clear that there was a ton of work behind this gorgeous design piece, which was of course confirmed to me by its proud and happy owner Kuba Nožička (who had his say on creating the design).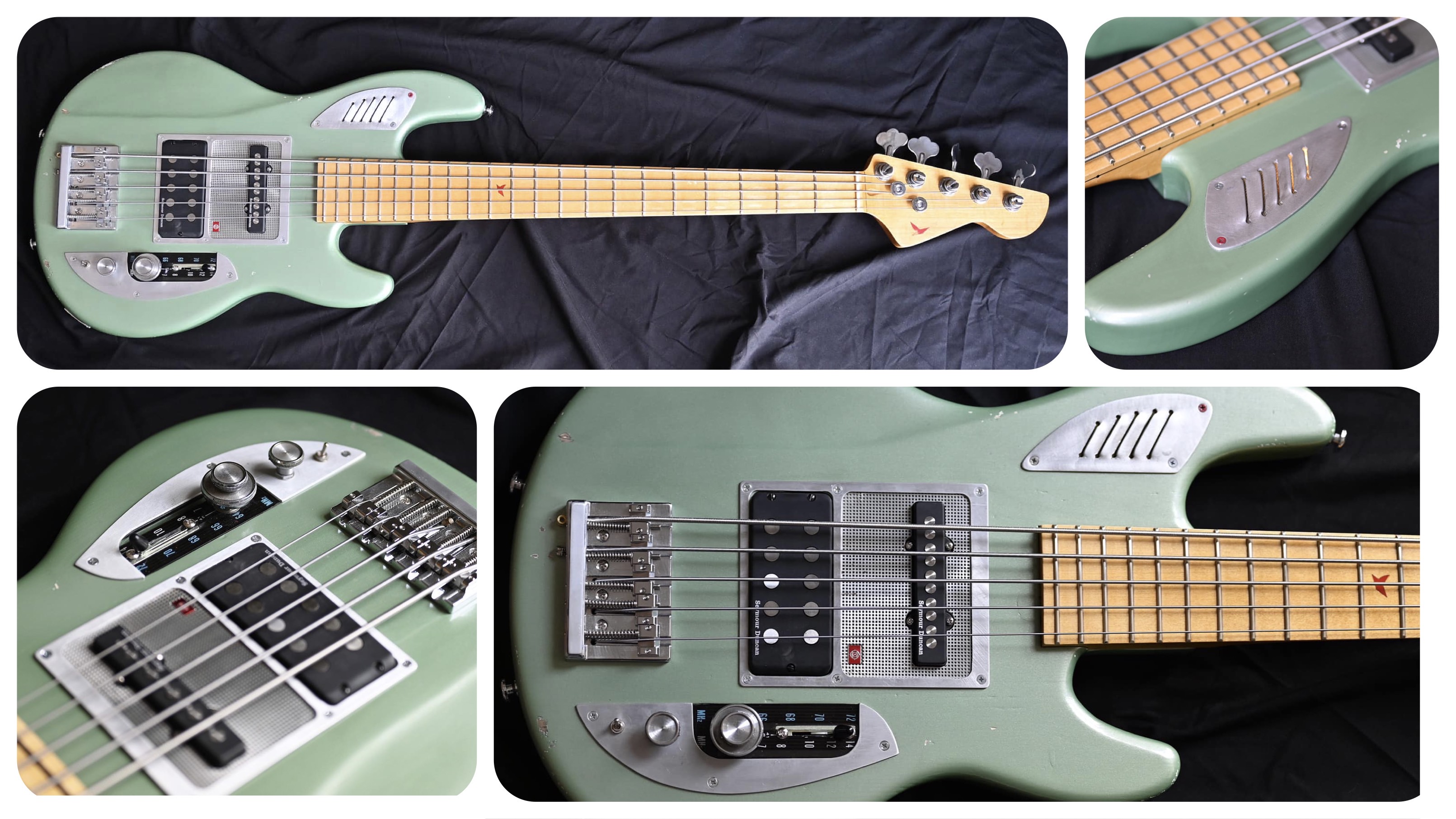 The assignment was a five-string bass with a body similar to a Music Man, a neck imitating a Sandberg, with tuning machines in a row and a stylish look like an old Cadillac. The body was made of wood from a Krkonoše church beam from 1788, which had already been tested on Kuba's first bass. Honza did a lot of thinking about how to grasp this tricky task but then he bought an old radio on Aukro (a Czech online auction portal) and used the illuminated parts as a cool "autotuning". He fitted Seymour Duncan and Kuba's wife picked out an original greenish tint from old Cadillac catalogues from the 1950s which unified it in colour and style at the end. A great example of community-creative collaboration underlined by excellent bass, which you can hear, for example, in the live recording of Kuba's Bartleby project from Golden Hive studio.
Kuba is fond of saying that the Cadillac is one of the two best basses out of more than twenty he's ever had – and the other is, of course, also from Red Bird.
Red Bird "fifty-one"
The legendary Fender Precision Bass'51 is the first electric bass and, of course, it comes in many variations and under many monikers such as P-bass, PB etc. It's also a favourite with Red Bird customers, as the photos from the workshop show. One of them attracted the attention of bassist and producer Robotom who wanted to try the decades-tested raw sound in proper hard stuff.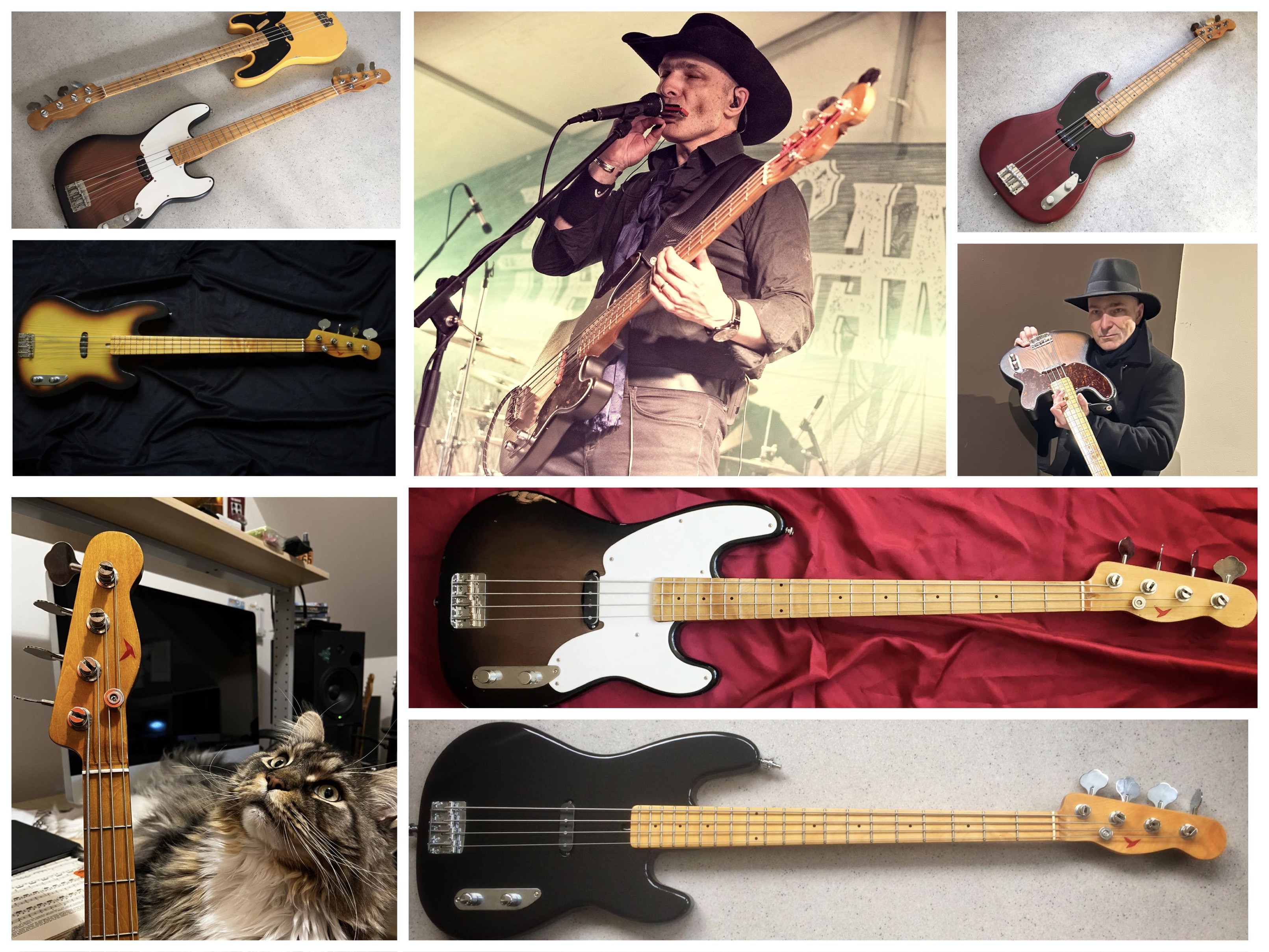 One thing led to another and when Honza swapped the white pickguard for a "tortoise", they made a deal, and Robotom then boldly replaced the classic smooth strings with thick steel wires (60-125), tuned lower to B and braved the rough Dark Gamballe waters. The so-called topload bridge allowed him to mount the thick string on the bridge, as it would have been difficult to pass through the body in the usual way. He wanted to test how this actually rather fundamental sound of one of Tůma's single pickups would work for him.
Unsurprisingly, it did, and he uses it both on stage and in the studio. Most recently during the latest DG recording, when he was telling me that it was probably some kind of omen. He just took it along to make a demo of a brand new (to him then unknown song), that he would possibly play it somehow "as a practice" on it. But the sound of the instrument fit the recording in such a way that he couldn't record it on anything else afterwards. After all, listen to the first single from the new Dark Gamballe album and judge for yourselves.
The observant viewer may notice that he's holding a different bass at the behest of the director in the Robotom clip, but the recording is indeed his tweaked Red Bird 51.
Red Bird Gemini XXX
Honza has never made any secret of his fondness for small or scaled-down instruments, such as the travel sitar, bouzouki, mini ukulele and a compact bass with a special bridge (so that strings of the standard length could be used). From the same family is the latest shortscale bass Gemini, where XXX (Latin for thirty) refers to the shorter 30" length scale. Shorter for basses only, as it is, for example, the long baritone length scale of a guitar. Such an instrument is more comfortable for guitarists or for players with short arms, for example.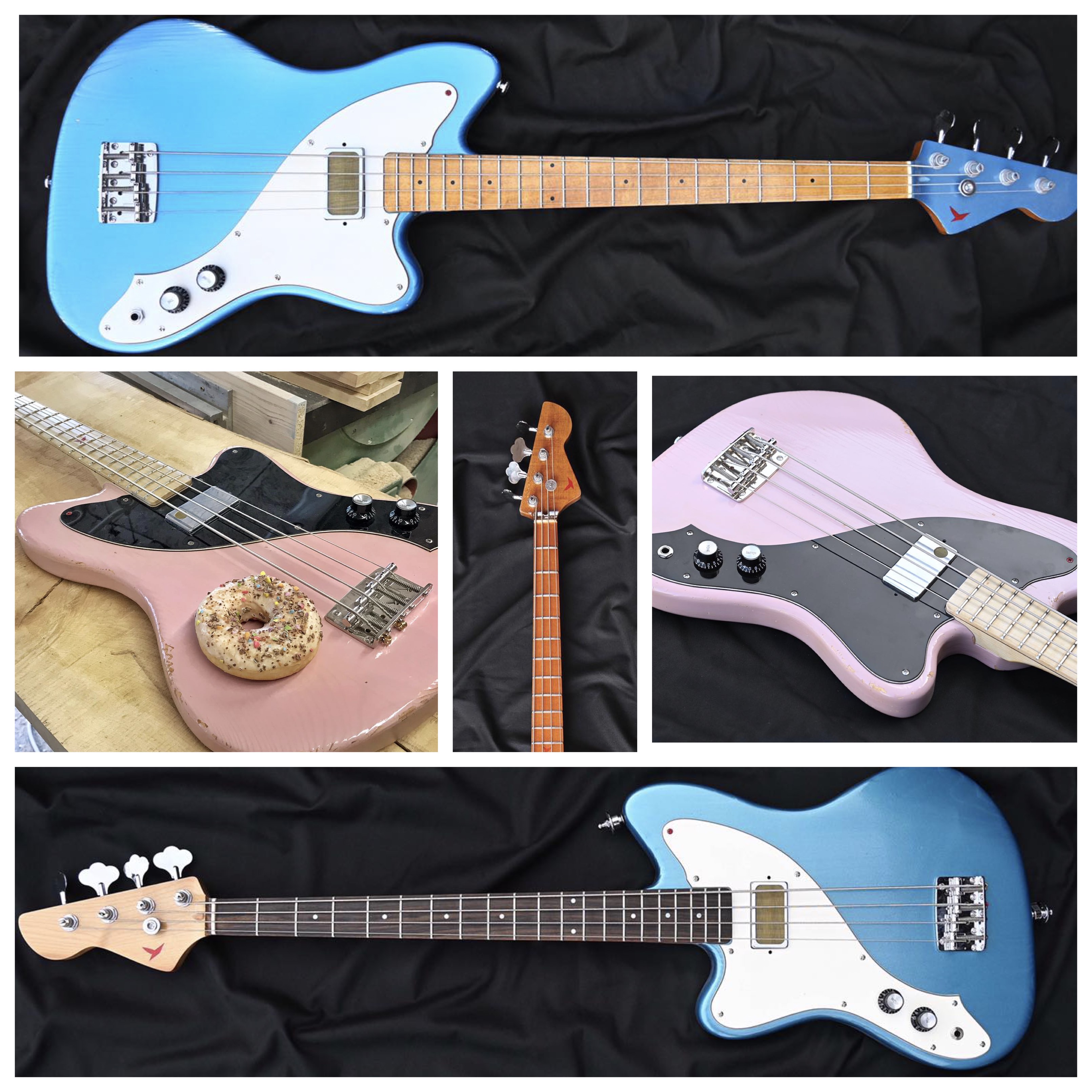 The hand-wound Red Bird P90 pickup, Gotoh brass bridge and super lightweight Hipshot mechanics bring stability and quality sound even in this smaller package. The Gemini family is growing in popularity with customers, so much so that Red Bird is running out of series names and has to find various anagrams like the Gemini Momma for the grown-up bass variant. Both Gemini basses were, after all, part of the aforementioned Bass Week.
The latest bird acquisition from the same family is the tiny Finch G.mini, a three-string instrument as a travel diatonic dulcimer. The cute little guitar is made of quality wood in cheerful colours and tuned to the G chord to inspire children and provide an easy and fun entry into the world of music without any obstacles.
Who dreams of an unordinary, strangely beautiful retro instrument that is comfortable to play? With a thin layer of lacquer supporting a wider open sound spectrum full of aliquots and a relic look where every scratch is easily lost? Made of recycled old wood, perfectly dry and resonant with a story? Then turn to Red Bird Instruments with confidence.
P. S.: Fittingly, the experts at the Bass Week chose the Red Bird Gemini XXX as the best bass and the fans voted for the Red Bird Gemini Momma as the most beautiful bass.
If you have found an error or typo in the article, please let us know by e-mail info@insounder.org.