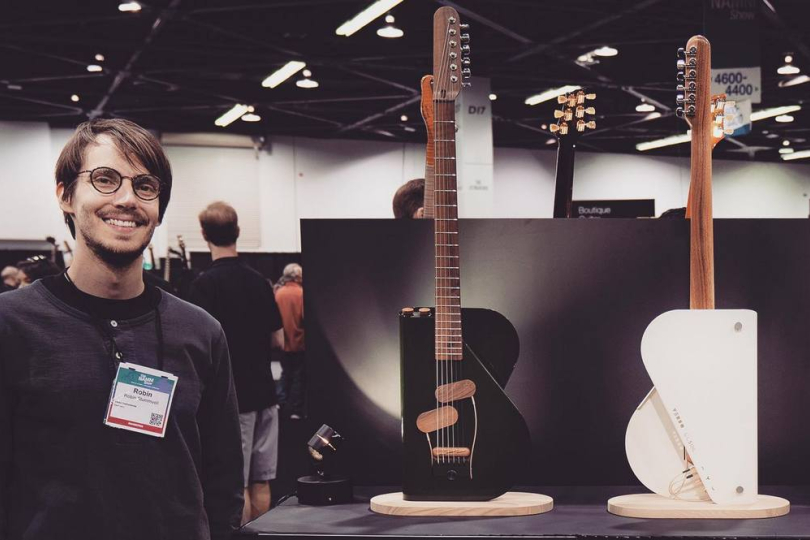 Robin Stummvoll and Verso Instruments at last year's NAMM Show | Photo: facebook Verso Instruments
Dreamstruments #9: Robin Stummvoll and Verso Instruments
The Dreamstruments series celebrates originals. Artists who keep the tradition intact and pioneers who look for their own path in the world of musical instruments and often turn the established beliefs on their heads. Robin Stummvoll, who creates guitars using sheet metal, is definitely among the latter. Some purists may raise their eyebrows, but there are just as many fans who would swear by Verso instruments.
Some instruments can be distinguished by the smallest detail. There are people who see a switch with a pad and know they're looking at a Les Paul, others recognise the typical jack plate on a Stratocaster. But with some instruments, you can look at a photo of the whole piece and not be quite sure what it is. Is that wrong? Is it good? What is it actually like? That's up to everyone to decide. However, that's exactly the sense of uniqueness you might experience when you first look at the Cosmo guitar by Verso Instruments.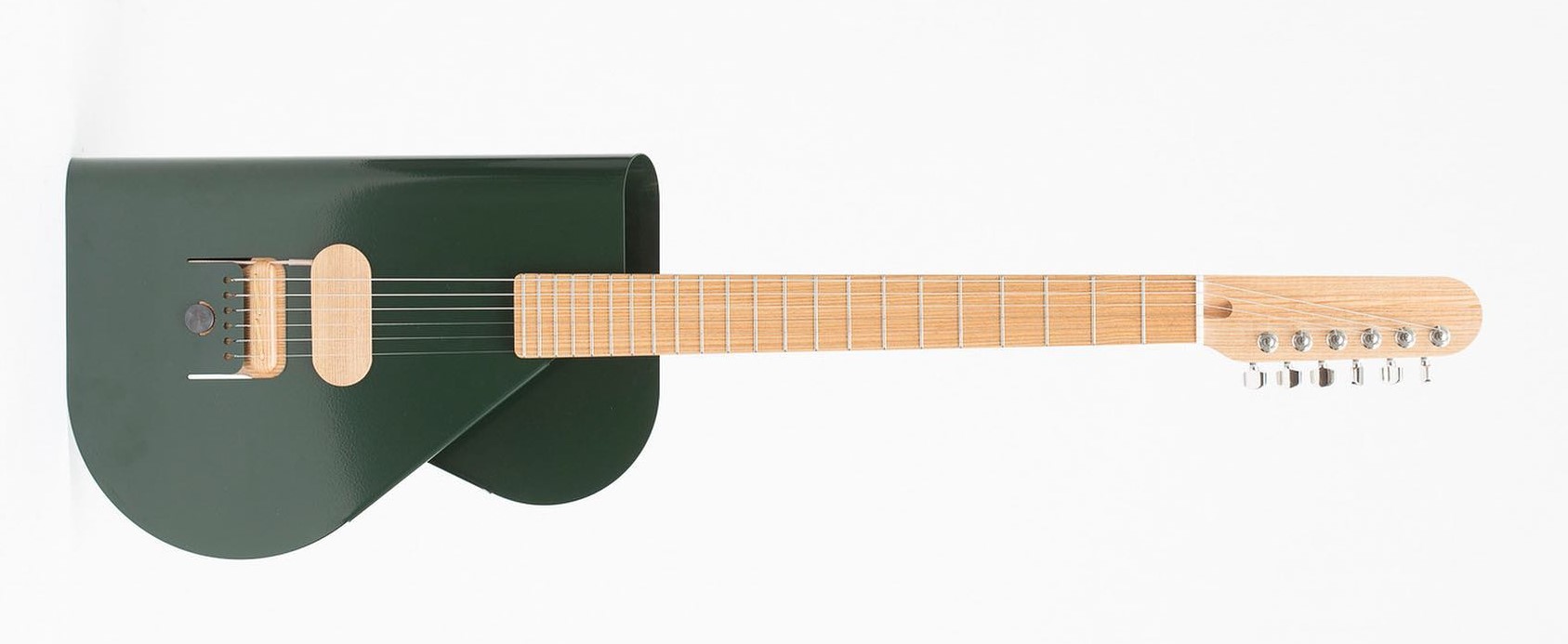 Eco inside, modern design on the outside
Robin Stummvoll started making guitars at the age of 16 when he built a lap steel guitar based on the Weissenborn guitars. He studied graphic and industrial design, which is clearly reflected in his creations. In addition to Dieter Ram's design, which Florian Bouyou has already mentioned in our series, Robin also draws inspiration from the works of Charles and Ray Eames and the guitars by Allan Gittler and Nobuaki Hayashi.
"It is crucial for me to take a big step back and ask questions that are essential but often overlooked or ignored due to tradition or expectations," says Robin, explaining that in addition to modern design, Verso Instruments' philosophy is based on sustainability. That's why he takes the path of simplification. "In order to ensure that local instrument manufacturing remains competitive against low-cost mass production, it makes sense to simplify processes, reduce components and concentrate on the internal production of almost all individual parts," he says.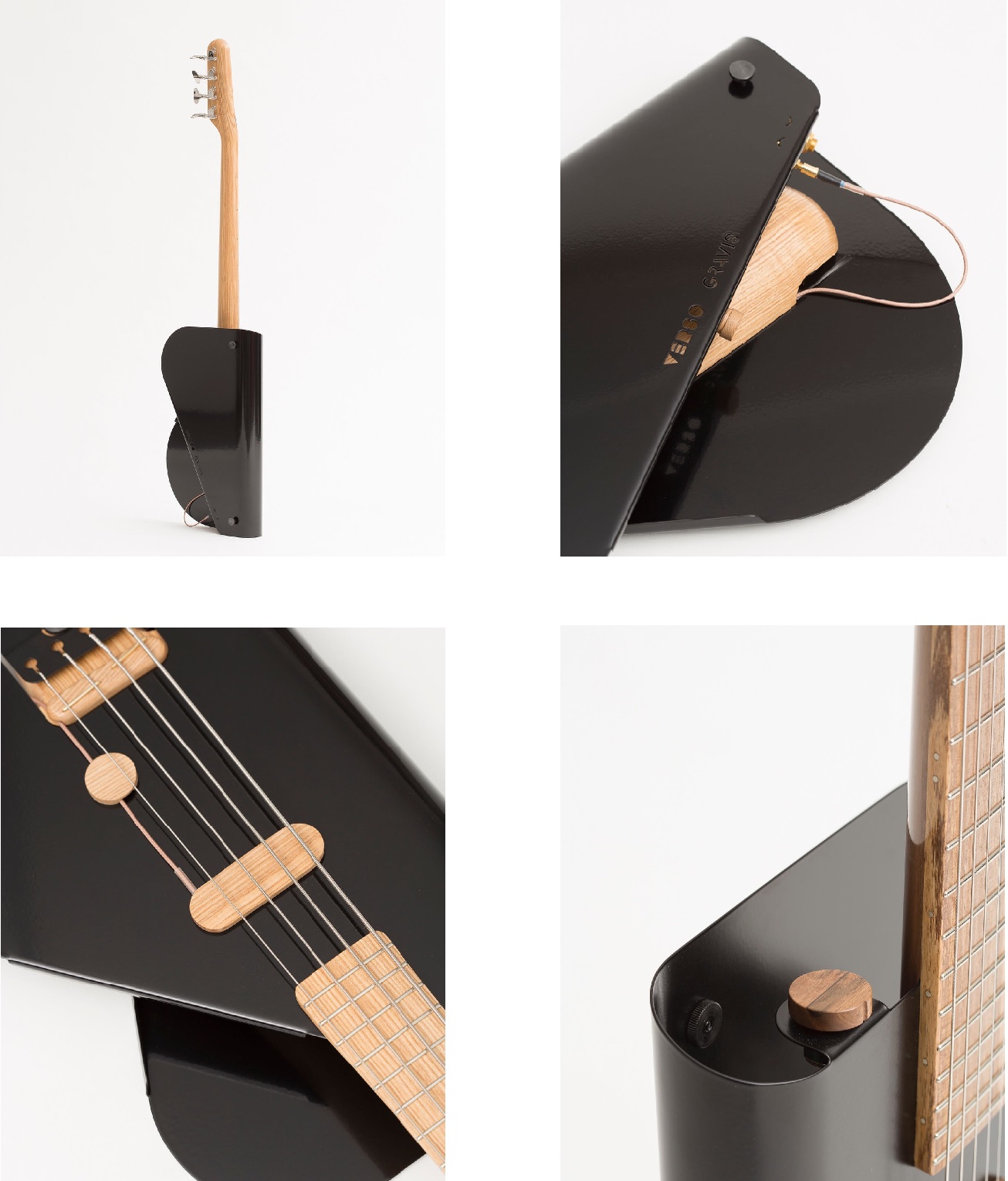 Like a race car
Verso instruments design evokes the golden days of motor racing, back when the British brand Lotus triumphed. Its guru, Sir Colin Chapman, famously coined the motto "Simplify – add lightness", by which he meant that lightweight is the easiest way to speed. According to Robin Stummvoll, simplification means not only lower costs for the production of the instrument but also unexpected benefits. Since the entire body is a U-bent steel plate, attaching the pickups is tremendously easy – they are on magnets. This allows them not only to be moved freely around the instrument but also to be changed very easily. 
Once you can use the pickup completely at will, you can get rid of extra switches and other unnecessary controls. This obviously helps aesthetically, but it also allows further simplification of the design. "Moving it towards the treble or bass strings also partially reduces or amplifies them. If the pickup is off the strings, the instrument sounds distant and dreamy. Hold it in your hand while playing and fall in love with the intuitive swells," Robin describes his concept. In addition, Cosmo guitars have two pickup inputs, routed as separate small jacks, and the ability to switch between mono and double mono output. 
Robin makes his own pickups for Verso Instruments, offering three preset single coils and three humbuckers as well as custom pickups. 
Another similarly simplistic feature is the bridge, which resembles a classic bridge known from acoustic guitars, rather than vibrato bridges of electric instruments. "In my opinion, there are too many and too easily accessible adjustment points on an electric guitar. This often leads to a problematic setup," starts Robin. "For this reason, I use a simple, non-adjustable bridge construction, which has to be filed to the right height. The intonation can be corrected much faster by moving the whole bridge – all without tools," he adds, adding that this solution proves to be beneficial for the player, as it eliminates a potential source of trouble and allows them to concentrate on playing.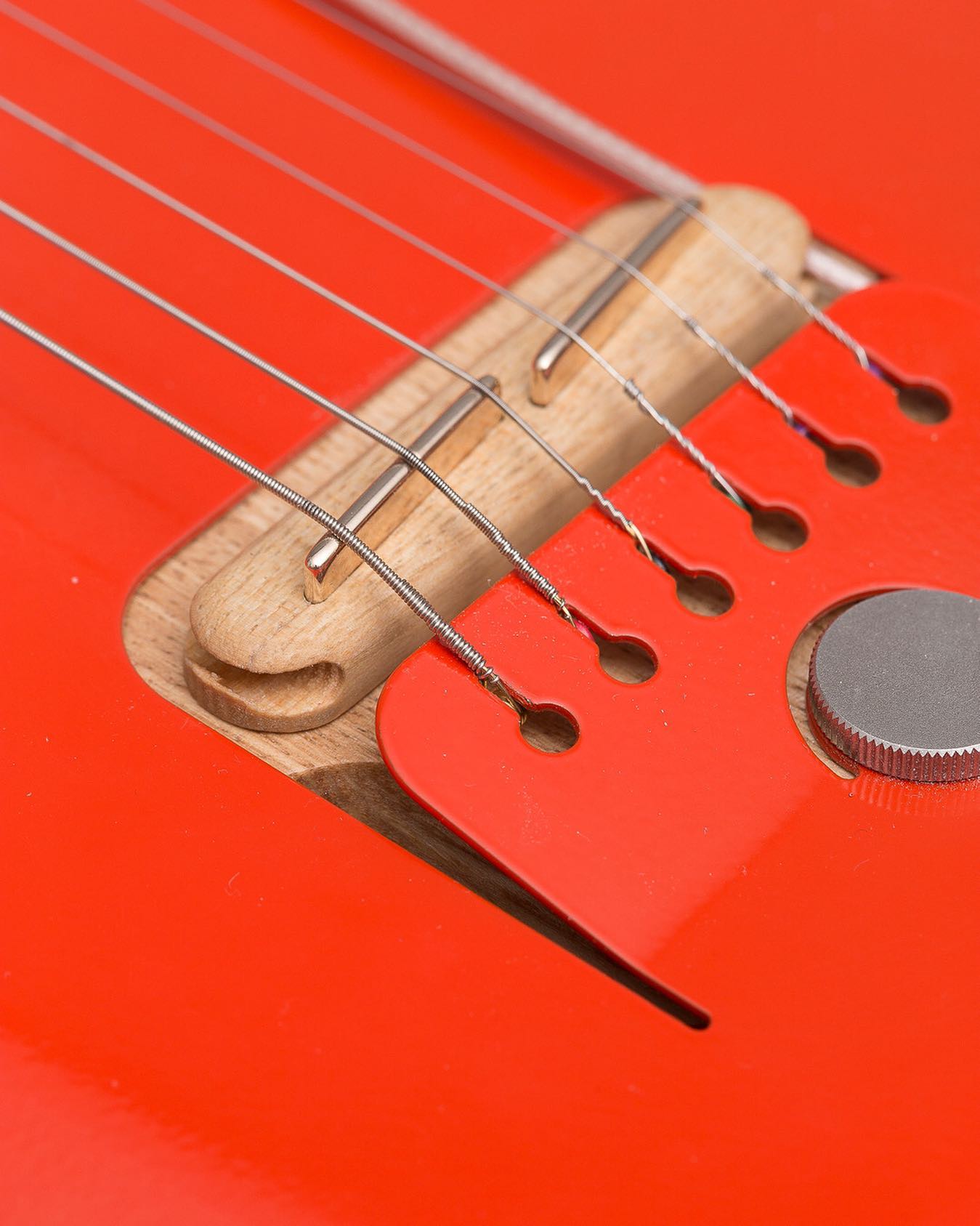 Local, ethical, sustainable...
Today, these words may sound like a prompt to a pseudo-political discussion, but being truly sustainable and local is not easy at all. And Verso Instruments proudly show that even the smallest details, such as the steel strap buttons, are made in Germany. So it is no wonder that the range of woods (yes, under the sheet metal body is a relatively traditional wooden neck with an overhang to hold the metal structure) does not include wenge, bubinga, or other exotics, but modest yet effective maple, ash and walnut, with a possible choice of other local woods. Also, all wooden parts, including knobs, pickup veneer and so on, are made from the same piece of wood. 
In an interview with guitar.com, Robin explained his stance:  "As a creator of instruments that hopefully inspire musicians and builders, I think it's my responsibility to use local woods exclusively. That's also why I don't use old-stock tropical timber. I want to change habits and expectations for the better and this isn't happening with mahogany and ebony. With acoustics it's a tough discussion, but not with electrics."
Robin has the same strict criteria for the finishes he uses on his instruments as he does for everything else. Sustainability is a priority, but even here you can see how complex Verso Instruments' philosophy is.  "I use traditional materials and techniques where they make sense. Historical surface techniques, as used by guitar, violin and piano makers for centuries, are much more durable, more restorable, but also healthier for the craftsmen and players," says Robin, adding that he prefers to use linseed oil, both for the feel it leaves on the wood and the fact that it requires low maintenance.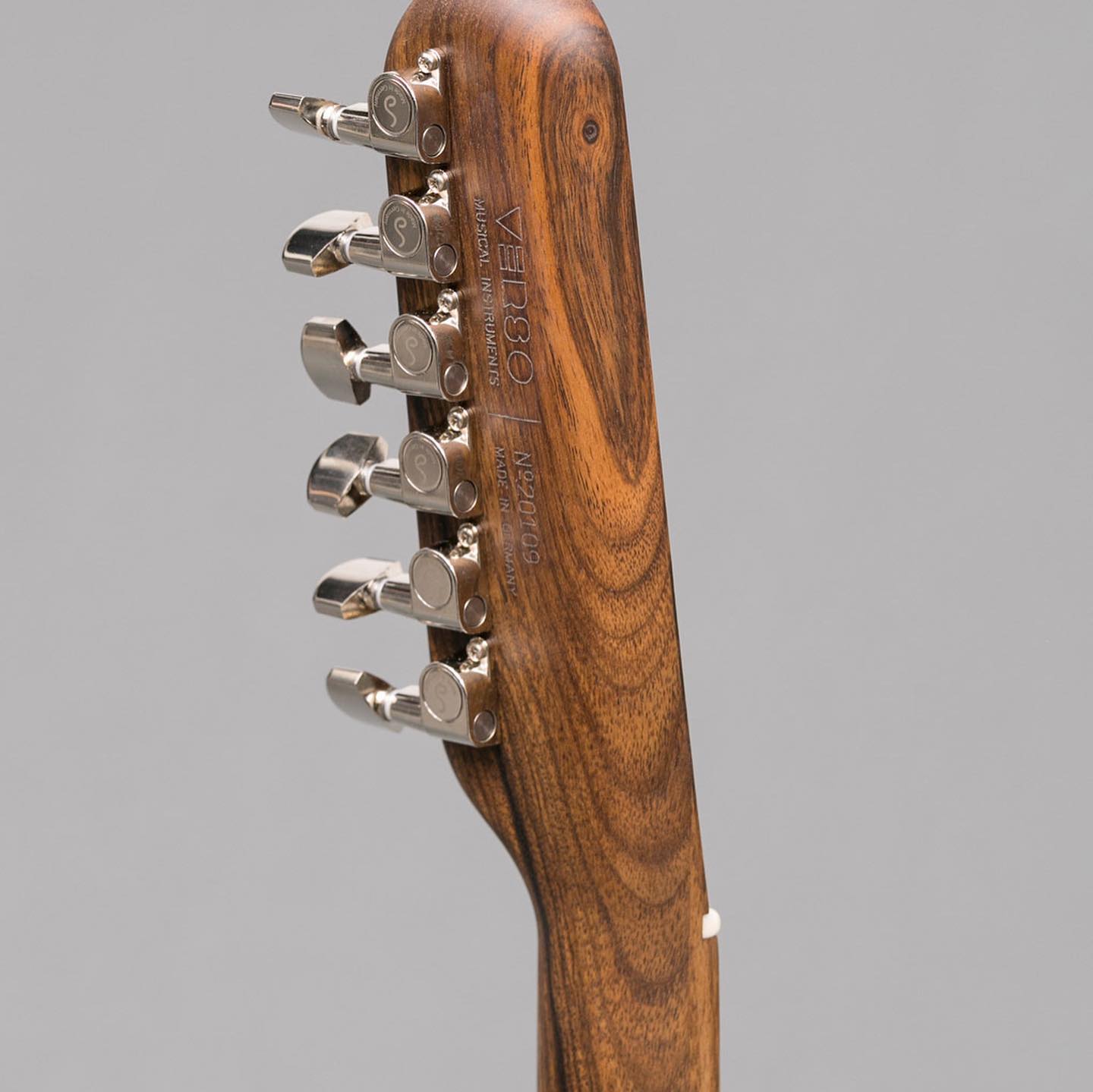 Verso Instruments guitars are only in their third year of production in Kassel, Germany. However, they have already created quite a buzz in the guitar world. In one interview, Robin Stummvoll admitted that he looks for efficient, simple and functional solutions when building instruments –just as a certain Leo Fender did seventy years ago. Considering the public reaction to his products, it seems to be the right approach.
If you have found an error or typo in the article, please let us know by e-mail info@insounder.org.