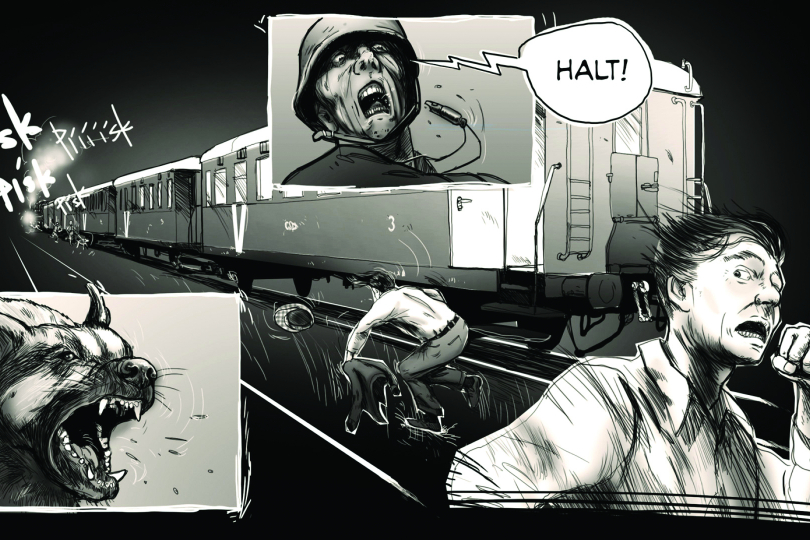 When creating the soundtrack, DVA mostly used a combination of field recordings on a dictaphone (train station, laundry, siren test, water plant) with acoustic instruments. | Illustration: Charles Games
DVA releases a Game Soundtrack to Accompany the Assassination of Reinhard Heydrich
The imaginative artistic duo DVA, Jan Kratochvíl and Bára Ungerová, regularly collaborate with Czech game developers. After their more cheerful and playful work, they have just released a much more serious collection of songs created for the studio Charles Games. The official soundtrack Attentat 1942 / Svoboda 1945: Liberation, containing eleven melancholic but also disturbing tracks, was released on the 80th anniversary of the assassination of the acting Reich Protector of Bohemia and Moravia.
The album was created for the award-winning historical adventure games Attentat 1942 and Svoboda 1945: Liberation, which cover the era of the Protectorate of Bohemia and Moravia and the end of the Second World War, including the beginnings of collectivisation. Players search through historical materials, talk to survivors and learn historical realities in a unique way inspired by detective games.
In addition to DVA's characteristic voicework, you'll hear modulated brass section, ambient and drone layers, harmonium, cello and chimes on the official soundtrack.
"For the most part, we combined field recordings (train station, laundry, water powerplant) and acoustic instruments. We also used a very special bass clarinet, probably used by a German and later Czechoslovak army. Bára, my colleague from DVA, got it in some pawn shop. Even today, you can see the year 1939 on it along with a slightly visible Swastika," explains Jan Kratochvíl. For him and Bára Ungerová, it was about a change in mood and attitude. "Creating game soundtracks is a very specific thing. It reminds me of building legos, a lot of loops and emotions you then layer on top of each other. With DVA, we mostly do cheerful music, so Attentat 1942 and Svoboda 1945 have been a big challenge. We had to get serious, dark, which is out of the ordinary." says Kratochvíl.
"For us, cooperation with DVA is a pleasure. Games are a multimedia genre and in the case of Attentat 1942 and Svoboda 1945: Liberation, the sound is half the experience. Scenes from the Protectorate or memories of liberation from the Nazis are perfectly illustrated by DVA," says Vít Šisler, the lead designer of both games, on behalf of Charles Games. "DVA's compositions for our games innovatively combine historical instruments and sounds to create a form that reflects the past but still sounds modern," concludes Šisler.
The soundtrack is 32 minutes long. You can find it on Spotify, Bandcamp and Steam.
If you have found an error or typo in the article, please let us know by e-mail info@insounder.org.