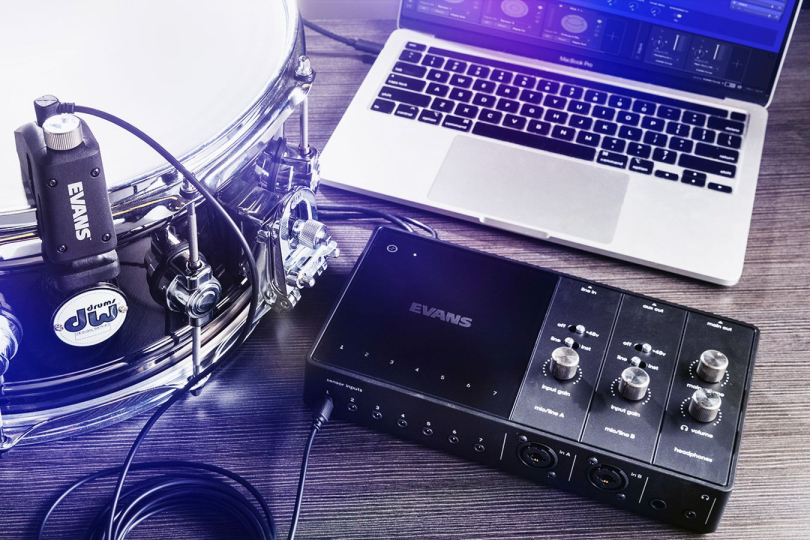 EVANS Hybrid Sensory Percussion Sound System
EVANS, a traditional American manufacturer of drum accessories and membranes, belonging to the D'Addario Group, added the Hybrid Sensory Percussion Sound System EHSP-1 to its product portfolio this year, turning acoustic or electronic drum kit, percussion, etc. into a powerful controller for music creation. The EHSP-1 allows you to create and control multiple sounds with each drum to generate complex, layered sounds in real time, making it a powerful tool for players who want to explore new sonic territories and push the boundaries of their instrument.
Consisting of pickups, a central sound card module and the necessary cabling, the kit offers the power and flexibility of a modern workstation with the intuitive playability of an instrument, which means, among other things, that the system is capable of replacing external effects pads. Each sensor is complemented by so-called elements in the form of small dots that simply stick to the upper membranes, while the pickups in massive cases are adapted for clamping to the drum rim.
This is followed by a wired connection of the sensors to the EVANS Portal Audio Interface (EPAI) module, which serves not only as a fully functional audio card (jack/XLR inputs and line outputs), usable for recording other instruments or vocals, but also as a mixer/controller with built-in microphone, headphone preamp, phantom power and MIDI Out, 5x Aux Out, 7x Sensor In, ADAT or USB-C connectors.
Elements (stick-on sensing elements) help divide the drum into up to 10 zones, capturing unique nuances of playing technique, which go through the EPAI module to a computer that uses machine learning algorithms to interpret the drummer's playing and convert it into a variety of different sounds in Sensory Percussion software.
This includes six sound packs with over a hundred presets, covering a wide range of sounds and styles, from classic electronic percussion, melodic tones and chords to faithful reproductions of acoustic drum kits. Of course, these kits can be edited and remixed, or you can start building an entirely new original kit from scratch using over 2300 samples, or your own sound library for unlimited flexibility.
The software also offers a sequencer, a Note Controller that converts the timbre, velocity and dynamics of your playing to notes in the scale, a metronome, advanced mapping and last but not least, classic effects such as delays, reverbs, filters and equalizers – there are currently 17 effect modules in total. In addition, the sonic possibilities can also be expanded via MIDI connection to other music devices.
Included in the box is a trio of Elements pickups, module, 3x TRS 3.5mm + USB-C/USB-C cables, EMAD bass drum adapter, limited edition ProMark ActiveGrip drumsticks, software registration/download card and power supply. Additional sensors and components can be added separately.
If you have found an error or typo in the article, please let us know by e-mail info@insounder.org.