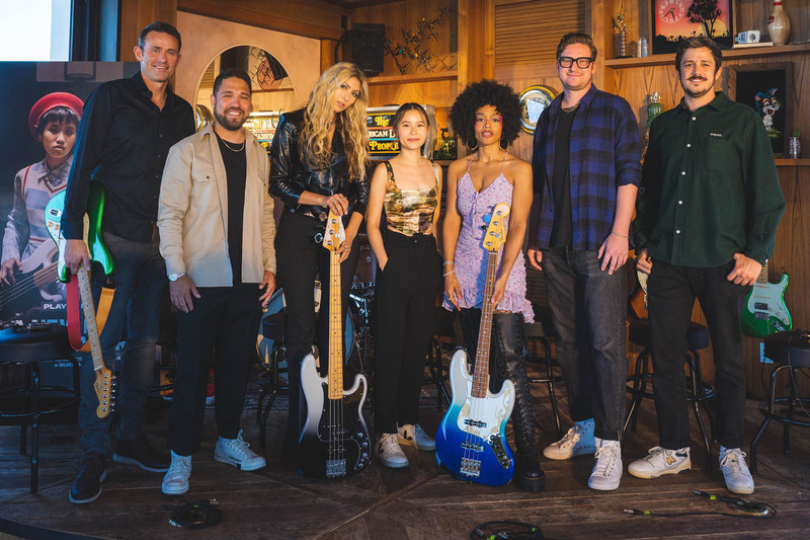 TikTok offers a new format. It is very exciting watching musicians that can follow those trends | Photo: Heather Youmans (Fender Digital)
Fender and #GuitarTok: How TikTok is Bringing Guitar to Gen-Z
Fender hosted a panel on July 19th 2022, to discuss how TikTok is changing how we create, consume and discover new music. #GuitarTok is emerging as a go-to source for tutorials, inspiration, and a place for connection and collaboration—as well as a direct pathway to discovery for music managers and talent scouts.
According to a survey done in 2021, a huge 58 percent of new guitar players are using TikTok to find guitar-related content. The panel discussed various perspectives on how TikTok is impacting the music industry today, what the future for artists and creators looks like, as well as the ways Fender has committed to expanding the aperture of guitar to a new generation of players. Moderated by digital media writer at The Hollywood Reporter, J. Clara Chan, the panelist line up consisted of Evan Jones, FMIC CMO; William Gruger, Music Editorial Lead, TikTok; Artists and TikTok content creators Blu DeTiger and April Kae; as well as Music Managers, Adam Hirsch and Benito Lugo, co-founders of Alt:Vision.
According to William Gruger, the key to success on the platform is "showing you're multidimensional ... TikTok offers a basis of creativity that really is a new format. It is very exciting watching musicians that can follow that language and follow those trends." Both April and Blu ramped up their TikTok presence during the pandemic. "TikTok is so good about finding the people who need what you are putting out there," shared April Kae, "It's bringing people together." "The platform is based around these viral sounds ... and that's where you can get really creative with it," explained Blu De Tiger. "I ran across a piece of advice recently that your TikToks should be inspirational, educational or entertaining—and now I always have that in my head when I am creating."
At the heart of the #GuitarTok community are Fender's Player Plus guitars and basses, which are becoming the preferred choice of Gen Z creators on the platform. Built specifically for digital generations in a shifting music industry, the launch of the Player Series in 2018, and the Player Plus series in 2021, ignited a movement in the guitar industry with more new players entering the world of guitar than ever before. Fender has also seen an increasing number of female guitar and bass players that are actively engaging in the Fender TikTok and #guitartok communities. "TikTok has increasingly become a destination for artists and creators to share their music, and for new players to learn," shared Evan Jones, "At Fender, we're focused on amplifying all of these voices."
If you have found an error or typo in the article, please let us know by e-mail info@insounder.org.