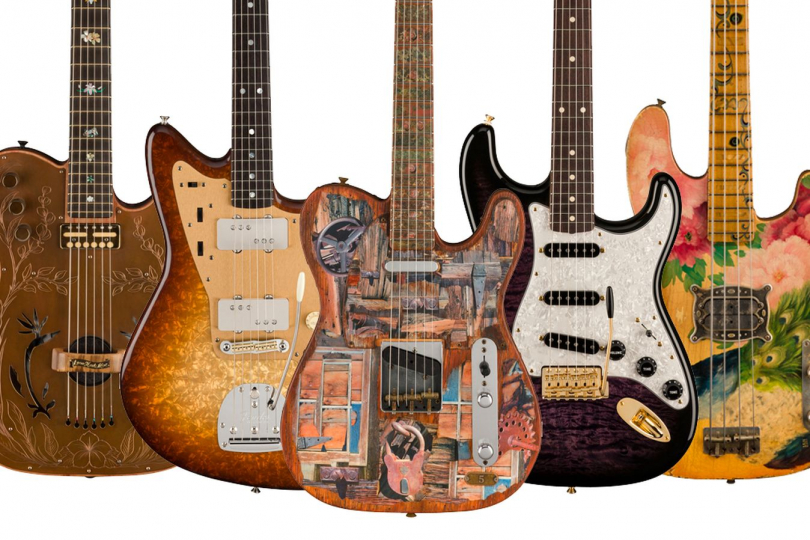 Fender Custom Shop Prestige Collection 2022
As has been a tradition for several years, the elite division of Fender Custom Shop has commissioned each of its top guitar builders to build a unique instrument where they can unleash their imagination, creativity and experience. This year, Master Builders' answer to this challenge is the 2022 Fender Custom Shop Prestige Collection, featuring a total of eight exclusive guitars and one bass.
Greg Fessler: Prestige Ghost Town Tele Relic – the model, visually inspired by ghost towns and the American Southwest, is a collaboration between luthier Greg Fessler and his longtime collaborator, designer Dave Newman. The ash body served as the painting canvas for Newman's creation, with custom hand-wound pickups and "Merle Haggard" electronics. Price: €18,300.
Dennis Galuszka: Prestige Moto Jazzmaster – a version of Dennies Galuszka and Fred Stuart, one of the founders of the Fender Custom Shop, features a body glued from two pieces of ash, covered with Moto plastic material. The neck of heat-treated radial-cut maple features a '62 profile, and the finish is by Jay Nelson. Price: €115,700.
Todd Krause: Prestige Custom Jazzmaster – The modern take on the classic is fitted with electronics housed in a rear-milled shaft so the pickguard could have been reduced. A roasted maple neck and a pair of Curtis Novak wide-band humbuckers were used, the finish is Olympic White. Price of the instrument in Olympic White finish: €11,800.
Kyle McMillin: Prestige Thinline Telecaster – the Tasmanian blackwood body base is complemented by a flame koa top with a satin finish. The roasted mahogany neck has been given a final oil finish, the special pickguard is made of abalone veneer and the same material is found on the position markers and the manufacturer's logo. The electronics are hand-wound pickups by Josefina Campos. Price: €11,500.
Yuriy Shishkov: Prestige Quilted '60s Stratocaster – a hand-stained dark purple body with a curly maple top, gold hardware and hand-wound '60s Strat single-coils by Josefina Campos. The large '66 Strat-style headstock features vintage movements with mother-of-pearl rondelles. Price: €10,000.
Jason Smith: Prestige Electric Sea Gems Esquire – a two-piece body in select alder, radial-cut maple neck with '60s-style oval C profile and rosewood fretboard with rectangular position markers. A Josefina Campos Texas Special single-coil is mounted in a horseshoe-shaped bridge base with brass saddles, and graphics by Laura Bennett. Price: €13,600.
Ron Thorn: Prestige Hawaiian Dream Resonator – a body made from prized Hawaiian koa wood carries a top made from hand-engraved bronze-plated brass decorated with resonant holes with silhouettes of birds of paradise, while the koa fretboard is adorned with inlays of Hawaiian mother-of-pearl flowers, abalone and semi-precious stones. The electronics, with controls located in the upper corner of the body, include an active preamplifier that allows you to mix the signal from the magnetic neck pickup and the bridge piezo sensor. Price: €38,100.
Paul Waller: Prestige Saint John's Skeleton Telecaster – a variant adorned with a hand-painted drawing by artist David Kassan depicting the skeleton of Saint John the Divine from New York's Saint John the Divine Cathedral. Two 1960s-style single coils produced by Josefina Campos provide the sound transmission, and the instrument's relic finish includes a black lacquer layer applied over yellow graffiti. Price: €22,500.
Vincent Van Trigt: 1952 Peacock Precision Bass – a model, on which, in addition to Van Trigt, graphic designer Ian Ward also contributed, is a tribute to the late ZZ Top bassist Dusty Hill, which, among other things, recalls the traditional headstock taken from Esquier, but in reverse position. The production of the exclusive pickup was once again handled by Josefina Campos. Price: €23,500.
If you have found an error or typo in the article, please let us know by e-mail info@insounder.org.