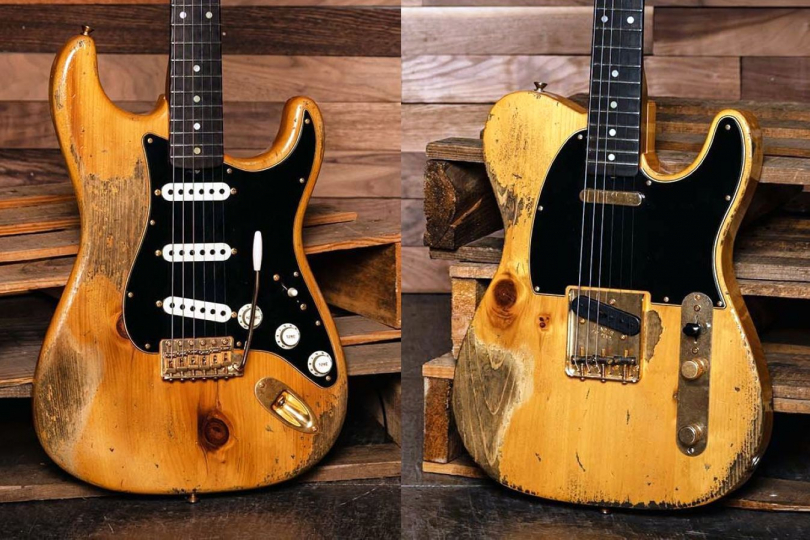 Fender Custom Shop Stratocaster and Telecaster El Mocambo
The list of musicians who played at Toronto's famed nightclub El Mocambo during its heyday in the 1970s to 1990s is essentially a showcase of rock, soul, jazz and R&B stars. Inspired by the venue's name, the Fender Custom Shop has launched a special guitar edition titled El Mocambo, consisting of Stratocasters and Telecasters designed and built by Master Builder Ron Thorn, born in Toronto, Canada.
The El Mocambo Stratocaster and Telecaster limited edition models are made of wood taken directly from the original trusses and floor of the club, which was renovated several years ago. These boards have been walked by Ronnie Hawkins, Elvis Costello (who recorded the famous Live at the El Mocambo live album), The Cars (who released an album of the same name), U2, Hall and Oates, Edgar Winter, Jeff Healey and countless others.
At the very beginning of the project, Ron Thorn thought about giving the guitars a yellow-green lacquer finish, but after seeing the wood, he decided he'd instead let the natural texture beauty stand out. "Once we got into the lumber and just how much character there was in it, it just seemed like a shame to cover that up," he said. "We don't need any color, it's just beautiful exactly how it is."
The bodies of both models are made from 300-year-old eastern white pine; radially cut, heat-treated Canadian hard maple fitted with a 1959 "D" profile was used to build the necks, while the 9.5-inch radius African blackwood fretboard carries 21 Jim Dunlop 6100 jumbo frets, 42mm-wide bone nut, genuine mother-of-pearl fretboard markers and a palm tree inlay at the first position.
The Stratocaster uses a Josefina Hand-Wound Texas Special SC Strat bridge pickup and a pair of Josefina Hand-Wound Vintage '65 pickups, vintage tuning pegs and a Synchronized Custom Shop tremolo. The Telecaster is fitted with a Josefina Hand-Wound Texas Special SC Tele single bridge pickup complemented by a Josefina Hand-Wound Twisted Tele neck version, and the strings are anchored by a '58-'63 Tele bridge. The hardware in both cases has a gold patinated finish.
The instruments, with a price tag of around 13,000 euros, are included in a limited collection of 25 pieces of each model, the chosen finish is Heavy Relic Aged Natural with nitrocellulose lacquer, and included is a stylish Custom El Mocambo hard case, strap, collector's candy box and, of course, a certificate.
If you have found an error or typo in the article, please let us know by e-mail info@insounder.org.