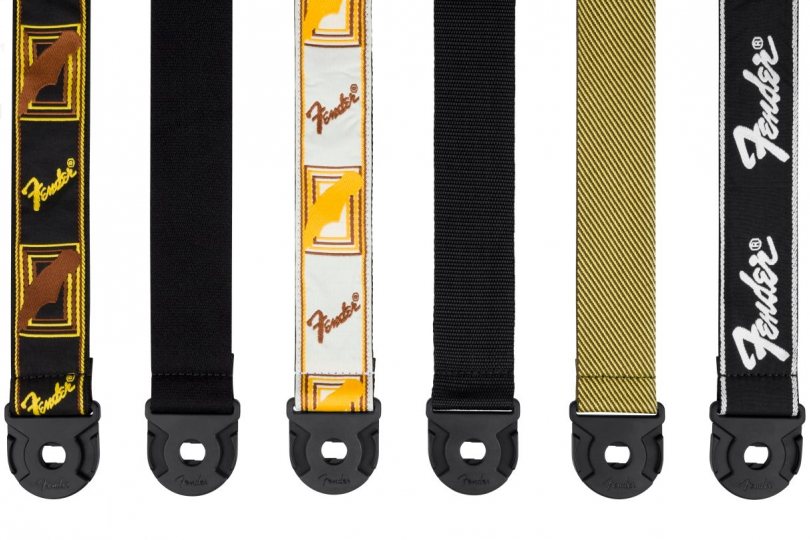 Fender Quick Grip Locking End Straps
Metal strap locks from Schaller, Dunlop, Gotoh, and other manufacturers are standard equipment for many guitarists and bassists. A certain disadvantage of these models is the necessity to fit new strap buttons and, sometimes, modify the leather strap ends, into which a counterpart locking bolt is inserted. Moreover, some versions of locks produce various sounds when manipulating the instrument, which can be disturbing, especially at higher signal distortion levels. The aforementioned ills are largely eliminated by the so-called all-in-one straps, which also include Fender Quick Grip Locking End Straps.
This edition uses—like the D'Addario models—lockable end caps made of durable plastic equipped with a simple but reliable system compatible with the vast majority of strap buttons. This eliminates the need for any intervention in the instrument, not to mention the fact that, unlike conventional locks, the strap can be quickly fitted to a spare guitar or bass when on stage.
Installation of the Fender QGLES is really a matter of seconds—just squeeze the side edges of the plastic mechanism, thread the strap button through its central hole and then release the compressed spring part. The brand offers a total of six strap models in five design versions, made of polyester, cotton, and polypropylene.
The 51 mm-wide straps are adjustable in lengths from 86 to 150 cm, and you can choose from monochrome black or tweed variants, or stylish designs emblazoned with the company's logo. Available are the following designs: Black/Yellow/Brown Monogram, White/Yellow/Brown Monogram, Vintage Tweed, Black/White Running Logo, Black Supersoft, and Black Polypro.
Fender's Quick Grip Locking End Straps are made from high-quality materials in the brand's Canadian facility. The prices of all versions range from 15 to 30 USD. The attached videos document the history of guitar straps, which began back in the 19th century.
If you have found an error or typo in the article, please let us know by e-mail info@insounder.org.