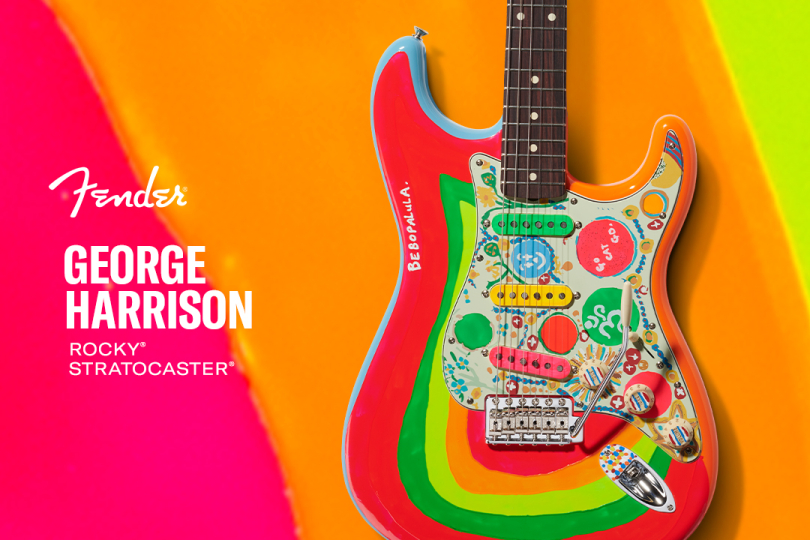 In a fit of artistic inspiration, George took a brush and adorned his guitar with bright red, green and yellow | Photo: Fender website
Fender's George Harrison Rocky Stratocaster
George Harrison played several iconic guitars throughout his career, but the most visually striking one was definitely his 1961 Sonic Blue Stratocaster which he hand-painted with colourful psychedelic patterns and named "Rocky." George got the guitar in 1965 and played it in many of the Beatles' famous recordings including Rubber Soul, Sgt Pepper's Lonely Hearts Club Band, Magical Mystery Tour and The White Album. As a tribute to this legendary instrument, Fender has released the George Harrison Rocky Stratocaster, so now everyone can try playing what Rocky felt like.
In 1967, in a fit of artistic inspiration, George took a brush and some Day-Glo paint and adorned his guitar top and headstock with bright red, green and yellow, giving it a very unique look on stage. Later in his career, he started using Rocky to play slide guitar which can be most notably heard on his landmark album Cloud Nine from 1987. Rocky also played the guitar solo on "Nowhere Man" from the Beatles' sixth album Rubber Soul.
George Harrison Rocky Stratocaster copies the original instrument in every possible detail. It features an alder body with a hand-painted replica of George Harrison's famous pictures and patterns and it even includes a copy of the decal on the back of the headstock from Grimwoods—the original music shop where the guitar was bought. There are three vintage-style '60s Stratocaster pickups with a dynamic, bell-like tone reminiscent of the Fender Golden era. The mid "60s C"-shaped maple neck with a 7.25" radius slab rosewood fingerboard and 21 vintage-style frets ensures comfortable playing while the synchronised six-point tremolo and tuners provide a classic Fender look and feel. The model is sold for 2,149 euros and you can learn more about it in the video below.
If you have found an error or typo in the article, please let us know by e-mail info@insounder.org.