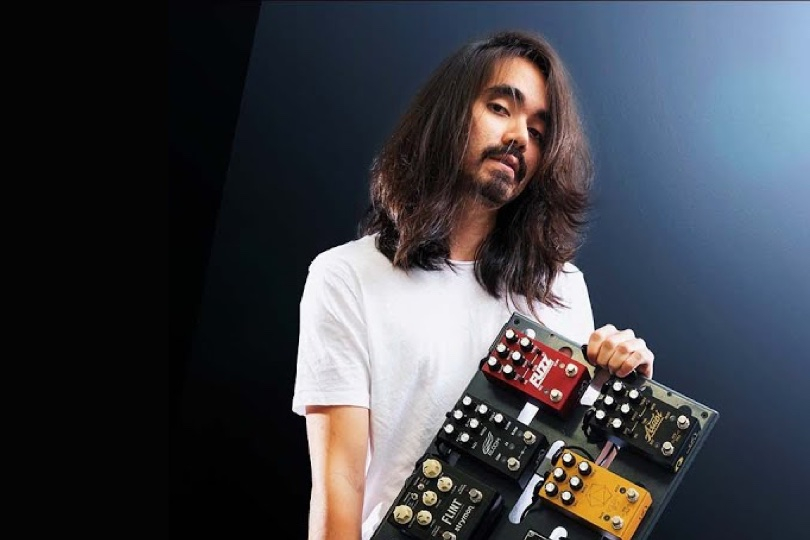 Guitarist Mateus Asato | source: Youtube
Gear Tour: Mateus Asato's Pedalboard
For the next episode of the YouTube series What's On Your Pedalboard?, Sweetwater, the American retailer of musical instruments, invited the excellent Brazilian guitarist Mateus Asato to present pedals from his current effects chain. The genre flexible player has been working with boutique label Jackson Audio for some time, which hints at the branding that dominates Asato's board.
A trio of distortion pedals from Jackson Audio forms the basis, including the Mateus Asato Signature Overdrive, the ASABI, featuring two channels, the Golden Boy Transparent Overdrive providing harmonically rich distortion with a stronger projection, and the Modular Fuzz, allowing the player to choose between a total of six sound types via interchangeable modules that can be adjusted thanks to three-band corrections with parametric mids, as well as filter trimmers located on the printed circuit board.
Another Jackson Audio representative is the Bloom pedal (V2), combining an optical compressor, equalizer, and a boost that can be activated individually or in tandem. Then there are the Strymont Flint tremolo/reverb and the Dunlop Echoplex delay with 40-750ms time, internal mono/stereo switch, true/trail bypass option, and the Age function to achieve the sound of a vintage echo chamber. On the video, Asato uses the Gibson Les Paul Gold Top with P-90 pickups and a 100-watt Soldano SLO100 amp connected to a 4x12 box of the same brand.