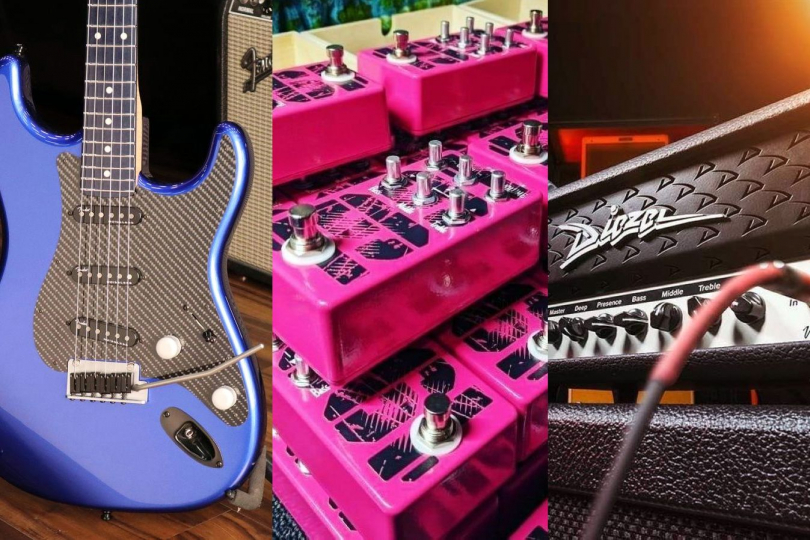 Guitar Gear Alert: December 2021
On the first Monday of each month, Insounders's news section presents a quick overview of new guitar gear that is about to hit the market. Guitar afficionados can thus get a general overview of the latest models of instruments, amplifiers, effects, or various accessories—strings, tuners, capos, etc. Technical equipment for bassists, drummers, keyboardists, singers, DJs, sound engineers, etc., will be presented in an overview on the third Monday of each month.
Guitars
Gibson Generation Collection: The brand's most affordable acoustic guitars, made in Bozeman, USA, are represented by the G-00, G-45, G-Writer, and G-200 models. They are equipped with a Player Port, a second soundhole that is elliptical in shape and located on the upper bout of the solid walnut body. The system provides the player with a better sound response, aided by a front soundboard made of select Sitka spruce.
The instruments with slightly reduced sides feature a sipo neck with characteristics close to mahogany, an ebony fingerboard with 20 medium frets, and a TUSQ nut. The G-200 and G-Writer versions offer a cutaway for more convenient access to higher positions and are also equipped with quality LR Baggs electronics. Prices start at around $1,000 for the G-00 variant, left-handed versions are also available, and a padded gig bag is included.
Fender Custom Shop Lexus LC Stratocaster: a special model prepared for collectors and die-hard fans of the brand by luthier Ron Thorn, Principal Master Builder of Fender's Custom Shop, who was inspired by the luxury sports coupe and convertible Lexus LC 500 IS when building this Strat. The exclusive Structural Blue lacquer used to spray the alder body and maple neck headstock testify to this. Carbon fiber components, black inbus bolts, and other elements were also used in a design matching the Lexus's.
From the perspective of Fender's elite division, the Lexus LC is the first model to feature the new single-coils Ultra Noiseless Vintage Strat, controlled by a five-position switch, with a volume control and tone pot. The hardware, consisting of a two-pivot vibrato and Schaller Deluxe locking machines, is finished in a combination of classic and black chrome. The limited-edition is priced at around $6,000.
PRS SE P20E LP: a limited series of electroacoustics, with which the Paul Reed Smith brand caters especially to those guitarists who prefer typically "girlish" colors. The mahogany soundboard is finished in Lotus Pink lacquer, laminated mahogany was chosen for the rest of the body construction in a transparent natural finish, the neck has a rounder Wide Fat profile, the fingerboard and bridge are made of ebony, and the rosette and body edges are flanked by a herringbone graphic inlay. The sound system is provided by a Fishman GT1 pickup system.
Guild A-20 Marley: an acoustic guitar inspired by the older Guild Madeira model that reggae legend Bob Marley used to compose his hits in the 1970s. The dreadnought combines a mahogany base with a spruce top, the mahogany neck carries a pau ferro fingerboard with a 16-inch flat radius, 20 medium frets, a 44.5mm wide bone nut, and "Marley" inlays.
The official price of the commemorative signed Guild A-20 Marley acoustic has been set around the $550 mark for the US portion of the market. Also included should be a deluxe-style gig bag, a set of exclusive picks, a poster, and a booklet with the chords to the song "Three Little Birds."
Effects
Carl Martin Ottawa: The auto-wah with innovative optical sensor-controlled circuitry is the successor to the older COE (Classic Optical Envelope) filter pedal. Like other envelope filtering, the Ottawa responds to the power and dynamics of the right-hand strum and is suitable for both guitar and bass. The automatic wah features traditional volume and tone potentiometers, functioning as a high-cut filter.
The Tone parameter is partially linked to the Attack control, used to adjust the sensitivity of the filter's rise in interaction with the force of the strum. The Q parameter, which affects the working bandwidth, works with both of these functions, and there is also a three-position toggle switch for selecting High Pass, Band, and Low Pass modes. The European price of the Ottawa Vintage Optical Envelope is around 140 euros.
Funny Little Boxes 1991: overdrive with the sound of Pearl Jam guitarists from the iconic Ten album, released three decades ago. Stone Gossard and Mike McCready's studio gear at the time consisted mainly of Marshall JCM800 single-channel all-tube amps, Ibanez SD-9, TS-9 pedals, and a SansAmp analog distortion from New York-based Tech 21.
"Providing everything from sparkling clean boost to massive saturated distortion, the 1991 Overdrive was specifically designed to capture the spirit and prevailing sound of the amazing music released in 1991. The overarching goal was to convey the guitar sound of Pearl Jam's Ten. The result is a pedal with tight mids, a wide gain range, and near tube-like control," says the manufacturer, which is shipping its second reissue of the effect. 
Pigtronix Echolution 3: third-generation multi-tap delay with stereo inputs and outputs, modulation section, variable low pass filter, MIDI support, and intuitive controls. The effect delivers a true-to-life classic echo sound with delays ranging from 100ms to 5s, selectable in classic mode or 3/4 or Gold mods. Along with the Mix, Repeats, Time, and Mod potentiometers, the main panel features buttons for selecting four presets Tap, Reverse, Jump, and Ping Pong, and modulation parameters Speed, Depth, and Tone.
The left footswitch is used to conveniently set the tempo and the delay can operate in parallel dual mode, allowing you to create different rhythmic structures. There is no synchronization of the modulation wave with the tap tempo of the delay, the activation switch is connected in buffered mode, and access to other functions is provided by an external switch Universal Remote (not included). In addition to the mentioned inputs and outputs, the box is equipped with TRS/MIDI connectors and a USB port.
Eventide TriceraChorus: a modulation pedal harking back to the 1980s when choruses were booming. The effect combines a BBD-style circuit (bucket brigade chips) with the company's MicroPitch circuit, Swirl function, three-phase LFO, selectable mono/stereo input, and a pair of outputs. A true footswitch Swirl can further spice up the sound with psychedelic-sounding flanger, phaser, or uni-vibe registers.
The bank holds five presets; input sensitivity is determined by the Guitar/ Line Lvl lever switch; and Chorus, Vibrato, and Chorable modes with rack-mounted Tri-chorus character are available via the Mix control. An external expression pedal handles the mapping of any parameter, or the output can be used for tap tempo switching or presets. The left footswitch Active operates in both momentary and latch modes and there's a choice of buffered, relay, DSP+FX, or Kill dry bypass modes.  Of course, there's TRS/MIDI, a USB port, and support for the Eventide Device Manager editing application.
Amplifiers, combos, pre-amps, boxes, etc.
Diezel VH Micro Head: compact transistor amplifier from the workshop of Peter Diezel follows in the footsteps of competing brands Bogner and Friedman, which included similarly designed heads in their portfolio some time ago. The single-channel preamp section delivers a high-gain sound with the character of the third channel of Diezel's famous VH4 tube amp, which has been favored by many players, including Muse's Matt Bellamy and Metallica frontman James Hetfield.
The distortion circuit in question, probably based on the Diezel VH4 Pedal, is equipped with a three-band EQ. Gain and Presence and Deep parameters are integrated. A power amp with an overall volume potentiometer provides 30W of power, and connectivity consists of a send/return serial effects loop, a pair of 8 to 16-ohm impedance cabinet outputs, and a 24V 2A DC adapter jack.
Peavey Vypyr X: The new generation of modeling combos, represented by the Vypyr X1, X2, and X3 versions, was first introduced by the manufacturer in the summer, but is only now reaching the global market. Depending on the chosen model, the player can benefit from 20, 40, or 100 W RMS power and a speaker diameter of 8 (X1) or 12 inches (X2/X3). In addition to a facelift in a more traditional style, the Vypyr X edition boasts an improved acoustic section and enhanced analog-digital hybrid TransTube technology.
All variants feature an analog distortion unit and a chain of up to five effects can be applied to the selected preset (X1 only 4 effects). Intuitive control is aided by the so-called WYSIWYG system, where the backlighting of the diode rings around the potentiometers changes when the preset is changed, giving the user instant visual control of the positions of the individual amplifier controls. In addition to the headphone output and Aux-In connector, the X2 and X3 models add Bluetooth wireless streaming (iOS only for now). Official prices start at around $200 for the smallest X1 combo and end at the $400 mark for the X3 version.
Accessories, software, etc.
Dunlop Pivot Capo: professional capo providing even tension, precise intonation, and long sustain. The model features a patented self-centering pivot, capable of adapting to different neck shapes, and a low-resistance gear, allowing easy and precise adjustment of the pressure exerted on the strings, so there is no unwanted detuning.
The optimized rubber segment is designed for seamless transposition on instruments with different fingerboard radii, and the material of this component also contributes to a clear and clean tone. The Pivot Capo is available in three different finishes: Black, Gun Metal, and Satin Chrome. The price is around $30.
Bare Knuckle Polymath Adam Getgood: Signature humbuckers designed for Adam "Nolly" Getgood—guitarist, producer, and former bassist of the band Periphery. The neck version has an output resistance of 14.2 kOhm, the neck version offers 11.6 kOhm, and both humbuckers use Alnico V magnets, providing a transparent musical tone without unnecessarily aggressive highs.
The pickups offer dominant mids and slightly recessed bass, which have a positive impact on the clarity of high-gain riffs. The humbuckers come with four-core leads, so there's no problem choosing different wiring configurations. "I couldn't be happier with the Polymaths, they are truly a 'Goldilocks' pickup set that I know will sound amazing in any style of guitar and any tuning range," says Adam Getgood.
Mercuriall Audio Ampbox:  guitar software from a small but very agile Russian brand, which offers support for VST, AAX, and AU formats for Mac and PC systems in addition to standalone and multi-threading. The user can employ Euphoria modeling (Bogner Ecstasy 101B with Cameron switch), ReAxis (Mesa Boogie Triaxis TX5A preamp), U530 (Engl E530 preamp), Bogner Uberkab virtual 4x12 cabs (Celestion G12T-75), Mesa Boogie (Celestion V30), 2 x Marshall 1960 B (Celestion Greenback / JBL K120), and Redwirez IR pulses, and there is no shortage of slots for custom samples.
There are Shure SM57, Sennheiser MD441, and Royer R121 microphones; an effects section containing overdrives and distortions based on Ibanez TS-808, Mesa Grid Slammer, Boss SD-1, DS-1, and MT-2 pedals; studio-quality noise gate, wah-wah with Dunlop CryBaby 535Q sound; graphic and parametric EQ; and chorus and delay plus reverb that can be wired in parallel.
Also implemented is a tuner, a bank for factory and user presets, Undo/Redo, mono/stereo processing, and the ReAxis or E530 preamp versions come with tube amp emulation with Volume, Presence, Excursion, Class A/Class AB, and a switch between pentode and triode mode.
If you have found an error or typo in the article, please let us know by e-mail info@insounder.org.