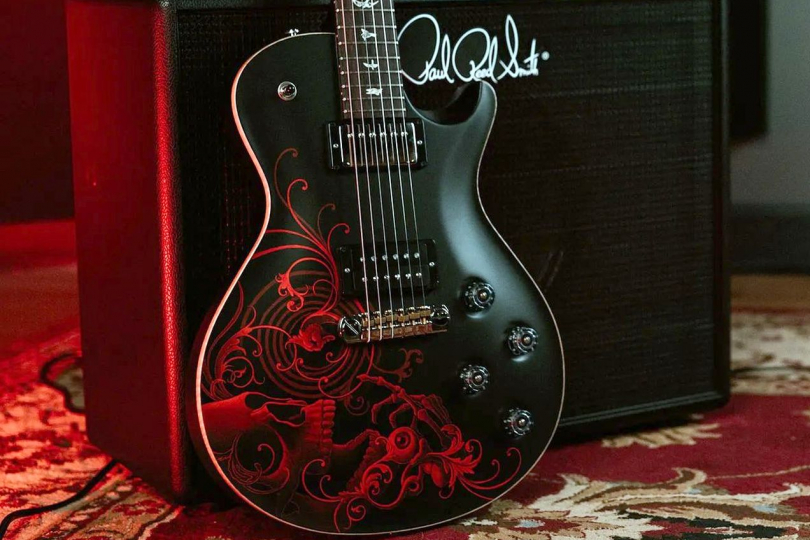 How PRS Tremonti x Joe Fenton Limited Edition Was Decorated
Eight years ago, guitarist Mark Tremonti was looking for a suitable design for his tattoos, and when searching, he stumbled across the work of Los Angeles based artist Joe Fenton. Tremonti was so intrigued by Fenton's designs and sketches that he approached him and in 2014 commissioned Fenton to decorate one of Paul Reed Smith's signature models. Since then he has called it "Fenton" and has been using it for photoshoots and special tour events. PRS is now celebrating the twentieth anniversary of the production of Tremonti's first custom instrument, which was an impulse enough for the guitarist and Fenton to team up again to prepare a limited edition of PRS Tremonti x Joe Fenton signature single cuts. Only twenty copies are offered with hand-painted tops, each piece bearing a unique artwork.
The final work involved the brand sending Fenton only wooden bases of the guitars in individual hard cases, which, once decorated, went back to the Maryland headquarters where they were painted, fitted with hardware, electronics, adjusted, and checked. Some of the manufacturing processes and the final sound of this edition can be seen in the attached video.
The PRS Tremonti x Joe Fenton Limited Edition will cost around 15,000 euros. Paul Reed Smith distributes these exclusive guitars through 11 US dealers, while the rest of the models are allocated one each to selected stores in Japan, Canada, England, Scotland, Spain, Germany, Israel, South Korea, and China.
If you have found an error or typo in the article, please let us know by e-mail info@insounder.org.