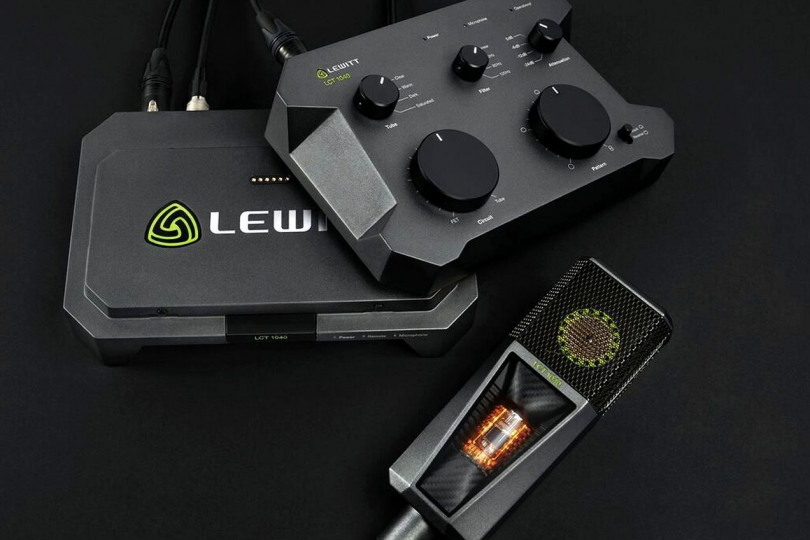 Lewitt LCT 1040—Professional Condenser Microphone with Remote Control
The top-of-the-range, supremely flexible LCT 1040 microphone system is the new flagship model from Lewitt, which has spent several years developing this model with a number of world-renowned producers and sound engineers. The condenser microphone with selectable patterns and other practical features meets the highest quality requirements and could be the ideal choice for many studios recording music, film and spoken word projects.
The system includes a hybrid tube and FET circuit microphone, a separate power supply and a detachable remote-control unit, which, among other things, allow quick adjustment of the optimal mode from a proven listening point. Fitted with a one-inch, gold-plated capsule, the LCT 1040 can adapt to any sound source and offers four fully analogue tube modes plus the crystal-clear sound of the FET circuit, which can also be added to these modes.
The modes to choose from are Clear – the E88CC / 6DJ8 tube operates in the optimal mode, Warm – smooth and pleasant high-end expression, Dark – slightly attenuated highs to correct a frequency of a too sharp pickup source, Saturated – rich harmonic components and subtle compression. The given options should thus cover most styles and applications, from subtle flute or violin parts to expressive metal vocals.
In addition to the Tube rotary switch for selecting the modes above and the Circuit potentiometer (mix of tube and FET signals), the control panel features switching of five directional characteristics (omni, cardioid, wide cardioid, supercardioid, figure-8), a slide switch defining the microphone front depending on the recording scenario, a variable low-cut filter (Linear, 40/80/120 Hz) and attenuation with 0 / -6 / -12 / -24 dB values.
Except for the 10-pin microphone port, all module interconnection is handled by XLR Neutrik connectors. Moreover, two signal paths can be sent from the control, one of which is dedicated to the Circuit mix channel and the other to an independent FET signal. The microphone, whose electronics are housed in a robust metal body, handles a frequency range of 20 Hz to 20 kHz, the maximum SPL is given by a limit of 137 dB and the signal-to-noise ratio is 84 dB (FET) or 81 dB in the case of the tube unit.
The Lewitt LCT 1040 microphone system comes in a durable carrying case containing the microphone, power supply, remote control, stand adapter, magnetic pop filter, necessary cabling and shock mount, for which carbon fibre components were used. The official price of the set is almost 3,500 euros.
If you have found an error or typo in the article, please let us know by e-mail info@insounder.org.