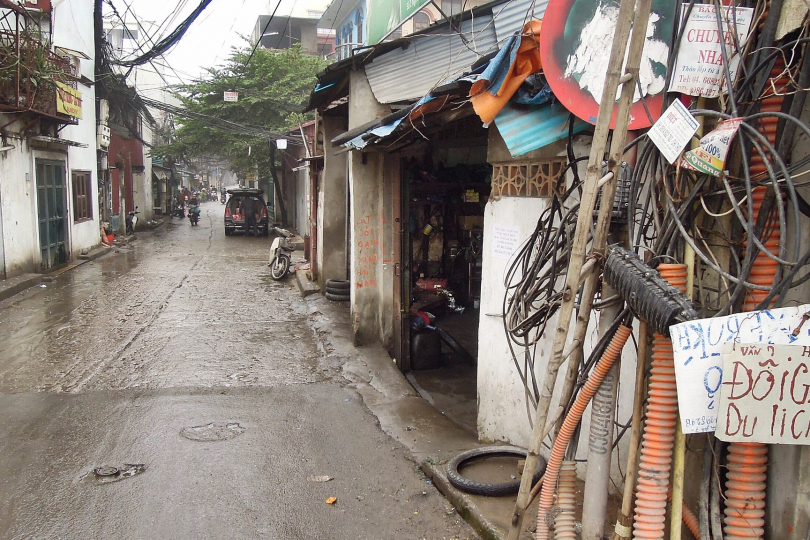 Hanoi, Vietnam | Photo David McKelvey, from Brisbane, Australia, CC BY 2.0
Milestones in Music History #13: 60s and 70s Rock Music from Southeast Asia
Noise Music; Barret; Suicide; Velvet Underground; Desert Rock; the history of music is a perilous and yet appeasing path to walk. It has been, since the very beginning of times, this powerful gift, and music is possibly the most evolving and sophisticated form of art, which has affected culture, lifestyle, society, and history itself. The purpose of the Insounder series "Milestones in Music History" is to delight you with some of the pivotal moments in music, some acts, facts, and records that delineated and shaped music for years to come (actually as far as this series could go on). I have selected a few, based on my personal path through music culture, and based on the fact that I firmly believe these moments radically changed everything. The 60s were an interesting era, as we have seen in some of our previous encounters. Apart from political, social and economic changes, music contributed to creating an environment in which the individual could express himself as one, but at the same time as part of a social group. As beatniks and hippies paved roads with flowers and peace-inspired chants in the West, the East was listening through the radios brought by the U.S. troops. Of course, countries like Cambodia, Vietnam and vast Indonesia, already had a long folk music history, but the new breeze of music coming from Europe, Latin America and the United States helped to create different forms of composition—a mix of old Southeast Asian rhythms and modern ways of interpreting the sound.
In Cambodia, everything started to take shape in 1953, when the country gained independence from France under the king Norodom Sihanouk. He was deeply interested in music—he was himself a musician and songwriter—and he helped develop local music and support folk acts. "The King of Khmer Music" Sinn Sisamouth—who might be considered the pioneer of Cambodian rock, mixing traditional Khmer music characteristics with other genres, such as rock and roll and rhythm & blues—was invited at age of 25 by Sihanouk's mother, the Queen Sisowath Kossamak, to join the Royal Treasury's classical ensemble, the Vong Phleng Preah Reach Troap.
Sinn Sisamouth, who became the most famous pop music performer in Cambodia in the mid-60s, started to include, apart from rock, elements also from garage and psychedelic rock. Garage rock started flourishing between 1963 and 1968 in Canada and the States, because of new bands that emerged from the ashes of surf rock, who included psychedelia and fuzzed the mixture with the spirit of punk rock. Their lyrics were occasionally aggressive, as well as the attitude and the music style—garage rock could be also referred to as "proto-punk." An experiment which led to the birth of many interesting acts, especially Los Saicos from Peru (they will be the topic of the next episode of Milestones).
In Asia, beat music, also followed by The Beatles tour in 1966 (they played five shows at Budokan), gave way to a new and interesting experiment. GS, an abbreviation that stands for "Group sounds," is a genre born in Japan, which became well-known in the mid-60s, as a fusion of kayōkyoku music (the base of the modern J-pop) and Western rock. From this genre notable bands were born, such as the Spiders, the Tigers and the Golden Cups, just to mention a few.
Meanwhile, in Cambodia, The Khmer Republics increased their contacts with the United States, and the music was subsequently influenced by the political changes. Lyrics got more aggressive and satirical—a smirk towards the conservativeness of Cambodian society. One bright example of this change was Yol Aularong, whose attitude and style represented a visible mutation, that changed Cambodian music forever. And as previously mentioned, psychedelic rock also contributed to spicing things up. After both beat and garage music, psychedelia was the natural outcome of the surf rock wave, but this genre would explore more the detachment from reality, often helped by the use of psychotropic substances. Those three genres did coexist and influence each other, but psychedelic music particularly embraced old and more canonic music as well as religious rituals. Apart from the previously mentioned Sinn Sisamouth, another Cambodian artist considered a pioneer of psychedelic rock was Ros Serey Sothea, a very talented singer (mostly of romantic ballads), which inspired generations to come (for example, the contemporary LA band Dengue Fever and their singer Chhom Nimol, that actually perform some songs by Sothea). Though Sothea's work has only been known in the West since the mid-90s when a compilation of Cambodian music from this time was released.
In Indonesia, psychedelic rock had a blast, even though it arrived in the archipelagos some years later (at the beginning of 1970), but it reached those lands enriched with exotic features and being more connected with progressive and funk music. The lyrics are still rebellious, and the music of this time is also the product of a rebellion: most of this music was produced and developed in the underground, due to the strict censorship imposed by the dictator Suharto. Fortunately, some records were taped and then collected in the album Those Shocking, Shaking Days: Indonesian Hard, Psychedelic, Progressive Rock and Funk 1970-1978.
The new breeze of music eventually also influenced Vietnam where, by the late 60s, there emerged a whole new subgenre of modern music; "than nac." Again, it was encouraged by the fact that music was brought overseas by the U.S. army, so everything the radio was broadcasting could constitute not only a source of knowledge, but also inspiration. With the arrival of psychedelia, especially in Saigon many bands started appearing, and some interesting records were born. Fortunately, a collection of those registrations, called Saigon Rock & Soul: Vietnamese Classic Tracks 1968-1974, gives us a taste of how psychedelia in Vietnam, and especially in Saigon, developed. It's enough to listen to Phượng Hoàng and Minh Xuân's "Black Sun," for example, and the fuzzy guitars playing in it; or Thanh Lan's "Autumn Memory"; but also more pop and soul tunes, such as Thai Thanh's "Dawn"; or a more folk-rock approach, for example, Elvis Phu'o'ng's "Our Treasures."
The Khmer Rouge regime in Cambodia, Suharto's dictatorship in Indonesia and ultimately also the taking over of Saigon in 1975 by the Viet Cong—these three historical moments—did a favour for the development of new music genres, in the sense that artists used a new musical approach, also when writing lyrics, as a form of protest against the constituted power. But also, artists perished under these powers: Sisamouth died during the Khmer Rouge regime, under unknown circumstances, and Yol Aularong is presumed to have been killed during the Cambodian genocide that took place under the Khmer Rouge between 1975 and 1979. In Indonesia, the regime was from one side favouring the arts, but at the same time controlling culture and manipulating Wester music and lyrics for political propaganda. The rise of the Viet Cong eventually diminished the flow of all Western cultural influences, including music, and an era came to an end.
The music produced in Southeast Asia in the 60s and 70s showed many interesting peculiarities: it used Western influences, then it developed in totally new and exotic forms, and became an instrument of protest and rebellion. Genres such as garage and psychedelic rock, once arrived in this part of the world, started to mix with folk and traditional music that already existed in the area, giving way to an attractive and complex mutation in music composition.
The legacy inherited is immense, and yet still not totally revealed. The difficulty of publishing records and spreading them during those times, and also the variety of bands, genres and subgenres that existed make it difficult to delineate how the process went through. Fortunately, though, some collections of records from that time give us an idea of the richness and the beauty of those musical experiments. The same experimentation led one Peruvian band to be crowned as the very first pioneers of punk and punk rock, Los Saicos, which you will read about in the next Milestones article.
Do you think that music is a product of the historical moment, or can it be a totally detached world, and self-living? Can music be a form of rebellion? Is it possible to talk about surf music and garage rock music today? Is today's music a form of revolt, or does music nowadays serve as political propaganda? 
Leave us your opinion below in the comments!
If you have found an error or typo in the article, please let us know by e-mail info@insounder.org.