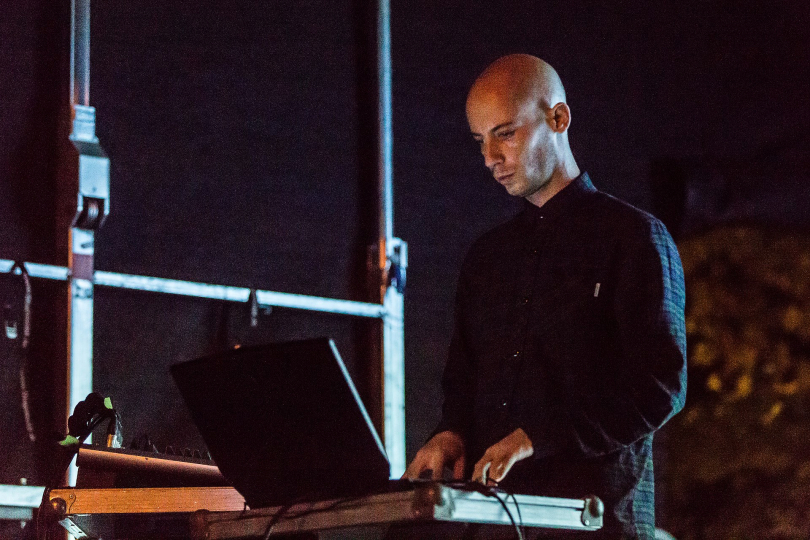 Clock DVA changed and revolutionised the method of creating music, the mind's approach to sound and also changed the way we look at genres | Photo: Stefan Bollmann (Wikimedia Commons)
Milestones in Music History #26: Clock DVA, Industrial Meets Synths
The arduous work accomplished by composers and experimenters in the field of electronics during the late '60s and early '70s helped to reshape the musical world in the decades that followed. The process of making sound – sound that was gutted and analysed down to its very heart – became the musical composition itself. And at the same time, there was a return of "instrumental" sounds, albeit in a revisited and distorted way, which have always been part of the tradition and were impossible not to consider. Respect for traditional musical instruments and an appetite for a new and revolutionary panorama gave life to a new approach. An approach that winked at punk, included new experiments in electronics and incorporated a dash of modernism. One of the most interesting and disturbing groups that came from this process is the phenomenal Clock DVA.
"There was me, that is Alex, and my three droogs, that is Pete, Georgie, and Dim, Dim being really dim, and we sat in the Korova Milkbar making up rassoodocks what to do with the evening…" Who among you does not know this memorable phrase? Apart from representing the thoughts of an entire generation, it embodies the spirit of the changing times and explains the need for a revolution. Also in the music field? Obviously!
The story of Alex and his ragtag companions, addicted to sex, drugs and ultra-violence, is a fine and chiselled work of art, which describes the torment of young souls and anti-heroes who have little or no chance of establishing themselves in society. And as there must be a revolution in society and culture, it must first be expressed in communication – in language. And it is the neo-language developed by Anthony Burgess in his work A Clockwork Orange, called Nadsat, that inspired two boys from Sheffield to coin the name of their new band.
Adolphus "Adi" Newton and Steven "Judd" Turner formed their Clock DVA in 1978 ("dva" is Russian for "two"). Newton had worked before with Cabaret Voltaire – a band experimenting with electronic devices and considered a pioneer of industrial music in the '70s – in a collective called The Studs, and he had also collaborated with The Human League, a synth-pop band from Sheffield.
Their starting approach to music was entirely experimental. Heirs of the electronic experiments of the '70s, which also saw the birth of new musical equipment and a new method of musical production, Clock DVA used tape loops and various synthesizers in their first electronic experiments. This included the EMS Synthi E., which was initially designed as an educational version of the classic synth, suitable for schools and for those wishing to approach the world of electronics without any knowledge in the field.
The band made their debut in 1980, releasing the cassette of their White Souls in Black Suits for Industrial Records, the label founded by industrial music pioneers and experimental band Throbbing Gristle. The album was a triumph of experimentation and a statement of the direction of the band.
"Consent", the opening track, is a walk through a jungle of psychedelic dirty guitars clashing against synth backgrounds, under obsessive and incessant woodwind instruments, clarinets and Newton's voice, accompanied by his bowed guitar. But it is with the second track, "Discontentment", that we get into pure experimental industrial delirium.
It is a multifaceted record, which recalls partially dadaist experimentation – of which Cabaret Voltaire is one of the most interesting phenomena – and partially it is projected into the future of post-punk music. The following year the LP Thirst came out, released by the label Fetish Records. Now the band dug into the creative forge of musique concrete, which we talked about a few Milestones ago, and from which Clock DVA were inspired to produce their second work.
The difference is that they achieved the experimental results of musique concrete with only the use of standard rock instrumentation. It could arguably be categorised as industrial jazz, which also includes elements of post-punk and avant-garde experimentation. Adi's vocals are nasty and sassy, yet evocative. The musical register constantly varies in tones and rhythms, recalling at times the musical compositions of Zappa from the '60s, but instead stained with darkness.
The band split up not long after, in the same year of Thirst's release, and some members left to form the band The Box with singer Peter Hope. But the year after Newton kept going as Clock DVA, but now with a different formation, including John Valentine Carruthers, who would eventually be the future guitarist in Siouxsie and the Banshees. The EP Passions Still Aflame was released in 1982, followed by the 1983 album Advantage.
There is a slight change of direction with this record, as the presence of dance-bass sounds and dark-pop synths is consistent, but at the same time, the experimentation continues. You can hear along the record some tape interruptions, and the way the trumpet and sax are approached. And Adi's vocals are more powerful and incisive than ever.
After their 1983 European tour though, the band split up, and Newton went on to form another band, inspired by the early sound of Clock DVA but even more experimental, called The Anti-Group or T.A.G.C. (the acronym refers to the four different types of DNA Nucleotide: thymine, adenine, guanine, and cytosine). It was an interesting project, regarding not only music but also other mixed media, and involved research on psychoacoustics and therefore took a closer look at sound perception and audiology.
But in 1987 Clock DVA were born again, as Newton wanted to implement the techniques and experimentation that he learnt and developed in The Anti-Group. Two years after, in 1989, Buried Dreams was released. It's an electronic album which combines previous elements of Clock DVA with a more futuristic look, given by his experience with T.A.G.C. The record is considered a pioneering work of the cyberpunk genre.
After some years and some changes in band members, the band worked on its fifth studio album, Man-Amplified, released in 1991, and the following year they release their sixth album Digital Soundtracks. The mixture of industrial music and synth-punk was very clear, but it also combined elements of dance and disco music.
The approach and contents are still punk, but the background is industrial, and the context is the dance floor. Synthesized sounds live together with programmed dance rhythms and repetitive bass lines, all resulting in a danceable yet angry symphony. That's what nowadays is defined as EBM, and of which Clock DVA are certainly pioneers. Their 1993 album Sign, established their sound and reflected their artistic arch.
After a long hiatus – during which the Czech record label Nextera also released a reissue of Buried Dreams – Clock DVA were reactivated again in 2008 and they are still active today. In 2019 a 4 LP boxset called Horology 3 was released and the EP Horology 4 came out one year later. The band performed some live gigs in the States in 2016, so we can expect to see more coming from their minds.
Clock DVA changed and revolutionised the method of creating music, the mind's approach to sound and also changed the way we look at genres – they were able to cross over, and over, and over. To start again, then destroy, then start over, eventually changing everything, and at the same time not changing the roots of modern music.
Someone who has taken up the concept of Newton and associates and brought it to the peak of the most extreme musical and visual experimentation is certainly Genesis P-Orridge and his Psychic TV, who will be the protagonists of our next episode of Milestones.
What was the real intuition of Clock DVA? Can dance and industrial music really co-exist peacefully? Is it necessary to define a genre in order to characterise a band? How does music help the psyche?
Leave us your opinion in the comments below!
If you have found an error or typo in the article, please let us know by e-mail info@insounder.org.