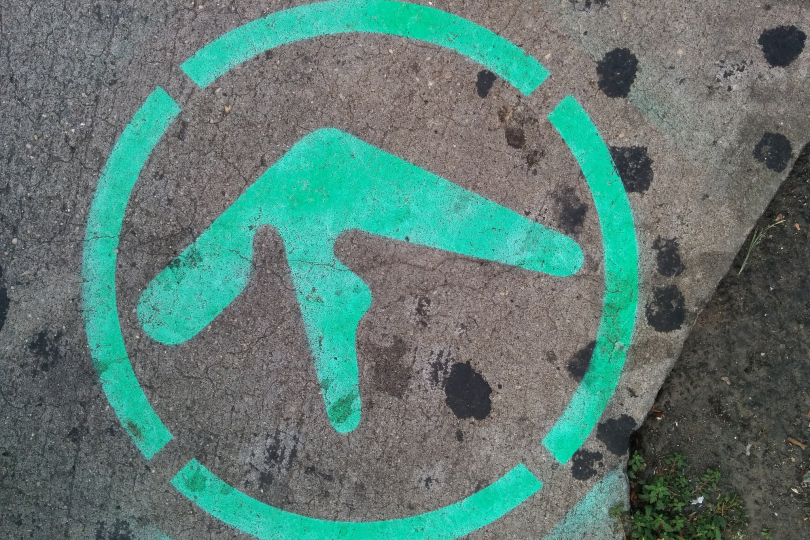 Aphex Twin's logo as street art on a sidewalk in New York City | Photo by Autopilot (CC by 4.0)
Milestones in Music History #29: Aphex Twin, Selected Ambient Works 85–92
We needed someone courageous and daring, as we saw in our previous episode of Milestones, to cross the threshold of alternative music in the 90s. The path taken by the Virgin Prunes led to a reconsideration of alternative art rock music, which acquired more depth and spectacularism, anchoring itself to tradition but at the same time almost looking at it with contempt. At the same time, the unstoppable advance of new electronic instruments consequently produced interest in experimental composition, which went from becoming elitist, or accessory, to a basic element of the international electronic scene. One artist was able to elevate experimentation to art, and ad hoc musical composition. Aphex Twin. And he did it with just one record.
We once again start in Ireland, where we last visited Gavin Friday and partners in Dublin. This time we must move a little further to the southwest, precisely to Limerick, where Richard David James was born in 1971, to Welsh parents. While spending his childhood in Cornwall, where his family had relocated, he first revealed his experimental approach to music, by playing the strings inside his parents' piano and manipulating tape equipment.
Eventually, he bought his first synthesizer at the age of 12, and for a couple of years, he began experimenting with sound manipulation and took an interest in creating noise compositions. He could have found inspiration in the music played by his sister (such as The Jesus and Mary Chain, which he hated) or looked to the underground music scene in Cornwall, where the acid house phenomenon was rampant.
He opted for the second choice. House music had its beginnings in Chicago in the late 70s and met with resounding success both for its versatility and for the ability that DJs had to alter disco songs, resulting in a more mechanical and incessant beat. Acid-house music, on the other hand, was a subgenre of house, which also developed in Chicago but around the mid-80s and had an incredible following in the UK and Europe, where the rave scene was just starting.
Acid house was based on the combination of the mechanical beat from house music, with the electronic "squelch" sound produced by the bass synthesizer Roland TB-303. With this portentous machine and through small variations – e.g. raising the filter resonance and lowering the cutoff frequency – the result was a minimalist composition where priority was given to texture exploration, rather than to melody.
This type of musical composition responded perfectly to the needs of the audience to which it was addressed: more than the melody, the rhythm and the "thickness" were privileged, and this was probably also because it raged between ecstasy pills and stamps of acid, and therefore tuned in well with the moods of the audience.
And in the late 80s, Richard David James also began to frequent this type of environment, in particular the free parties that were organized in Cornwall. The first party James actively participated in as a DJ was in 1988. But the following year, he took a regular DJ slot mixing at Crantock, where he met Tom Middleton.
The latter played a tape of James at a party and convinced him to release it on his label, Mighty Force Records. Initially reluctant, Richard later, in the grip of an acid delirium, decided to sign the contract. A couple of years later, in 1991, James' first official release came out under this label, the EP entitled Analogue Bubblebath.
Known also as Aphex Twin ep, it is the first work in which James appeared under his pseudonym, and since its release is considered a seminal work in the ambient techno music environment. It was a collection of compositions found on tapes that James used to circulate among friends and that he used as a set for DJing.
It was initally released in only 1000 copies, which were sold out in less than a week, and so many thousands more were eventually printed. Already with the opening title track, "Analogue Bubblebath", it was clear that something different and innovative had arrived. It could be perceived as the will of experimentation, together with the creation of captivating beats and deep music textures.
The work, which eventually turned into a series, was received incredibly positively and immediately became a cornerstone of the dance music scene, and Aphex Twin soon became an icon followed by many techno music cultists. Renaat Vandepapeliere, head of R&S Records, also happened to hear the EP and was enraptured, to the point of convincing James to go to Belgium. He showed up with a handful of tapes in his hands, and from these materials, they selected songs that would end up on the new record.
In the meantime, however, Aphex Twin had made a name for himself in London clubs, performing as a DJ in the most influential clubs of the capital's rave scene, such as Knowledge or Lost. It was 1992, and the success of his first EP had been significant, and R&S Records – at the time one of the most important labels in the rave music scene – decided to select materials from the tapes James had given to Vandepapeliere to publish a whole album.
And so, the first full-length Aphex Twin work was released by Apollo Records (a subsidiary of R&S), justly called Selected Ambient Works 85–92. As the title states, the record consisted of long-standing musical compositions, dating back to James' teenage years, along with more recent works.
It's a triumph of ambient techno, with elements of house and deep house music. Already from the opening track, "Xtal", it's possible to comprehend the greatness of this record. Altogether, Selected Ambient Works 85–92 stood alone as a masterpiece. Composition and experimentation were wisely mixed up, and sound textures contributed to creating the perfect sonic carpet.
I would describe the record as a refined and chiseled work of art, where all musical elements coexist in delightful harmony. All the album was recorded with homemade equipment, assembling old synths and drum machines, yet the result is top-notch, and it could stand together with today's electronic, techno, and dance music.
Not only, but Aphex Twin was also able to create beautiful melodies and intriguing sound landscapes: listening to this album represents a real immersive experience, almost psychedelic. A place to get lost in – sound spaces without shape, or borders. This is also well connected with Aphex's logo, an amorphic combination of letters of sign, that Aphex himself described as a sigil.
The album had widespread acclaim and it was incredibly well-received. AllMusic described it as "one of the indisputable classics of electronica, and a defining document for ambient music in particular." Most of the music magazines considered it one of the most important works in the techno music environment, and it was placed 92nd by NME's 2003 "Best Albums Poll".
Selected Ambient Works 85–92 inspired many artists from the techno and ambient music areas, and it defined techno music, consolidating the ambient techno genre and at the same time bringing new ideas to the field up to today.
Aphex Twin's music keeps inspiring, and his massive production represents an ever-young source from which to draw. Many musicians have certainly followed Aphex's musical intuitions. Especially a Finnish electronic music duo, based in Berlin, who was able to go even further, taking electronic music and experimentation to the extreme. I am obviously talking about Amnesia Scanner, the protagonists of our next episode of Milestones.
How has rave culture evolved today? Did Aphex Twin explore all that was possible in the techno genre? What is today's free party music? Is ambient techno still a trendy genre in our contemporary world? And what kind of equipment is used nowadays to produce this type of music?
Leave your opinion in the comments below!
If you have found an error or typo in the article, please let us know by e-mail info@insounder.org.