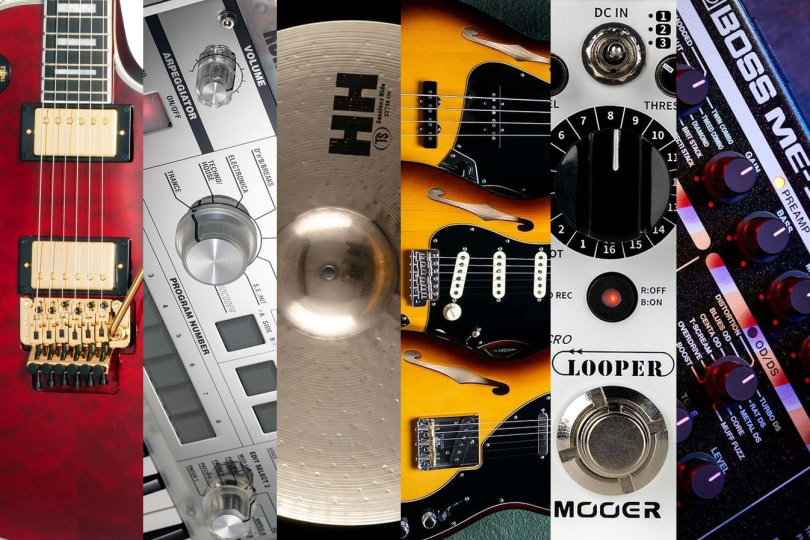 NEW GEAR 30/23: Alex Lifeson's Epiphone LP Custom, Boss ME-90 multi-effect, Warwick Bass Amp and the Comeback of the Top Sabian Ride
Those who are ready are not caught off guard. Welcome to our next weekly roundup of new gear and trivia from the world of music, where we try to sum up everything essential that's currently hitting the market that we should know about. Fender has announced a new limited edition Suona Thinline, Boss has bolstered its multi-effects lineup with the ME-90, Sabian has launched a reissue of Todd Sucherman's cymbal, Toby Lee's signed Blackstar set has arrived and Korg has prepared its annual designer edition of the microKorg synth. We also give a tip on the Cherry Audio Octave Cat plugin, an upgraded looper from Mooer and a condenser boundary microphone from sE Electronics.
Two years after the Axcess Standard, Gibson's subsidiary comes up with another signature instrument built to the specifications of the Canadian Rush guitarist. Like its predecessor, the Axcess Custom variant in the elegant transparent Ruby shade is aimed at players who prefer the timeless all-mahogany construction of LP-style guitars, but this time enriched with modern features such as an ergonomically shaped neck/body joint or a lockable Floyd Rose tremolo. Featuring an ebony fretboard and AAAA quality maple top (veneer), the signature uses Epiphone Ceramic Pro / ProBucker 3 humbuckers with split coils and phase rotation. A left-handed version is also to be available.
Boss ME-90: the most powerful multi-effect in the ME series
Unlike many other, more complexly conceived digital multi-effects, the ME series, which has been in the Japanese brand's portfolio for more than three decades, can offer truly intuitive control via classic potentiometers and rotary switches, allowing you to create a usable preset in seconds. The ME-90 is the most advanced model of the edition to date, scoring points with the quality of the sounds taken from the flagship GT-1000, advanced AIRD modelling technology, IR pulse loading section and, last but not least, a friendly price tag. The compact all-in-one multi-effect can also be powered by batteries and its price is around 350 dollars.
Mooer Micro Looper II: not only has the popular pedal grown in capacity
A more advanced version of the popular looper with storage for a total of 480 minutes of recording, infinite layering and new features is hitting European stores. The pedal has a total of 48 preset slots divided into three banks, with each preset allowing up to 10 minutes of audio to be used. In addition to the bank switch (A, B, C), the rotary switch selecting the aforementioned presets, and the Level and Threshold pots, the looper also features an Auto Rec function that automatically activates the recording circuit after it detects a signal at the effect input.
A signature set designed to the specifications of the young blues-rock guitarist who, by the age of ten, had become a sensation in the music community, was welcomed on stage at the Royal Albert Hall by Joe Bonamassa and was invited by Peter Frampton to record a solo album. The 50W St. James TL50 6L6 all-tube amplifier, complemented by a TL212VOC cabinet in an identical red tolex, features a two-channel preamp with a common three-band EQ, separate volume, gain, voicing, reverb, master and power section switching with a reactive loadbox. An effects loop, USB, XLR output with CabRig DSP emulation, etc. are installed. Price of the set: approx. 2000 euro.
Jazz Bass, Tele and Strat Fenders from the limited Suona Thinline collection
The exclusive instrument line shares a semi-hollow body construction with an ash base and an Italian Alpine spruce soundboard incorporating an "F" hole. The chosen concept thus provides a rich assertive sound with a soft attack and plenty of upper frequencies, which is also due to the roasted maple neck and ebony fretboard fitted with a variable radius. All models receive the identical Violin Burst nitrocellulose finish, which is also sprayed on the head. Depending on the type of instrument, the Suona, Fender Custom Shop Twisted Tele, Strat Custom Shop '69s and Suona Jazz Bass single coils were used.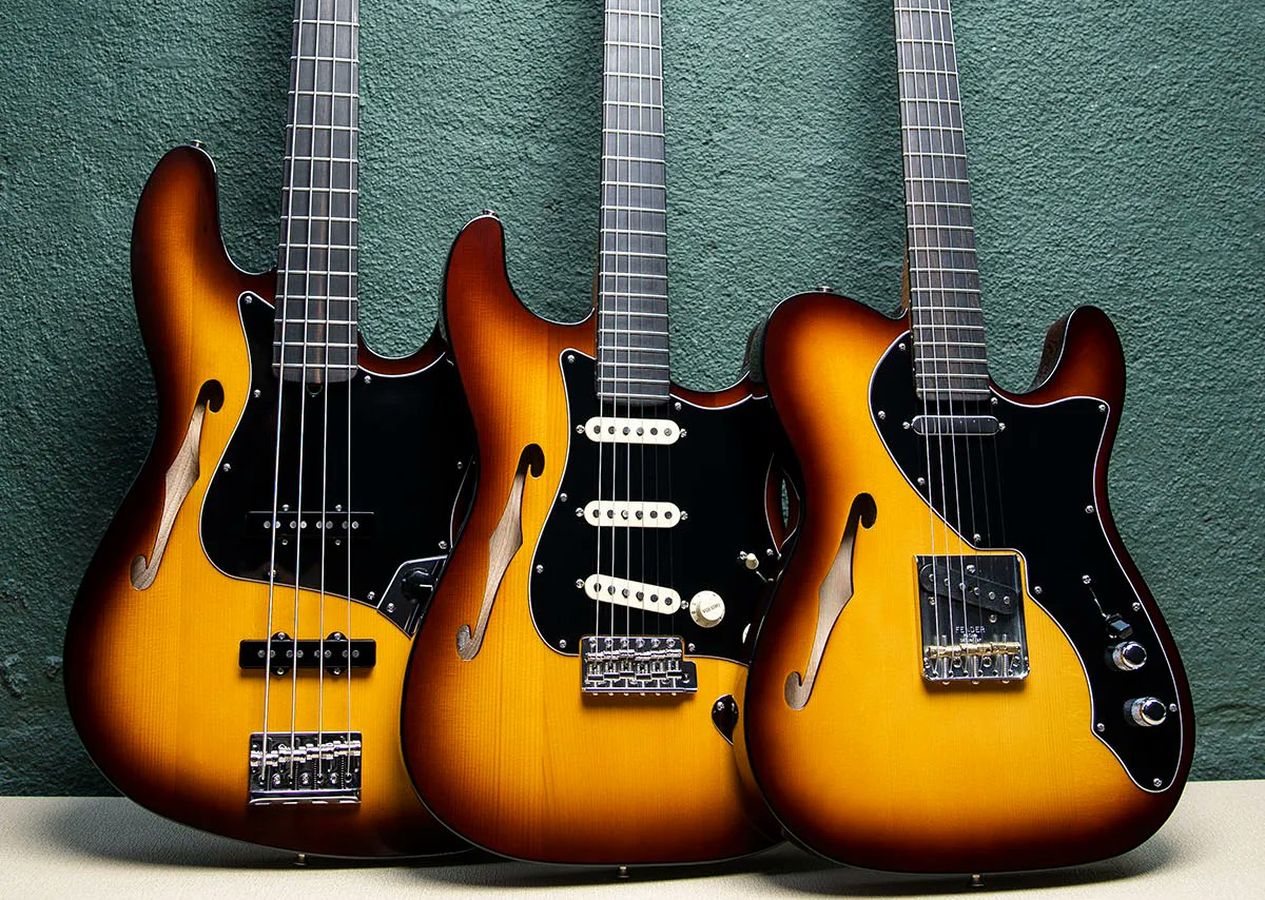 The newest member of the Warwick Gnome series offers bassists a clean, clearly defined sound and an impressive 600 watts at an impedance of 4 ohms (380 watts / 8 ohms), all in an extremely compact and lightweight design weighing approximately 3 kg. The analogue single-channel preamp combined with a Class D power amp is complemented by a four-band active EQ and quite rich connectivity including XLR DI output, eff. loop, Aux In, headphone jack and integrated USB sound card without the need to download proprietary drivers. Thanks to these features, the Gnome and Pro 600 can be used for concert or studio work as well as for home practice.
A reissue of Sabian's luxurious signed HH Sessions ride, produced in collaboration with the sought-after studio drummer who spent nearly 30 years with the legendary Styx, has been released in Europe. The hand-hammered 22-inch diameter cymbal is machined to create several different thicknesses on its B20 alloy body. The result is precise articulation, a pleasing response with complex tone dispersion and a massive response when needed. The bell is tuned higher than the rest of the ride area, allowing this flexible model to greatly expand the kit's sonic palette, both in studio and concert settings.
Based on Octave Electronics' classic duophonic synthesizer The CAT, launched in 1976, the Octave Cat plug-in makes full use of its digital format, allowing it to go beyond the features included in the original. The new addition features an integrated effects section, extended polyphony (up to 16 voices), sampling, MIDI sync, two-step sequencer, bank for over 300 presets, an exact copy of the Transient Generators unit, 2x VOC, four-pole filtering, DAW parameter automation, etc. The versatility and sonic possibilities of the virtual replica were also praised by Carmine Bonanno, designer of the CAT vintage synth, used on albums by Prodigy, Chemical Brothers, Devo etc.
Korg microKorg Crystal: a special design version of the synth/vocoder
A unique edition of microKorg's popular 2002 four-voice polyphonic synth is expected to hit the market soon, and as part of the annual Crystal series, first unveiled at Superbooth 2023, it has been given an updated design that includes a semi-transparent chassis revealing the instrument's electronics, a polished stainless steel main panel, aluminium side panels and other exclusive features. In addition to an eight-voice vocoder and keyboard with 37 mini keys, Crystal offers an advanced arpeggiator, oscillators, envelope and noise generators, multi-function filtering, an effects section, MIDI and battery power. The model will be supplied with a transparent carrying case, adapter and detachable gooseneck condenser microphone.
Robust construction, low noise, superior mechanical durability, a handmade sE8 condenser capsule with a semi-cardioid directional characteristic that is compatible with the type used in the sE8 Omni model, an integrated low-pass filter, a choice of three voicing modes or a high SPL level – these are the main characteristics of the so-called BL8 boundary microphone, which, in addition to its versatility, also boasts accurate low-band reproduction. The manufacturer recommends the BL8 for a variety of applications such as bass drum, acoustic piano, cajon, spoken word, ambient etc.
If you have found an error or typo in the article, please let us know by e-mail info@insounder.org.