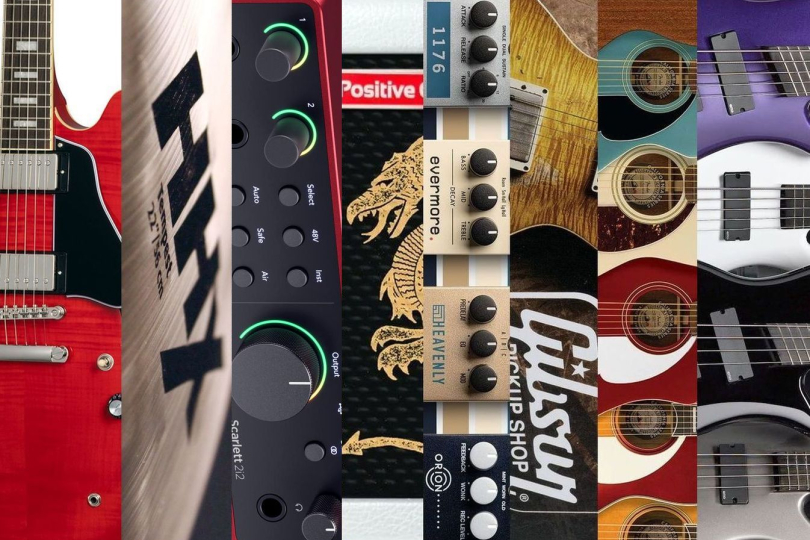 NEW GEAR 37/23: Scarlett 4th Gen Cards, Spector "HP" Basses and Andreas Kisser's Jackson
Those who are ready are not caught off guard. Welcome to our next weekly roundup of new gear and trivia from the world of music, where we try to sum up everything essential that's currently hitting the market that we should know about. Epiphone has built a guitar for youtuber Marty Schwartz, Andreas Kisser's (Sepultura) Jackson superstrat is out after a long wait, Paul Gilbert has put his name to a small digital combo from Positive Grid, Spector has bolstered its offer with NS High Performance basses and IKM entices to its fourth-generation Scarlett edition pickups. Guitar purists might consider getting a Gibson Greenybucker pickup set, and drummers a Sabian HHX Tempest 22" ride. We also offer tips for a quartet of new AUFX pedals or Fender California acoustics.
Epiphone has partnered with one of the most famous YouTube guitar teachers (the Marty Music channel) and built a signature semihollow model according to his specifications, based on the ageless Gibson ES-335 concept. A hollow body made of five layers of maple, completely covered with an AAA-quality flame veneer of the same material, is combined with a glued neck fitted with a 60s Slim Taper profile, an Indian Laurel fretboard, LockTone Stopbar/Tune-O-Matic mechanism and high-quality Grover 502C Roto-Grip Rotomatic locking tuners. Attention has also been paid to the pickups, consisting of Epiphone Alnico Classic PRO humbuckers, which feature independent coil splitting and rephasing. A more modern take on the classic Sixties Cherry lacquer comes with a deluxe hard case.
The new signature model of the superstrat adorned with graphics taken from the cover of the so far latest Quadra album is meant not only for fans of the Sepultura guitarist. A maple neck-through-body reinforced with carbon rods is combined with an ebony fretboard and a nyatoh body. The electronics consist solely of an EMG 81 active humbucker and Volume control, with the strings anchored in a Floyd Rose 1000 tremolo. "After three decades of playing Jackson guitars, I'm honoured to have the opportunity to release my own signature model," says Kisser. "With the Quadra, I wanted to create a guitar that was comfortable to play, looked killer and provided great quality as well as performance." The price of the instrument produced by the Indonesian branch is under 1,200 euro.
This year's additions to the California series, the heart of Fender's acoustic portfolio, which includes upgraded models such as the Redondo, Malibu, Newporter, Villager, Monterey, King, Palomino and Kingman basses, represent modern and vintage versions of the most classic acoustic instruments produced by the brand. The collection scores points with period-correct specifications from the 1960s and 1970s, along with player-friendly upgrades such as narrower string spacing, shorter scale length and an ergonomically designed "V" neck profile. The California Series offers players across the musical spectrum the design, tone and feel of classic Fender acoustics, at a relatively affordable price.
Gibson Greenybucker set: replica of PAF pickups from the iconic Les Paul
Gibson PAF humbuckers from the 1950s are considered by many guitarists to be the "holy grail" of vintage pickups. Among the most famous is the unique pair installed in the legendary Gibson LP "Greeny", now available as replicas in a separate set. The distinctive sound of the Greenybuckers comes in part from the staggered center switch position, thanks to the reversed magnetic polarity of the neck pickup. Developed with input from Kirk Hammett, the current owner of the original LP Greeny, these humbuckers are detailed replicas of the original examples, including asymmetrical coil windings, unpolished Alnico 2 magnets, two-wire cables, output resistance (bridge HB approx. 8.7 kOhm, neck HB approx. 8.3 kOhm) and, of course, the reverse polarity of the neck humbucker.
The renowned American manufacturer has added four new digital emulations to the UAFX pedal collection, represented by the 1176 Studio Compressor, Evermore Studio Reverb, Heavenly Plate Reverb and Orion Tape Echo versions. Compared to the previous models of the edition, these effects are designed in a more standard form, which corresponds to a smaller chassis size, the absence of a USB port, mono operation, one footswitch, five potentiometers and a three-position mode selector. Each version also has a choice of true or buffered bypass, as well as a second slide switch whose function depends on the specific pedal type. In addition to the authentic sound of vintage-style reverbs, UA 1176LN compression and Maestro Echoplex EP-III tape echo, the rather accommodating prices starting at around 200 dollars will please potential buyers.
Only one hundred pieces are to be included in the limited edition of this small combo, designed by the excellent guitarist Paul Gilbert (Mr. Big). Decorated with a dragon image referencing to Gilbert's album of Ronnie James Dio covers, the practice apparatus works with a mobile app that includes five Gilbert-created presets featuring his favourite guitar sound, in addition to virtual amps, pedals and more. Each combo is signed by the player, and Spark Mini PG owners will also get access to a free guitar lesson from Paul Gilbert through Truefire. The official price is just under 300 dollars.
Spector, a leading innovator in bass guitar manufacturing, has added four- and five-string NS Ethos and NS Dimension models in HP (High Performance) finishes to its catalogue. The premium instruments combine the NS series' typical through-neck construction with a body built from select alder or a combination of swamp ash and poplar top. The Dimension edition gets a wenge fretboard and two angled Fishman active humbuckers with a Fluence preamp, while the Ethos variants feature a maple neck, ebony fretboard and EMG DC pickups with a Darkglass Tone Capsule preamp. Both editions use a dual length scale (four 34 - 36, five 34 - 37 inches) with 24 compensated frets.
Bassists looking for a compact boost/overdrive that doesn't take up too much space in the board can now also start considering the upgraded Bass BB V1.5 from California-based Xotic. The Bass BB is the ideal sidekick for virtually any style of playing, the gain control can add the necessary dose of assertiveness to the clean tone, or, thanks to a volume boost of up to +30dB, achieve a range spanning registers from transparent clean boost to saturated distortion that still retains the articulation of the lower bands. The pedal, wired in true bypass mode, can operate with voltages from 9 - 18 V, which affects the compression and resulting signal projection.
As part of its special "Vault Drop" product line, Canadian Sabian regularly introduces limited models of cymbals that are only available for a certain period of time. The latest representative of this series is a ride version of the HHX Tempest 22" with versatile use and a very wide dynamic range. In addition to its unique design, the medium-thin weight B20 alloy cymbal with a distinctively hammered surface boasts a detailed response to the strike of both conventional mallets and timpani mallets, making it ideal for both standard drum kit and orchestral use. A lightweight ride providing a warm, darker timbre can be purchased for around 630 euros.
Focusrite's Scarlett series of audio interfaces are among the most successful models in the category worldwide, and the manufacturer is obviously keen to ensure that this continues to be the case, as confirmed by the new 4th Gen edition, consisting for now of Solo, 2i2 and 4i4 versions, with the first two mentioned cards also available in Studio packs, which also include a CM25 MkIII condenser microphone and SH-450 headphones. The upgraded cards use RedNet DACs with a 120dB dynamic range, the headphone amplifier has been redesigned with separate volume, Air mode has been improved, Auto Gain, Clip Safe, Presence and Harmonic Drive functions are available, etc. A collection of recording software is included.
If you have found an error or typo in the article, please let us know by e-mail info@insounder.org.