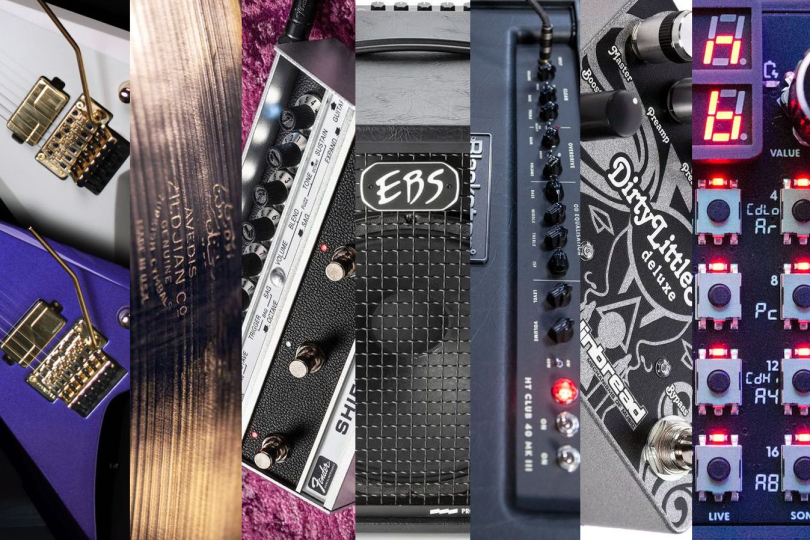 NEW GEAR 39/23: Flying V Solar, Fender fuzz, Blackstar and Woovebox Micro-Synth
Those who are ready are not caught off guard. Welcome to our next weekly roundup of new gear and trivia from the world of music, where we try to sum up everything essential that's currently hitting the market that we should know about. Solar has produced a model for the guitarist from Eluveitie, Blackstar has upgraded the HT Venue series of amps, SOMA Lab has revealed a prototype synth with theremin characteristics, EBS offers another version of the Magni 502 bass combo amp, and in the fuzz category, there are new pedals available such as the TWA Krytical Mass KM-01 and the Fender Shields Blender LE. We also present the Woovebox pocket workstation, the Catalinbread DLS DLX distortion pedal with Marshall sound and the compact tube combo amp Supro Amulet 1x12.
Solar has come up with another signature instrument, this time built to the specifications of Jonas Wolf, a member of the Swiss band Eluveitie which combines Celtic folk music with death metal. The neck-through model, with an alder Flying V-style body with sharp outlines, is fitted with a roasted maple fingerboard and 24 super jumbo stainless steel frets. The strings are anchored in a Floyd Rose tremolo with a 34mm sustain block, it has a locking nut and locking tuners. The sound is carried solely by a Fishman Fluence Modern bridge humbucker, and the controls are simple, consisting of a kill switch and a push/pull Volume potentiometer to switch voicing modes. Colours: Metallic Purple Gloss, Vintage White Matte.
The award-winning HT Venue series has been extended with the MK III edition, consisting of Club 50H and Stage 100H heads, HT Club 40 combo amps, HT Stage 60 112/212 combo amps and a quartet of 1x12, 2x12 and 4x12 A/B cabinets fitted with Celestion Seventy-80 speakers. The upgraded, two- and three-channel (Club / Stage) models, equipped with 12AX7/ECC83 and EL34 tubes with the option of swapping to 6L6, received distortion circuits taken from the company's flagship Artisan and Series One products, patented ISF EQ function, modified CabRig DSP speaker simulator, USB-C plus XLR D.I. connection, Eff. loop, redesigned reverb, two voicings per channel and power reduction. The improved Blackstar HT Venue MK III series, compatible with Architect editing software, is a candidate for the winner in the "flexibility-sound-price" category.
A few months after the premiere of the limited edition Shields Blender, which sold out very quickly, Fender is coming out with a standard series of this octave fuzz whose history dates back to the 1970s. The current model, created by My Bloody Valentine's Kevin Shields, uses the original circuit with a new control design. The player can use two analogue channels, a trio of octaves, a Blend function and foot-switchable sections of the reactive voltage Sag circuit, which responds to the dynamics of the pick. The main switch is wired in true bypass mode. "I've been using it a lot recently in the studio, it's been great. It's kind of pretty extreme but also very interesting when it's set up in a subtle way," says Kevin Shields about the new release.
From the manufacturer's perspective, this sequel to the classic Dirty Little Secret pedal is the next logical step in emulating the sound of the Marshall Plexi, both its preamp and power amp units. The Deluxe version has redesigned circuitry, a separate footswitch plus volume for the Boost section and, last but not least, we also find an SL/SB lever switch on the main panel that selects between Super Lead and Super Bass voicings. The Presence potentiometer is now easily accessible, while inside the chassis there's a Tightness (sub-bass) function and a switch selecting the order of the two sections, allowing the boost to be placed before the DLS circuit for a high-powered, saturated tone, or after it to use it as a 'jump' or to boost the amp's input. There is also a Line Out jack (mixing console, DAW, etc.) with a +10 dB level.
The compact Amulet 1x10 combo amp is now also available in a 1614RT 1x12 version equipped with a Celestion G12M-65 Creamback speaker. The 43.2 x 20.3 x 44.5 cm cabinet, constructed from high-quality poplar plywood, features a single-channel preamplifier complete with reverb and tremolo. The output of the power amp (Class-A, single-ended) is selectable in 15 / 5 / 1W steps with a rotary switch so that even at lower volume levels a more saturated and compressed sound of the 6L6 tube with the appropriate harmonic components can be achieved. Thanks to its solid construction and the speaker, the unit – which easily interacts with preset effects – produces rich bass with warm vocal mids and pleasantly articulate highs.
Based on the vintage Maestro Bass Brassmaster model, this pedal offers a thick, impressive-sounding fuzz with a pronounced upper octave and a softer lower octave. Long notes are characterised by assertive projection with a hint of filtering, while for short or muted notes, a register close to a synth pulse can be used. The effect has its own transformer with linked phase switching, low-pass and high-pass filters, three mid-band modes, a Dry control and an upper midrange parameter (Edge). You can also change the voltage (Bias) of the transistors determining the level and type of harmonic components. The power supply is provided by a 9V adapter, the footswitch is connected in true bypass mode.
In addition to the Magni 502 2x10", the Magni 500 series from the Swedish brand is now also represented by the Magni 502 1x15", which, thanks to the choice of materials combined with a neodymium driver with improved frequency response, is one of the lightest bass combo amps in its category (16.5 kg). Innovative porting of the cabinet at the front and back, as well as the EBS Reidmar 502-style amplifier with soft-clipping technology, 500 W of power and an analogue preamp equipped with a compressor and four-band EQ with semi-parametric mids contribute to a tight, punchy and dense sound with plenty of bass. A tweeter helps reproduce the higher bands, and there's an effects loop, XLR DI output, etc.
Premium vintage cymbals Zildjian from the 400th Anniversary LE Vault collection
On 14 October, Zildjian will hold an event in London to officially celebrate a hard-to-believe 400 years of existence. The brand has also decided to dig into the family vault and has launched a total of 400 collectable cymbals. Half of these are "new-vintage" A-ride 20" models from the 1940s, personally tested by Armand Zildjian (18 February 1921 – 26 December 2002). The other two hundred exceptional examples include 15" A-crash versions made between the 1930s and 1950s. Each cymbal comes in a case complete with a mounting adapter for modern stands, a pair of gloves and a certificate of authenticity signed by Craig Zildjian.
SOMA Lab FLUX: prototype of a theremin-style synthesiser
The brand, which has produced for example the Lyra-8, Pulsar-23 and Ornament-8 sequencer, is working on a new type of synthesiser called FLUX, which aims to be a professional instrument with expressive possibilities, innovative interface design, analogue components and high-end digital to analogue converters. FLUX features a unique continuous contactless keyboard, offering smooth control of a range of sound parameters without quantization. The Synth is inspired by the theremin with the ability to control sound by moving your hands in the air, but unlike the theremin, it is based on DSP algorithms with magnetic principles. The prototype is presented in the video below.
Woovebox: the world's smallest workstation?
Despite its truly miniature size, Woovebox is able to offer a combination of multitimbral synth, sequencer, sampler and drum machine. There are 16 parts in total, 15 of which can handle 4 paraphonic voices and one polyphony. It features 16 synth algorithms, 17 oscillation models (2 per voice), 256 user samples, Virtual Analogue, FM, Super Saw, AM, RingMod, x0x percussion, 10 types of filters, several effects sections with extensive complex sound design options, etc. The sequencer allows importing digital samples via Bluetooth, resampling of the internal synth and much more. The first units should be available at the end of October.
If you have found an error or typo in the article, please let us know by e-mail info@insounder.org.