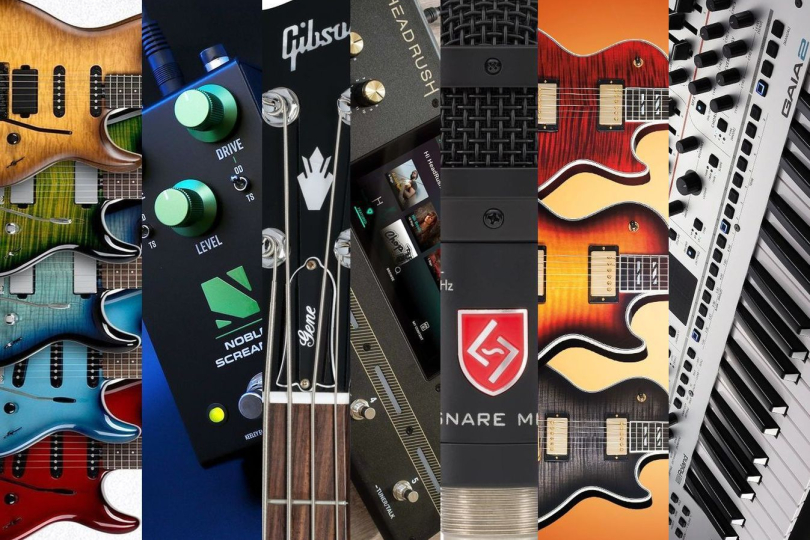 NEW GEAR 41/23: HeadRush Modeler, Fuchs Amps, Roland Synth and Gibson Supreme
Those who are ready are not caught off guard. Welcome to our next weekly roundup of new gear and trivia from the music world, where we try to sum up everything essential that's currently hitting the market that we should know about. Roland has presented the GAIA 2 hybrid synth, Gibson returns to LP Supreme models after 20 years and its Custom Shop adds a signature KISS bass model, HeadRush has a new Core preamp/multi-effect, and Music Man marks the anniversary of its collaboration with Steve Lukather with the L IV series. For bassists, there are Fuchs FBT amps and the Ashdown Rootmaster compact cabinet. We can also recommend the Keeley Noble Screamer drive and Lauten Audio's microphone designed specifically for snare.
After two decades, Gibson's luxury LP Supreme models return to the Gibson catalogue in Translucent Ebony Burst, Fireburst and Wine Red finishes, with the addition of an Exclusive "Black Beauty" version in traditional Ebony lacquer, which also features a trio of humbuckers. The Supreme two-switch series builds on the original AAA quality maple top models, and both models boast a new headstock inlay inspired by a 1940s design that has been sitting in the company's archives until now. Instruments with a more subtle Slim Taper neck profile offer more comfortable access to the higher positions of the ebony fingerboard thanks to the Modern Contoured joint, and the Burstbucker Pro and Pro+ pickups are paired to push/pull Volume and Tone potentiometers for flexible coil tap and phase switch. The official price hits the 4000 dollar mark.
The Californian brand celebrates 30 years of collaboration with the legendary guitarist with the Luke IV Anniversary Edition, consisting of the 30th Anniversary L4 "Steamroller" superstrats, L4 HH Maple Top and L4 SSS. The first-named limited edition (150 pieces), with a black limba body and maple top in a satin Steamroller Walnut Burst finish, is fitted with an ebony fingerboard, HSS (HT type) pickups and a Floyd Rose locking tremolo. The L4 HH Maple Top features a lightweight okoume body, rosewood fingerboard, classic steel tremolo and a pair of MM humbuckers, while the L4 SSS version with a trio of single-coils has a roasted alder body. All instruments feature 22 nickel frets, Schaller M6-IND machines and integrated boost (up to +12 dB).
Boost/overdrive Keeley Noble Screamer: 4 modes and 2 bypass options
A flexible 4-in-1 pedal, offering a pair of familiar drive circuits (Ibanez TS808 + Nobels ODR-1) plus two brand new distortion modes similar to the sound of tube amps. It's almost like pedal modelling, except these are 100% analogue circuits, and you decide which tone control or clipping section you want to play with. The electronics is housed in an aluminium chassis from RKFX, and the main panel features the classic Level, Tone and Drive controls, with the latter two parameters being able to change their character using lever switches with OD/TS modes. In addition, the footswitch allows you to switch on the fly from silent buffered to true bypass. Price: approx. 200 dollars.
Floor processor HeadRush Core for guitar, bass and vocals
HeadRushFX heads into the competitive digital modelling field with a new weapon – the HeadRush Core processor, featuring guitar, bass or vocal sections and presets in a durable, relatively compact chassis equipped with a 7-inch colour touchscreen display. There is an extensive library of amplifiers, cabinets, guitar and vocal effects, including Antares Auto-Tune. It offers the best looper in its category (capacity up to 20 min.), rich connectivity complemented by a USB sound card and Wi-Fi and Bluetooth modules for firmware updates, wireless streaming, etc. Dimensions: 40.8 x 23.5 x 6.7 cm, weight: 3.8 kg, price: approx. 900 euros.
Gene Simmons' new signature bass, inspired by his highly modified 1959 EB-0 vintage model, is the first 30.5" bass from the Gibson Custom Shop to be produced in a run of 100. The KISS bassist has made several modifications to his vintage EB-0 in the past – he adjusted the neck profile, replaced the pickup with a later, better-sounding Rhythm SG Bass type and positioned it closer to a more modern Kluson bridge. He also installed a custom pickguard and replaced the original tuning machines with Grover Mini pickups. All of these details are preserved in the new all-Mahagon version in Ebony lacquer, complete with custom case, certification and other accessories.
The 300 and 700 W models deliver the sound in the style of Ampeg's vintage SVT series tube amplifiers but with a few modern features (subsonic filter, modified DI output, etc.) and, most importantly, lower weight and more compact dimensions. The amps are equipped with a unique preamp hybrid section combining tube and FET technology supported by 300V, achieving superior dynamic response and assertive projection. With the midrange control set to "0", the bass and treble potentiometers mimic the behaviour of classic Ampeg B-15 amps. The system uses audiophile operational amplifiers and Ice power modules with an advanced cooling system. The new products are expected to be available in late October/November.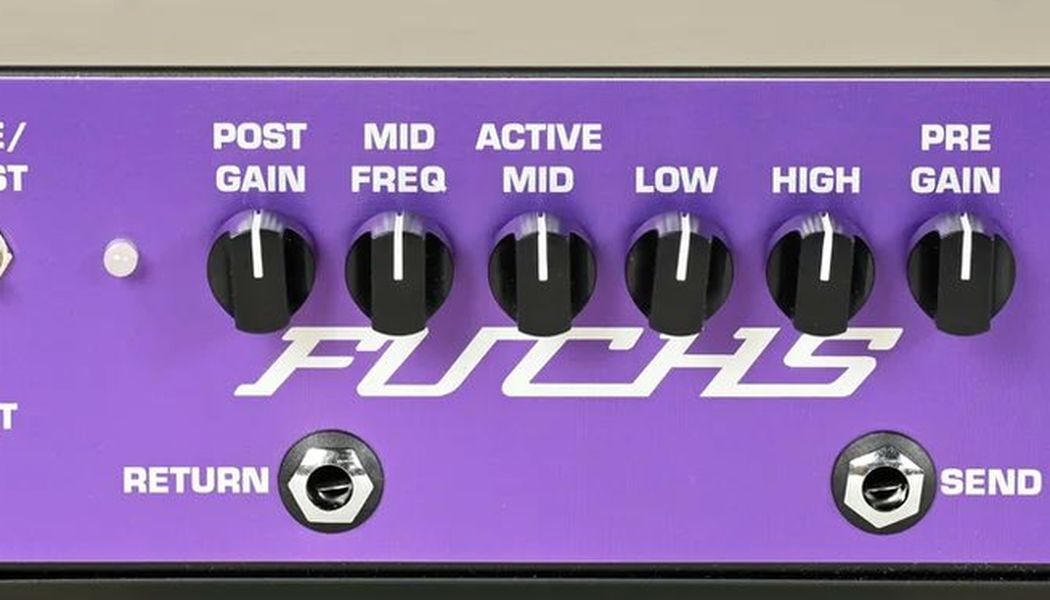 Ashdown has announced a new addition to its collection of popular bass cabinets from Rootmaster. The RM-110 EVO II version is the smallest model in the series, designed for smaller concert events, studio work, practice sessions, etc. Weighing just 10.9kg, the cabinet offers 150W of power at 8 ohms impedance and is fitted with the company's 10-inch custom driver, which is designed to deliver fast attack, a clean transparent tone with punchy mids and ample low-frequency response. The model with front bass-reflex is crafted with lightweight ply finished with Black Buffalo tolex, connectivity is provided by a high-quality Speakon Neutrik. Dimensions: 365 x 385 x 360 mm. The video below demonstrates an older version of the RM-112T EVO II.
Lauten Audio has introduced a large-diaphragm FET condenser microphone, made specifically for snare amplification. According to the manufacturer, the Snare Mic, with its cardioid directional characteristic and SPL level exceeding 135 dB, should capture the best drum sound in any situation, regardless of the player, the type of snare or the acoustics of the room. The result is punchy projection, realistic sound colour and explosive rendition of the higher frequency bands. Add the mic's ability to suppress off-axis sounds by up to 28 dB, and you have a professional sound ready to be mixed as soon as you unpack the new condenser, equipped with a 32mm capsule and optional LP/HP filters.
SSQ: cables with a lifetime warranty and a friendly price
The Polish company SSQ (Sound Station Quality) is known for premium audio components, including professional cables, whose quality the brand is so sure of that it provides a lifetime warranty. The range is really wide, so every user, whether it's a guitarist, singer, music producer or lover of good sound, will find what they need in the SSQ product catalogue. High-quality, low-capacitance copper has been used for the wires and you can choose cables for various purposes – XLR, DMX, 2x2 TRS, MIDI, RCA, instrument, microphone cables, etc. Various adapters (XLR/jack, XLR/mini XLR, RCA/XLR, etc.) with solid construction made of materials eliminating signal loss can also be newly purchased. The above-mentioned warranty covers all material and manufacturing defects.
The successor to the GAIA SH-1 model with 22-voice polyphony features 37 "adult" keys, interactive controls and a new hybrid engine with wavetable and virtual analogue oscillators, offering almost endless possibilities for sound creation, including morphing or modulating the phase and shape of distorted waves. A clear panel layout with a touch-sensitive Motional Pad (X/Y), a pair of OLED displays and one control per function allows for instant programming and minimizes tedious menu searching. There's an integrated sequencer (64 steps) with Random Pattern parameter, 2x ADSR, 3 effect units, USB-C card, AIRA + Cloud Connect support, as well as Model Expansions, replicating Roland's iconic synths (Jupiter-8, Juno-106, etc.), which can be activated with a dedicated button.
If you have found an error or typo in the article, please let us know by e-mail info@insounder.org.