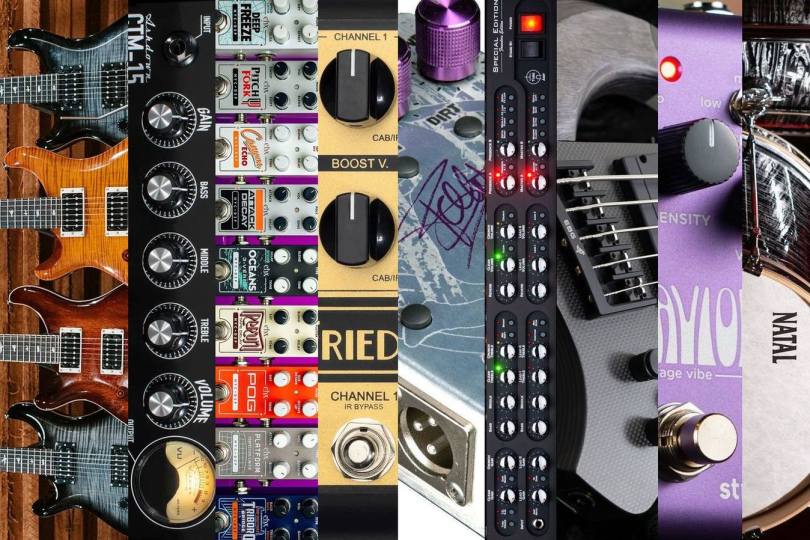 NEW GEAR 42/23: EHX NYC DSP Effects, Friedman Preamp, PRS Lefties and Natal Drums
Those who are ready are not caught off guard. Welcome to our next weekly roundup of new gear and trivia from the musician's world, where we try to sum up everything essential that's currently hitting the market that we should know about. PRS has enhanced the Asian edition of SE guitars with a limited collection of left-handed models, Fender has introduced the high-end Tone Master Pro modelling processor, Friedman has launched a tube preamp with IR pulses, EHX offers more mini effects and Engl has presented flagship machine from its Founders Edition series. For bassists, there's EBG's futuristic five-string bass, a reissue of the Ashdown CTM-15 compact head and the signature pedal Tech 21 from the Anthrax's bass player. We also include a tip on the new Strymon UltraViolet uni-vibe and Natal's retro Zenith drum kits.
PRS SE  guitars in left-handed versions
Guitarists playing the other way around have had only one left-handed model to choose from in the Paul Reed Smith SE edition, the PRS SE Custom 24 Lefty, which was a somewhat surprising marketing approach given the range of the globally successful brand. PRS is now looking to fill the gap in its portfolio with a limited edition series, including the SE Standard 24-08 Lefty, SE Custom 24-08 Lefty, SE 277 Lefty, SE Custom 24 "Floyd" Lefty and the electroacoustic SE A60E Lefty. The models use the same materials and components as the conventional variants. Prices start at around 700 euros for the SE Standard 24-08 Lefty including the gig bag.
A pedal with a classic vintage sound, inspired by the highly regarded uni-vibe Shin-Ei from the 1960s, using a DSP unit combined with an analogue Class-A JFET preamp. The selected design offers a warm dynamic tone while significantly increasing the possibilities supported by a completely new algorithm with the characteristics of the original optical circuit. There is a full MIDI implementation, a USB-C port, mono/stereo modes, memory for 300 presets, bass settings and three modes (Chorus, Blend, Vibrato). "It can totally do the hyper-authentic 60s thing, but it can do a bunch of other stuff that makes it much more versatile," says Strymon co-founder Peter Celi about the UltraViolet.
When EHX launched the Platform compressor and Pog octave pedal in the miniature Pico format some time ago, the brand was already preparing their seven younger siblings, based on traditional EHX effects and thus creating the new NYC DSP product line. In addition to the two above-mentioned models, guitarists and bassists can now choose from the mini reverb Pico Oceans 3-verb, the polyphonic pitch shifter Pico Pitch Fork, the digital delay Pico Canyon Echo, the multi-functional Pico Deep Freeze, the tape delay Pico Rerun, the flexible distortion Pico Triboro Bridge and the tape reverse simulator Pico Attack Decay. In addition to their compact size, they share four controls, a button for selecting modes and the footswitch can change the bypass type depending on the specific version.
Friedman IR-X: tube preamp with IR pulses
The two-channel pedal preamp (2x 12AX7) features the full palette of sounds found in various Friedman instruments, including Boost sections for each channel. In addition to the three-band EQ, gain and volume, both channels also feature a switch for selecting three IR pulses (possibility of uploading custom samples), Bright/Tight functions (Ch1/Ch2) and on the side of the chassis, there are two mini-potentiometers for further tweaking of the gain (Ch1) or boost (Ch2). Of course, there is an effects loop, MIDI, USB, etc. Detailed editing, including Presence, Thump and Boost Lock, a library of 12 company IRs and storage of up to 128 presets, is handled by the IR-X Editor application. Combining the best of the analogue and digital worlds, Friedman IR-X's sound qualities and flexibility make it one of the favourites in its product category.    
Preamp/multi-effect Fender Tone Master Pro: a new competitor to Helix and Quad Cortex?
The traditional American brand enters the field of high-end modelling with the Tone Master Pro processor, featuring more than 100 virtual amps and effects, including all classic Fender Tone Master amps, the officially licensed EVH 5150 III Stealth and other standards whose software alternatives have been created using patented TMM (Tone Master Modeling) technology. Editing is greatly facilitated by a colour touchscreen, there are 10 footswitches that function as encoders similar to Neural DSP's Quad Cortex, more than six thousand IR pulses to choose from, four EF loops, a Bluetooth module, a minute stereo looper, a microphone XLR input and many other features and functions. It is also possible to purchase Tone Master FR-10 or FR-12 active full-range speakers.
Amplifier Engl E670FE: the new flagship of the brand
The Engl E670FE Special/Founders Edition tube amplifier is heading to European stores in versions equipped with 4 x EL34 or 4 x 6L6 tubes delivering an output of 100 W. Feature-packed models offer a five-channel preamp (Clean, Crunch, Lead I, Lead II, Tubedriver), a trio of tube-treated effects loops, noise gate, MIDI In/Thru ports, S.A.C. and a multitude of voicing switches (Gain Boost, Hi Gain, Mid Shift, Mega Lo Punch, Depth, etc.). They are hand-assembled in German workshops and represent some of the most sonically versatile amps with a wide range of tones, from crystal clear registers to subtle crunch effects, more saturated drive to modern aggressive-sounding distortion with long sustain and audible fast bass.
This extravagant-looking five-string model from the small German producer benefits from an unconventional design combining carbon and birch wood, which, together with the dual 34/35-inch scale, significantly affects the consistency of the resulting tone with fast attack, long sustain and solid bass. Tuning stability is ensured by a carbon neck and precise GraphTech tuners, the fingerboard with variable radius is built with resonant material Richlite with ebony properties, and blue luminescent markers make it easy to find your way around. The sound is transmitted by a pair of active Fishman Fluence soap bar pickups. The video below demonstrates a related model, the EBG-5 Jigsaw.
Andrew Barta, owner and chief engineer of New York-based Tech 21, has designed a new preamp/drive for Frank Bell, the bass player from thrash metal band Anthrax. The Street Driver 48 uses patented SansAmp technology, which is completely analogue and emulates the entire signal chain, from preamp to power amp to speaker simulation. Despite the built-in speaker simulator, an external IR pulse can be placed after the driver to add another dimension to the resulting sound in the studio. The pedal features parameters Drive and Level, active two-band EQs and a pair of buttons – Dirt adds extra gain, while Filth emphasises the higher frequencies and attack of the tone. The Driver can be used as a standard effect or preamp, and the XLR output provides a direct connection to a mixer or computer.
Reissue of Ashdown CTM-15 portable tube head
Ten years ago, Ashdown included the small bass amplifier CTM-15 in its portfolio. This year, the British manufacturer is bringing back a modified version, whose prototype was premiered at the GearFest 2023 event in June. Thanks to a carefully designed preamp and power amp with 2 x EL84 tubes, the single-channel CTM-15 delivers both a rich sound with enough volume, clarity and harmonic components and a surprisingly loud 15 W. The straightforward controls include a passive three-band EQ, gain and master tied to a traditional analogue VU meter. Connectivity consists of two 4/8-ohm speaker outputs, a headphone jack (internal load section with no cabinet required) and an XLR Di line jack. The conveniently portable amplifier comes with a gig bag. Dimensions: 150 x 240 x 180 mm, weight: 5.34 kg.
Natal Zenith: drum sets with a retro aesthetic
Natal, which was taken over by Marshall years ago, has introduced the three-piece drum kit series Zenith, inspired by the design of 1960s drum kits. The kits consist of a 22 "x16" bass drum, a 12"x8" tom and a 16"x16" floor tom, although drums of other diameters will be available as well. The 6 mm thick shells are glued together from two maple sheets and a central ash layer (1.8 + 2.4 + 1.8 mm), and maple was also used for the bass drum hoops (4.8 mm). The chosen design, together with carefully milled edges (toms 30°, b.b. 45°) and elegant subtle lugs, provides a traditional warm vintage sound with full bass and excellent resonance. Colours: Forge Black/Blue/Red, Silver/Pink Frost.
If you have found an error or typo in the article, please let us know by e-mail info@insounder.org.