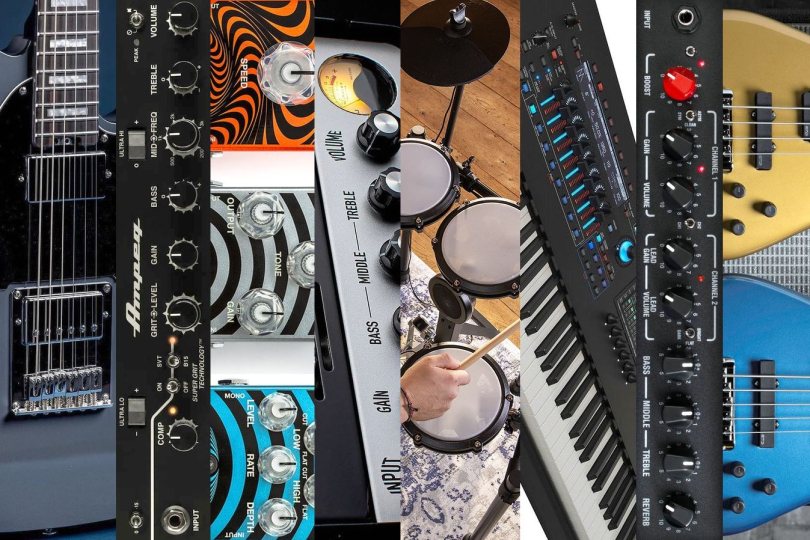 NEW GEAR 43/23: Montage M Synths, Alesis Kit, Ampeg Venture and Wylde Audio MXR Pedals
Those who are ready are not caught off guard. Welcome to our next weekly roundup of new gear and trivia from the world of music, where we try to sum up everything essential that's currently hitting the market that we should know about. Yamaha has announced the official prices for its long-awaited Montage M-series synths, Schecter has expanded its catalogue with the addition of the Telecaster-based PT-EX baritone model, MXR is celebrating two decades of working with Zakk Wylde with a designer effects collection and Fender is launching its new Highway line of electro-acoustic guitars. Ampeg is focusing on bassists with the modern Venture edition equipped with the SGT distortion circuit, drummers can choose from the Alesis Nitro Max electronic kit and we also give a tip to Ashdown and Laney amps.
The instrument, which could be seen as an answer to the now discontinued Fender Blacktop Baritone Telecaster, brings modern elements to this category of guitars, including a carbon maple neck brace, 22 stainless steel X-Jumbo frets set into an ebony fretboard with a larger 14-inch radius, high-quality Graph Tech XL Black Tusq walnut, locking tuners and, of course, an extended 27-inch length scale. The nyatoh body with milled edges carries the company's Diamond PT/H hardtail bridge and two Schecter USA Pasadena Plus/SuperRock Vintage humbuckers. The model from the Indonesian factory comes in Dorian Gray.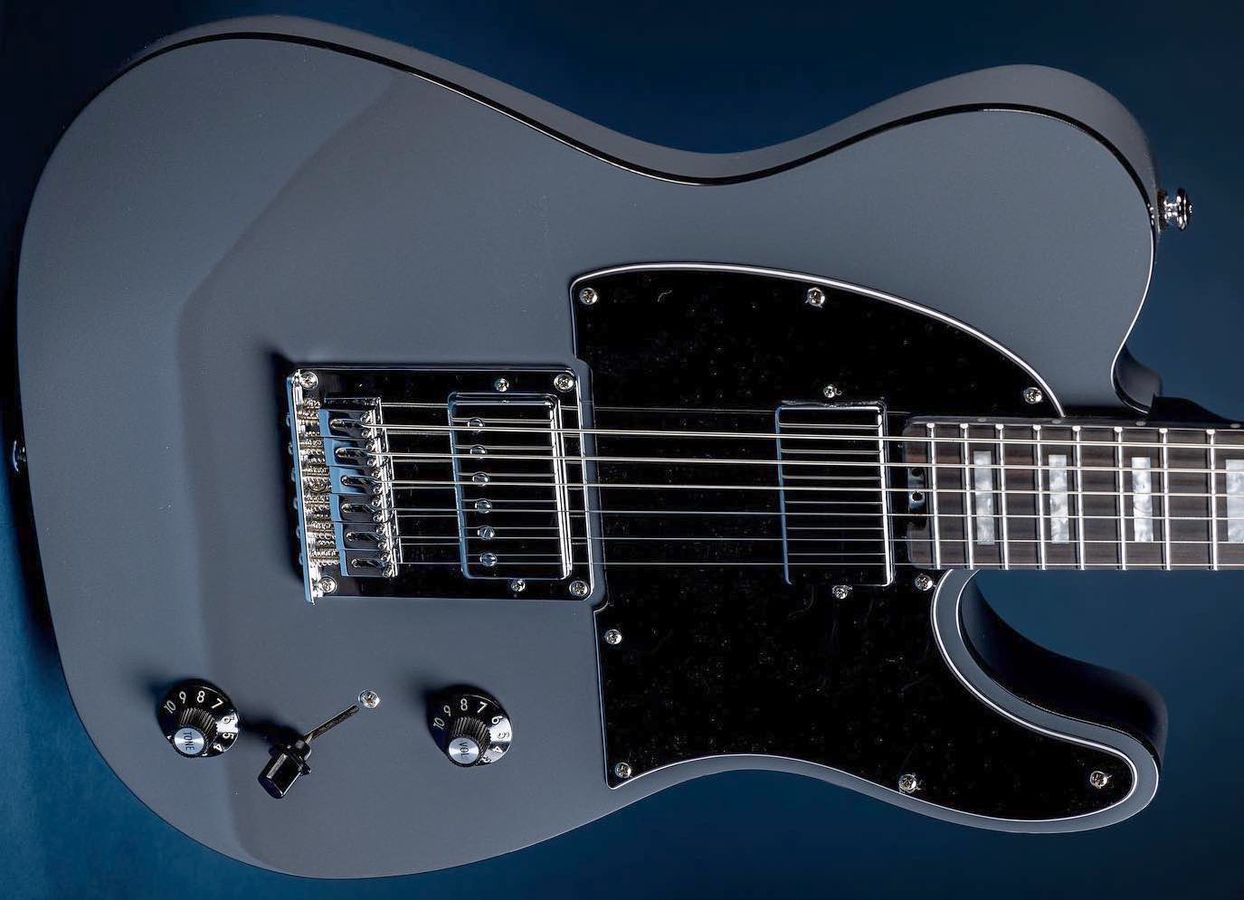 Revolutionary Fender acoustics from the Highway edition
An all-new series of electro-acoustic guitars, which includes Fender's Highway Dreadnought and Parlor models, features a low-profile mahogany body (neck height approx. 57 mm) equipped with a patented bracing design that brings the sound of these compact, ergonomically shaped instruments closer to standard acoustics. Each version comes with a solid spruce or mahogany soundboard, and the guitars get a bolt-on mahogany neck, rosewood fretboard and high-quality Fishman Fluence electronics complemented by a Core magnetic pickup that contributes significantly to the dynamic and organic tone. Priced to hit the 1000 dollars limit, a deluxe soft case is included.
Five Dunlop/MXR effects from Wylde Audio's anniversary series
For two decades, the name of the guitarist behind Black Label Society, Pantera and Ozzy Osbourne's backing band has been associated with Jim Dunlop and its MXR subsidiary. To mark the jubilee, the two companies have decided to launch a 20th Anniversary Wylde Audio effects reissue with special graphics, featuring MXR's Zakk Wylde Overdrive WA44 models (based on the Boss SD-1), MXR Zakk Wylde Chorus WA38 and MXR Zakk Wylde Phaser WA90 (based on the MXR Phase 90), to which Dunlop will later add Wylde Audio Rotovibe Chorus/Vibrato and Wylde Audio Cry Baby Wah versions, again in a design typical of Wylde's signature gear. The fully analogue pedals have true bypass switching.
The new amps by developer Dave Green feature tube construction, small size and intuitive controls. The single-channel MF-284 (1x ECC83 + 2x EL84), delivering 15W of power, is equipped with gain, volume, three-band EQ, headphone jack, two speaker outputs (8/16 Ohm) and XLR DI line jack. The larger and better equipped 30 W two-channel version of the MF-484 2.N gets two instrument inputs with different UK/US voicings, an effects loop and, most importantly, an IR section with 6 presets, also functioning as a load box. XLR Torpedo In/Out (reamping), MIDI In/Out, 2 USB ports and a footswitch input have also been added.
The British manufacturer has bolstered its product portfolio with two compact guitar amplifiers from the Ironheart Foundary series, which are based on the technology used in the popular LoudPedal pedalboard. The high-gain IRF-Dualtop transistor head features two channels, with the first branch allowing a choice of 3 clipping modes (ASYM, Clean, SYM) and the second channel offering the same number of voicing modes (Bright, Dark, Flat). The single-channel IRF-Leadtop with Clean/Lead modes takes over the functions of the distortion branch of the Dualtop, common to both versions is 60 W RMS power (can be reduced to 1 W), Pre-Boost section, Eff. loop, box emulation, Aux In, etc. The Dualtop also adds digital reverb and XLR output with IR cabinet pulses.
Based on instruments first introduced in the 1980s, the four- and five-string basses of the Euro Classic series have been given the flashy Metallic Gold and Metallic Blue finishes, which Spector is using to expand the range of this edition to a total of five finishes (Solid Red, White and Black finishes are still available). The bass, which has become the choice of many players thanks to its unique shape and unmistakable sound, features a continuous three-piece maple neck, a rosewood two-octave fretboard, 34-inch scale length and a lightweight North American maple body. Proven active electronics and EMG pickups are installed (Euro 4 - P/J configuration, Euro 5 - J/J set).
Ashdown decided to upgrade the popular Triple Shot pedal and also introduced the new Pro-Di preamp. In the first case, it is a very flexible multiband distortion whose circuitry splits the distortion into three bands (Dark, Medium, Light) with independent Roast level controls. Unlike many competing bass drivers, the Triple Shot doesn't over-cut the lower frequencies, so the tone retains the necessary volume. The Pro-Di pedal offers a sound the DNA of which is found in the company's ABM, MAG and Rootmaster instruments, with a transformer-isolated DI output, five-band EQ, voicing switch, Drive section, input sensitivity selection and other features that can be used for stage and studio work or practice.
New Ampeg Venture collection with Super Grit drive
The iconic brand has included modern amplifiers like V3, V7, V12 and VB-112, VB-115, VB-210 and VB-410 cabinets in the Venture series. The lightweight, portable amps, using 300, 700 and 1200 W Class-D end units, feature a high-quality Legacy preamplifier with three-band EQ (selectable mids), Ultra Hi/Ultra Lo functions, variable compressor and SGT Overdrive switchable distortion circuit with SVT/B15 voicings. The aforementioned boxes use custom neodymium woofers and Lavoce tweeters. "The Venture Series represents the next step in the evolution of the Ampeg brand. We designed them to give gigging bassists playing all styles of music the capabilities they need to dial in both modern and classic sounds," said Ampeg manager Dino Monoxelos.
Alesis Nitro Max: an electronic drum kit at a reasonable price 
Alesis is known in the electronic kit business for quality products at an affordable price, and this is also true for the Nitro Max mesh drum kit. For around EUR 460, the player gets an aluminium ramp, a hi-hat pedal, a bass drum tower with pedal, a two-zone 10″ snare, three single-zone 8″ toms, a pair of 10″ cymbals (crash with choke function) and of course the module. It is equipped with the BFD Player, offering computer-assisted use of 440 drum samples in 32 preset sets and the option to store up to 16 custom sets. Bluetooth is integrated and the player has access to Drumeo and Melodics tutorials. If you are looking for an affordable el. kit that can be easily assembled, folded and carried around, the Nitro Max could be the right choice. The basic set can be expanded with the separately sold Nitro Max Expansion kit (about 100 euros), adding a fourth tom and an additional cymbal.
The M6, M7 and M8x versions represent the latest generation of Montage M virtual analogue workstations with the brand new AN-X engine, which together with the AWM2 and FM-X units (8 operators) provide polyphony with up to 400 voices, while the M8x adds polyphonic aftertouch. The flagship series delivers significantly redesigned control, of course, with superior sound and dynamics in all aspects, seamless integration of stage and studio workflow, MIDI and USB audio, etc. The player has, among other things, 9.97 GB of WaveROM presets, 16 libraries (16 x 640 performances), 3.8 GB of user flash memory and a VCM rotary speaker. The capabilities of the Montage M series, which the manufacturer claims "revives the expressiveness of the legendary CS-80 and DX-1 models", will be further enhanced next year with the addition of the Softsynth plugin for controlling the instrument via a DAW. Pricing: M6 about USD 3500, M7 about 4000 dollars, M8x about 4500 dollars.
If you have found an error or typo in the article, please let us know by e-mail info@insounder.org.