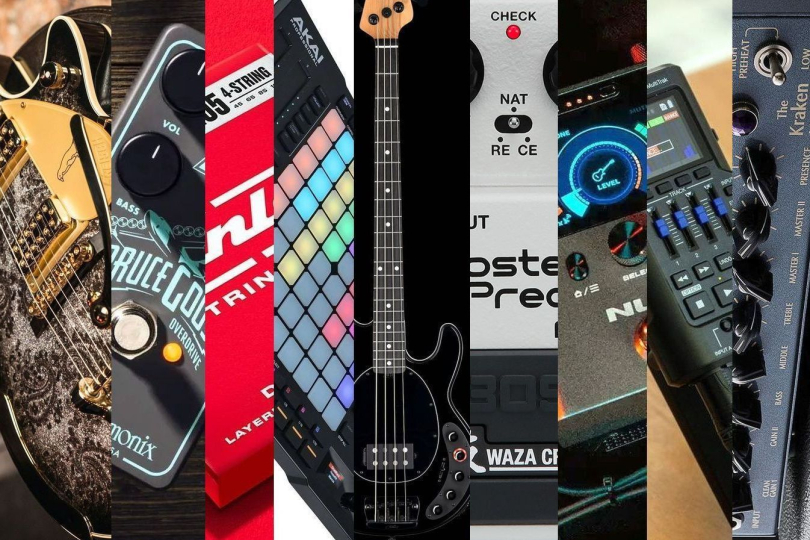 NEW GEAR 45/23: DarkRay Bass, Boss BP-1W, Gretsch and Zoom R4 Limiters
Those who are ready are not caught off guard. Welcome to our next weekly roundup of new gear and trivia from the world of music, where we try to sum up everything essential that's currently hitting the market that we should know about. Boss has bolstered the Waza Craft effects line with a flexible preamp/booster, IKM offers the iRig USB audio interface, Sterling by Music Man comes out with a more affordable version of the DarkRay bass, Dunlop announces the production of Dual Dynamic bass strings, Zoom offers the smallest representative of the R-series recorders and the Akai Pro division introduces a multi-function controller for Ableton. We can also recommend a pair of exclusive Gretsch guitars, the EHX Spruce Goose drive, the Victory amplifier and the Nux B-8 wireless system.
The luxurious-looking limited edition models in Black Paisley and Bourbon Stain finishes get a chambered mahogany body, maple top, mahogany neck, ebony fretboard with 22 medium jumbo frets and genuine mother-of-pearl inlays, Adjusto-Matic fretboard and Bigsby vibrato. The G6134TG with gold hardware is equipped with Grover Imperial locking pegs and TV Jones TV Classic Filter'Tron pickups, while the G6130T variant with metal components in classic chrome features custom TV Jones humbuckers and Gotoh locking pegs. Both collectible instruments are made in American workshops and offer a traditional, time-tested sound with transparent expression and typical twang.
The drive resembles the recently released Marshall BluesBreaker reissue pedal with a smooth, harmonically rich sound that retains clarity and dynamics. Compared to its predecessor, the Spruce Goose features a two-band EQ with active bass, a three-position LIFT lever switch for selecting input gain level (more compression and distortion), and a footswitch wired through a mechanical relay in "soft" true bypass mode, which also allows the use of a momentary mode where the effect is activated only when the pedal is depressed. Thanks to cleverly designed corrections, Electro Harmonix's new product can easily handle the signal of single-coil pickups and humbuckers.
Nux B-8: wireless system with booster
The agile Asian brand has introduced a professional wireless WiFi system operating at 2.4 - 2.4835 GHz in 24-bit/48 kHz audio quality with adjustable latency (min. 2.5 ms) and an action range of approx. 50 metres. The RX pedal receiver also serves as a docking station for the TX strap transmitter, with each set having a unique pairing algorithm with automatic detection and a custom ID setting. Also built-in is a tuner (Chromatic, Guitar Standard, Guitar Compensated, Bass modes), DI output and even a booster. The Cable Tone mod can be activated to achieve a more organic, warmer tone, and the receiver features an effects loop, USB port and a balanced line DI output for direct connection to a mixer, DAW, etc.
Boss Waza Craft's premium pedal collection has grown with the addition of the BP-1W, combining the features of a preamp and booster.  The analogue effect, manufactured in the Japanese headquarters, offers, in addition to Level and Gain controls, a three-position switch for selecting the following modes: CE – preamp reproduction of the legendary Boss CE-1 chorus, RE – a warm, voluminous preamp tone taken from the vintage Roland RE-201 Space Echo delay, NAT – a mod providing a natural-sounding clean boost with minimal signal timbre. The novelty features high-quality input buffers with a choice of Standard or Vintage mods.
In a relatively short time, the British company Victory Amps has managed to secure a reputation among guitarists for its high-quality tube amplifiers, including the high-gain Kraken series, which has seen a new addition in the form of the VX Kraken MKII (2x 6L6, 50 W), available in a metal (Lunch Box) or classic wooden chassis. The second generation, developed in collaboration with guitarist Rabea Massaad, is again designed for players of stronger genres and offers two channels with British or American characters, now complemented by a Clean mod. Also added is a Presence control with a voicing switch, a small Gain I Balance potentiometer, Master Volume Auto Sign function and terminals for adjusting the bias of the power tubes.
Sterling by Music Man's DarkRay "Four" with Darkglass preamp
After the original DarkRay model, manufactured at Ernie Ball Music Man's California headquarters, the brand has come up with a more affordable alternative of the same name from its Sterling by Music Man subsidiary. The four-string bass, based on the years-tested StingRay Special benchmark, is fitted with a premium Darkglass preamp with a trio of modes – Clean, Alpha, Omega (clean sound, distortion, fuzz) tied to a rotary switch with a coloured LED ring. Active electronics equipped with two-band EQ is connected to a humbucker MM H-1 with the possibility of push/pull coil splitting. Nyatoh wood was used to build the body, and a "roasted" maple neck is complemented by an ebony fretboard. The instrument comes with a deluxe soft case.
"From tone to touch, you won't find a more balanced set" - with this slogan Dunlop has launched the Dual Dynamic Hybrid Nickel bass strings, combining the sonic benefits of nickel and steel. The sets, available in four- and five-string versions of 45/105 and 45/125, feature an outer nickel winding to provide the volume needed for tone, and a second inner steel winding to give the sound aggressive mids and punch. The result is a wide frequency response with a robust foundation and precise definition. "Every groove you play will be packed with a hefty low end and cut through with just the right amount of clarity. And it's not just about the sound – these strings are exceptionally comfortable under your fingertips," adds the manufacturer.
The new model in IK Multimedia's family of audio interfaces has been given a more compact chassis and, most importantly, a USB-C port, allowing the iRig USB card to connect seamlessly to more modern devices, with 24bit/48kHz sound quality. iRig USB still offers all the connectivity that has made the iRig series the first choice for many guitarists. We find an instrument jack input with sensitivity control, a dual-mode amplifier output and a mini-jack stereo headphone jack. The amplifier output provides direct or processed input, with Dry-Out mode being used to connect a tuner or pedals, for example, while Wet mod is ideal for use with AmpliTube, TONEX, etc. The interface supports recording to PC, Mac, iPad or iPhone, and, of course, access to the aforementioned software in SE versions is included.
The latest addition to Akai Pro's Ableton Live controller lineup features 64 velocity-sensitive pads, equipped with polyphonic aftertouch, eight assignable touch strips, and as the first representative of the APC series, boasts a built-in eight-track 32-step sequencer. With USB, MIDI and CV/gate connectivity, the APC64 can be used with a wide range of other software and hardware instruments and features Drum Rack integration (melodic or percussive Note/Drum input mods), LCD display, RGB backlighting, Mix mode, 2x MIDI Out, etc. The Ableton Live Lite 11 app is included.
The Japanese manufacturer has strengthened its line of R-type multi-track mini recorders with the smallest version, the R4 MultiTrak, offering the highest standard for digital audio recording in 32-bit (float) quality. The technology delivers significantly greater dynamic range compared to previous standards (16/24 bit), elimination of unwanted distortion and, in the case of post-production, the ability to amplify a quiet signal without increasing noise. There are 4 tracks with tension faders plus a "bounce" track, integrated condenser microphone, two XLR/TS inputs, USB-C audio, micro SD card slot (1 TB), effects section, amp emulation, rhythm unit and many other features. The new product is expected to hit the market in December.
If you have found an error or typo in the article, please let us know by e-mail info@insounder.org.