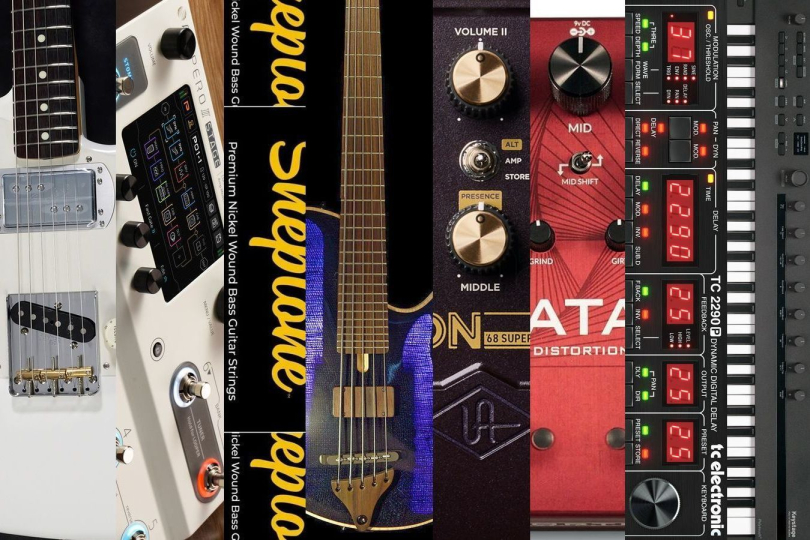 NEW GEAR 46/23: Fender MIJ SY Custom, Korgy Keystage, Marleaux Bass and Loads of Effects
Those who are ready are not caught off guard. Welcome to our next weekly roundup of new gear and trivia from the music world, where we try to sum up everything essential that's currently hitting the market that we should know about. Korg unveils a pair of MIDI 2.0 compatible keyboard controllers, Universal Audio offers a drive with the sound of Marshall, Catalinbread's reverb goes back to the 80s, high-gain enthusiasts can enjoy a new distortion from Fortin, Asia's Hotone introduces the Ampero II Stage and TC Electronic has decided to change its iconic delay into a pedal. We also present an unconventional Japanese Strat, a futuristic bass from German small producer Marleaux and active monitors from JBL.
Combining elements of two of the Japanese guitarist's favourite instruments – a vintage 1952 Stratocaster and a modified 1954 Telecaster, this signature hybrid model features an ash body with Strat-style resonant cavities, a maple neck with a special U-profile and a rosewood fingerboard. A single-coil SY Custom Wired Tele is housed in a Telecaster bridge with brass saddles and it is supported by a Wide-Range neck humbucker fitted with CuNiFe magnets. One of the Tones is replaced by a direct switch that sends the signal from the humbucker directly to the output. The design is complemented by a single-ply pickguard in a parchment finish and Pure Vintage Single Line Fender Deluxe tuners. The price with a gig bag is around 1470 dollars.
The newest member of the UAFX effects line provides a Marshall-style sound with three modes representing models Super Lead, Super Bass and "Brown" – the latest is based on Eddie Van Halen's iconic sound of the same name, which he used to create with his vintage Marshalls using a Variac (voltage converter). Dynamic Speaker Modeling technology adopted from the popular Ox Amp Top Box and other features and presets are editable via the UAFX Control Bluetooth app. There is also a switch on the main panel for selecting three emulation cab modes based on Celestion, JBL and Electro-Voice speakers. Of course, a USB-C port and mono, stereo and true stereo inputs are also available. The new model with a price tag of about 440 euros will appear on the European market in late November and early December.
Catalinbread CBX offers the so-called gated reverb, which was used by Phil Collins and Bruce Springsteen on their albums in the 1980s. Originally, this involved using the microphone "talkback" channel of the Solid State Logic SL4000 console, whose signal was fed back through the studio console preamp and then into the noise gate. In addition to the reverb unit, the pedal also features a preamp section with overdrive and smooth wet/dry ratio adjustment. The result is a very musical "always-on" reverb with a distinctive expression that doesn't disturb the final band mix. The power supply is handled by a 9 – 18 V / 100 mA adapter.
As the name of Hotone's new flagship suggests, this time the manufacturer has focused not only on sound quality but also on a straightforward control method, supported by a dynamic colour touchscreen and eight multi-function footswitches, which will be particularly appreciated by frequent giggers. Thanks to its triple-core platform and premium ESS Sabre AD/DA converters, the Ampero II Stage features, among other things, a Scene function with five presets for smooth transitions between effects and parameters during different parts of a song. There's also a mic/line input (48 V, up to 52 dB), five input modes to choose from for instruments or vocals, Bluetooth, an 8x8 USB card, an advanced looper (60 s), a rhythm section, serial and parallel connections, an IR loader with Celestion pulses, a variety of virtual machines and boxes, over a hundred effects, 300 presets, MIDI, etc.
When building this distortion, developer Mike Fortin took inspiration from the sound of the company's amplifier NATAS, which is reflected in the pedal's brutal sound, high gain, fast attack and detailed tone articulation. Along with a three-band active EQ and Gain and Volume parameters, the NATAS is equipped with a toggle switch affecting the expressiveness of the midrange, a pair of mini Girth and Grind potentiometers for more detailed frequency adjustments, and a second Kill footswitch activating the gain boost circuit. Switching (3DPT) is handled in true bypass mode with a mechanical relay. The official price is under 300 dollars.
The Danish manufacturer returns to the still sought-after 2290 Dynamic Digital Delay, this time in a pedal format with a trio of footswitches and typical segment displays. There's a bank for 128 presets, a Learn Tap Tempo function with rhythmic patterns, a modulation section, intelligent hi+low-cut filters, memory for delays of up to 9,999 seconds, a choice of buffered or true bypass, MIDI In, Out/Thru DIN connectors, external expression pedal input, USB, stereo operation or a Feedback Loop effect loop. Editing, creating and saving presets can also be handled via the app. Like its 1980s predecessor, the over-equipped delay offers also chorus, flanger, tremolo, vibrato, phaser, panning, ducking and compression.
The most distinctive feature of this bass from the German boutique retailer is the unique Marleaux Logic Mesh material used for the top and supported by a solid wood body frame. According to the brand, the board made of this special material, which has never been used in basses before, is characterised by great strength and good resonance and it also allows customers to realise a variety of aesthetic visions. The carbon-reinforced maple neck is fitted with a variable radius fingerboard and 28 frets and the electronics consist of one company-branded humbucker (series, parallel, single mode) and a BC3 switchable active preamp. It also features a brass custom bridge with an ebony base and Schaller tuners. The 32-inch scale instrument comes in a variety of finishes and there is also a fretless version.
The American brand known primarily for producing quality pickups has added a set of handmade Medium Light 45-105 strings with nickel winding and hexagonal steel core to its catalogue. Thanks to a special manufacturing process and top-quality materials, the Sheptone Premium Nickel Wound set offers a balanced, warm tone with full bass, resonant mids and detailed contoured highs, along with the necessary sustain, superior tuning stability, durability and pleasant playing feel. Price: about 29 dollars. The video below demonstrates the sound of the Premium Nickel Wound kit on a Lakland SK44AJ bass.
>
"Creative inspiration meets expressive innovation," says the tagline accompanying the launch of a pair of controllers that are the first in their category to adopt the new MIDI 2.0 protocol, allowing both innovations to offer unparalleled integration and comprehensive control, taking the music-making experience to a whole new level. The MKII edition has received a new key design with touch-sensitive response plus polyphonic/channel aftertouch, as well as compatibility with the MPE (MIDI Polyphonic Expression) specification. There's instant visual feedback via a ribbon OLED display with dedicated parameters, a powerful arpeggiator, a range of chord modes, a built-in audio interface and official integration with Ableton Live.
With an advanced acoustic concept, a three-channel mixing console and audio streaming via Bluetooth 5.0, the column monitors score with a precisely tuned C-shaped array and front-to-back coverage. The system is equipped with six 2" tweeters, an eight-inch woofer and a bassreflex for a response up to 40 Hz. Equipped with jack/XLR connectors and phantom power to the condenser microphones, the mixer offers a Soundcraft audio ducking function including automatic feedback suppression (AFS) developed by DBX. Bands, buskers, singers or presenters will also appreciate the choice of five equaliser presets or the portability and quick set-up of a four-piece set.
If you have found an error or typo in the article, please let us know by e-mail info@insounder.org.