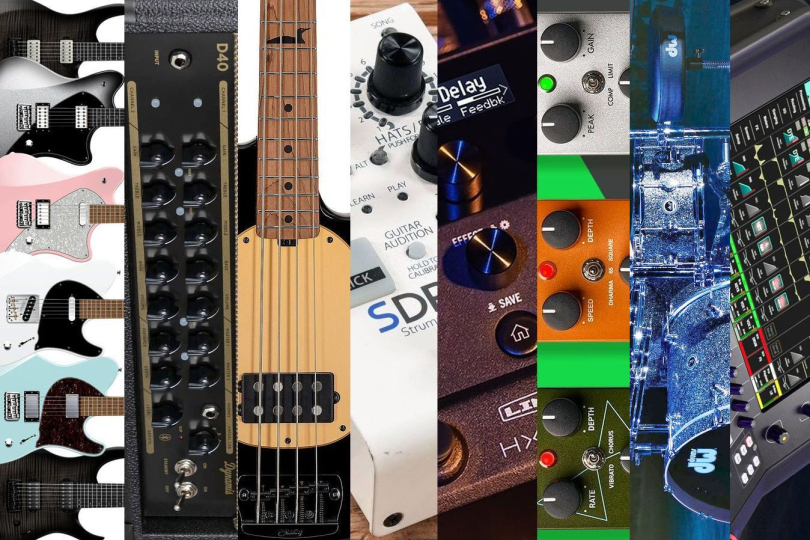 NEW GEAR 47/23: Line6 and Zoom Effects, Epiphone and Fender Signatures, Revv and DWe Drums
Those who are ready are not caught off guard. Welcome to our next weekly roundup of new gear and trivia from the world of music, where we try to sum up everything essential that's currently hitting the market that we should know about. DigiTech has announced a reissue of its popular rhythm machine SDRUM, Zoom has upgraded its omnipotent pedal MS50G to the Plus version and Line6 continues the evolution of the Helix edition with the small multi-effect HX One. Canada's Revv has boosted its product range with the Dinamis D40 tube amp, Epiphone introduced a replica of Kirk Hammett's 1979 Gibson Flying V and Fender launched the Bruno Mars Strat production. We also recommend Pete Wentz's signature bass, UAFX effects and DWe electroacoustic drum kits.
Epiphone reached out to the Metallica guitarist and partnered with Gibson Custom Shop to launch a replica of Hammett's 1979 Flying V, used on most of his band's classic albums. Of course, it's a much more economical version than this year's limited edition from Gibson with a $15,000 price tag. Standard features include an all-mahogany design, specially calibrated Gibson USA T-Type humbuckers, CTS potentiometers, an Orange Drop condenser, a custom bridge, mother-of-pearl inlays, Graph Tech nut, Switchcraft components and Grover Rotomatic tuning machines. The official price, including a quality hard case, is under 1500 euros.
The signature Strat of multi-instrumentalist, performer, composer and producer Bruno Mars received a special Mars Mocha Heirloom gold finish and several modern features which set it apart from conventional models. The ash body has more detailed rounded edges, the maple neck with a Custom-C profile and large "CBS" headstock has an ergonomically shaped joint, the variable radius fingerboard carries 21 medium jumbo stainless steel frets and the sound is transmitted by three custom single-coils, with the bridge pickup in the Noiseless version. The Heirloom Aged Gold-finished hardware consists of a 2-point tremolo Synchronized and locking tuners. The collector's piece, combining current trends with classic Stratocaster design from the late 60s and early 70s, is available for about 3,000 dollars, including a deluxe case, strap and other accessories.
Zoom MS-50G+: a more advanced version of the small guitar processor
The affordable Zoom MS-50G stereo preamp/multi-effect in the form of a classic pedal has a new "+" variant, which offers redesigned controls consisting of four encoder knobs, one central footswitch and four Cross Key switches for switching between effects and selecting additional functions. The number of effects and presets has been increased to a hundred, modelling is complemented by an IR unit with Multi-Layer technology, you can use the Guitar Lab app, and the developers have also improved the tuner and editing orientation in stage conditions since each section has its own display colour. There's a USB-C 2.0 port, and the power is provided by an AC adapter or two AA batteries.
Multi-effect Line 6 HX One: small size, high performance
Are you considering a flexible multi-effect but have little space in your pedalboard? The smallest representative of the Line 6 series with HX technology, used also in the flagship Helix processor, could be the solution. Despite its compact dimensions (96 x 125 x 62 mm), the HX One is able to offer superior creative potential, thanks to more than 250 effects, 128 presets, Flux automation, MIDI connectivity (DIN MIDI In/Out), true stereo connectivity, USB-C port, output for external expression pedal, a pair of footswitches with true or buffered bypass, adjustable input impedance and user-friendly controls supported by OLED display and HX One Librarian app. The new product with a price tag of about 337 euros should appear on the European market at the beginning of next year.
LA2A, Brigade a Flow: compressor and modulation from the UAFX edition
Almost simultaneously with the Lion 68 Super Lead Amp emulation pedal, Universal Audio has added a trio of simpler effects to its product catalogue, including the vintage tremolo Flow, the chorus/vibrato Brigade with the sound of the iconic 1976 Boss CE-1 Chorus Ensemble, and the LA2A compressor/limiter, which provides the capabilities of Teletronix's studio electronics classic. Straightforward controls, common to all versions, consist of a trio of potentiometers and a toggle switch for each pedal to select working modes, and slide switches on the back of the chassis for additional functions dependent on effect type and true or buffered bypass selection. Price: about 200 dollars.
Revv Dynamis D40: a tube amp with technology from Two Notes Audio
The Canadian brand has upgraded the Dynamis amplifier, providing a classic vintage sound typical of the 1960s, 70s and 80s. A two-channel preamp with independent controls and Bright/Boost functions follows the power amp with selectable 10/40W output and global Presence/Depth/Volume parameters. It features a digital reverb, load box, buffered effects loop and Two Notes' Torpedo section with complex IR pulses switchable by a six-position Virtual Cab rotary switch. The amp also includes MIDI, a USB-C port, a Bluetooth module, rear bias test points for adjusting each power tube pair, two emulated XLR outputs and compatibility with the Torpedo editing app.
DigiTech SDRUM: the return of the intelligent drum machine
Thanks to the takeover by South Korea's Cor-Tek, the American brand is back on the market with the popular SDRUM drum machine, which was first introduced six years ago. It is based on BeatScratch technology, which allows the programmable pedal to detect the rhythmic breakdown of a figure played on guitar, bass, etc. and then convert it into a pattern with an identical tempo and appropriate beat. You can choose from 5 drum kits,12 different types of hi-hats and rides and various styles, there is a bank for 36 presets, Kick and Snare pads, basic song form breakdown (verse, chorus, interlude), USB port, JamSync connector for loops and many other features. The integrated samples are studio quality, which together with its flexibility makes this machine a practical helper for home recording, composing, practicing, and jamming.
A subsidiary of Music Manu has produced its first passive bass with a standard 34-inch scale for bassist and founder of pop-punk band Fall Out Boy. The four-string signature with a nyatoh body is available in black lacquer or Fiesta Red in a limited edition, the maple fretboard's octave position depicts a gaviiforme (water bird), the gold pickguard carries an H-1 humbucker with an Alnico V magnet controlled by volume + tone, and black chrome hardware consists of an SbMM top-load bridge and Open Gear tuning machines. The new product, aimed at players who are attracted to instruments with voluminous punchy sound, passive electronics and the iconic StingRay design, can be purchased for around 650 dollars.
DWe Edition: flexible electroacoustic drum kits with Bluetooth
The DWe handmade acoustic-electronic convertible drums with wireless triggering represent a breakthrough in design and concept, where the DW brand has used traditional 9-ply glued maple shells in VLT 333 orientation. The drums can be used in a conventional way with standard heads, as well as with mesh heads in combination with a multisensor module located inside each drum. Thanks to Bluetooth communication and the DWe Drumlink Hub receiver, there is no need to connect individual components via cable. The system also includes a small RTAP (Real Time Audio Processor) box, acting as an audio interface compatible with DW Soundworks computer software containing 6 kits (4x DW, Gretsch, Slingerland), 60 presets, etc. DWe kits are available in four or five-digit configurations including special cymbals and DW5000 hardware. Prices start at about 4500 dollars.
Like the larger version of the Avantis digital mixer, its more compact cousin, the Solo, is based on the XCVI FPGA power engine with a latency of just 0.7ms, representing the absolute top of the range. You can benefit from a 64-channel concept with 42 buses and a fully configurable mix architecture, there are 12 RackExtra FX slots with dedicated stereo returns, analogue + AES inputs and outputs, 128×128 ports for Audio Networking, dPack upgrade, etc. The model, which is half the size of its predecessor, features a 15.6" Full HD capacitive touchscreen display, 12 faders (6 layers) and 18 assignable Soft Keys. The entire system is set up to dynamically surface the information you need at any given moment and put the controls right at your fingertips.
If you have found an error or typo in the article, please let us know by e-mail info@insounder.org.