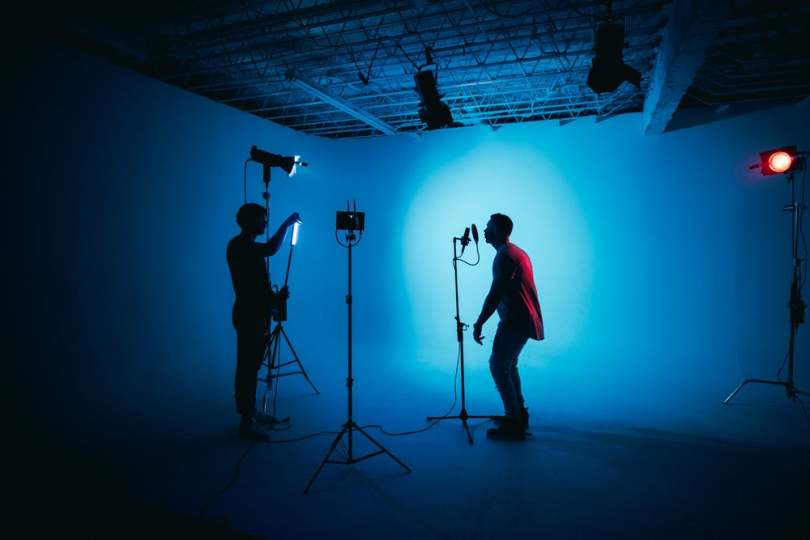 Photo: Kal Visuals (Unsplash)
Notes of a Frontwoman #8: People Listen with Their Eyes or How to Make Promo Photos
Today we're going to look at a topic that might seem only loosely related to music but is quite important for the performer or band. Your existing or potential fans, as well as people from the media and the music business, listen with their eyes too – so besides the songs, it is necessary to be equipped with some promotional photographs. But what to do if you don't know how to proceed and this aspect of a musical career is not your cup of tea? Here are some tips that might help you if you are wondering how to get started or which way to go.
1. Find a teammate
You can play, compose, arrange and perform, but when asked "What do you want your photos to look like?" you'll just go: "Uh..." Don't worry about it, we musicians can't do everything. Ideas come to us in the form of sounds, not images, and I, for example, struggle a lot with devising promo photos because I can't describe and convey my visual idea (if I even have one).
In this case, it is good to work with someone who has this ability. Whether it's a friend, an acquaintance or simply someone you trust, who knows you and your music and has experience in photography. Such a person can sit down with you, listen to any ideas you may have and, if you don't have any, can come up with concepts or suggestions of their own – in other words, guide you and serve as a consultant. It will make the whole process much faster and simpler and you won't have to do it on your own. It's also beneficial to listen to the perspective of an "outsider" who contributes their own, unbiased opinion, which often blows fresh wind into the performer's sails.
2. Concept and inspiration
How to approach it? There are so many possibilities that it can be difficult to find the right direction. At the start, it's good to ask yourselves who you are as a band or performer, what kind of music you play or what your songs are about. That doesn't mean conforming to stereotypes or what the handbooks say you "should" do. But it can give you a framework within which you can then make further decisions.
It is useful to answer these questions in advance:
What are we going to use the photos for? Are we going to shoot a booklet for a new album, promotional material for a tour or content for social media?
What is our budget? Can we afford a studio, or do we want to shoot outside?
Where do we want to shoot? If we decide to go outdoors, do we account for the potential weather vagaries? And do we actually know of a photogenic, accessible and ideally not too "notorious" location?
You can also approach it this way: What type of photos have we taken so far? Do we want to stick to our proven methods, or try something new? Is there something we've always wanted to try or something we liked about other photos? Would we like to try a different colour concept, a different outfit, bolder lighting? Can we find examples and inspiration that we can use as a springboard? (Hint: You can, photo banks are just full of them)
3. How to choose a photographer
Again, several approaches can be taken. One of them is to find photos that you like and you can imagine using a similar style for your project. Reputation works well too, so it doesn't hurt to ask someone to recommend a photographer to you.
Don't restrict yourselves to only band photographers. For example, our court photographer and author of the images for the new album of The Agony, Audrey Liška, shoots reports for tabloids, portraits, glamour and street photographs. I think we're the first musical ensemble she's worked with. However, a photographer "outside the genre" can often be an excellent choice (this was certainly the case for us), because they are not bound by convention.
What is also important is your ability to self-reflect, the personality of the photographer and good communication. Many musicians prefer to be guided and instructed during a photo shoot, as it's perfectly fine for them to play for hundreds of people, but in front of the camera, they freeze up. A good photographer knows how to work with people, he can make them feel relaxed, animated and bring out what he wants to see in the picture. However, both parties need to be able to tell each other what exactly they need to get the optimal result.
Once you have identified your person, get in touch with them and propose a collaboration. Again, keep your budget in mind. If it's tight, try to look for someone who is just starting out, is talented and could use some photos for their portfolio, so you will do each other a favour.
4. Preparation, budget, logistics
If you don't choose to go the "punk" way and you want the photo shoot to be relaxed, structured and have a professionally looking output, creating promo photos can be a separate mini-project. It begins with deadlines: is everyone involved free and by when do we want and need the photos to be ready (including time for post-production)? Then there is the previously mentioned budget: How much money do we have? Last but not least, the available equipment: what does the photographer have, or what can the studio lend and what will we need to get?
Keeping the budget in mind, the "human resources" aspects are dealt with next. In addition to the photographer, you may or may not have a stylist, a makeup artist, a photographer's assistant to help with equipment or set-up and a producer to make sure everyone is ready and in front of the camera at the appointed time...
Concerning the latter, it's nice to have at least a rough timetable. If it's a "bigger" shoot, it's good to let everyone know in advance what the schedule looks like and what time things will be done. Chasing musicians around and getting them in front of the camera at the same time can be quite a job: someone is still in the make-up room, another one is having a cigarette, another one is already nervously shuffling around under the lights and tripping over tripods and cables... This scenario is best avoided by being properly prepared.
5. Most importantly, no stress
Let's face it: I don't know anyone who wants to look stupid in photos. You can tackle this by choosing good people on your team to help you. But you also have to contribute to their work and try to sleep well the night before the shoot, be friendly and not drink (too much) during the session. While a reasonable amount of alcohol can help you relax and not feel stiff, it only takes a drop more to have, as a friend used to say, "leather faces" staring into the camera.
In addition to all this, it is equally important to keep a good atmosphere on set. As with studio work, any form of tension can reflect on the outcome and/or, at the very least, make you not enjoy the process at all. And that would be a shame because recordings and photos are forever.
If you have found an error or typo in the article, please let us know by e-mail info@insounder.org.