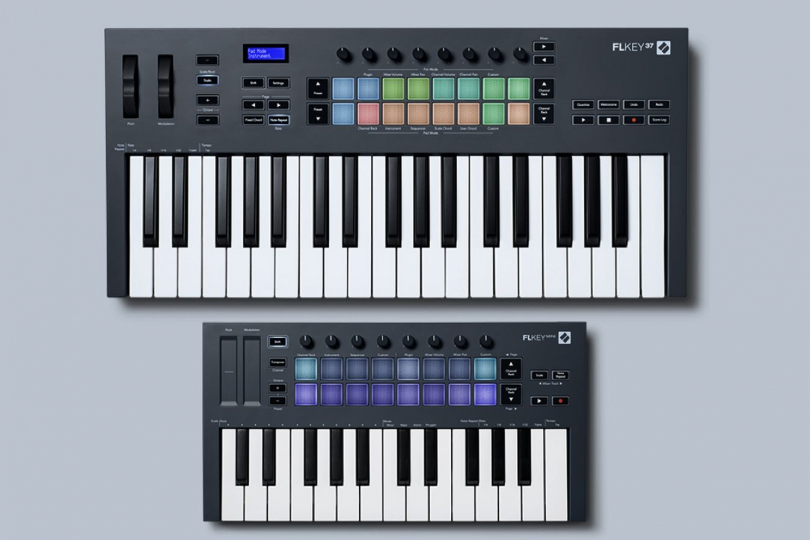 Novation FLkey Mini & FLkey 37 MIDI Keyboards
Novation's new FLkey Mini and FLkey 37 MIDI keyboards are the first models in the series to be fully integrated with FL Studio software for smooth music production and intuitive workflow. Both versions feature everything you need to easily create music in this popular DAW, following in the footsteps of their successful predecessors Launchkey, Launchkey Mini and SL MkIII.
The FLkey series allows you to control the step sequencer in FL Studio directly from the keyboard without using a mouse; music producers can easily program beats and create arrangements with pads linked to the Channel Rack section, adjust volume and Panorama with eight potentiometers, and there are SliceX, FPC or Fruity Slicer functions for more expressive passages.
A hardware mixer is also helpful—you can use Scale and Fixed Chord modes, so you always hit the right note. The selection and control of Image Line plug-ins are available, including the assignment of controls via Custom Modes. The Fixed Chord unit (FLkey 37 only) allows you to play chords with one finger and you can save entire chord sequences, which can significantly speed up song creation. The larger FLkey 37 offers, among other things, the choice of up to 32 pre-made chords in eight different scales.
The more compact FLkey Mini is the ideal choice for FL Studio users who create music on the go. This version features a MIDI keyboard with 25 velocity-sensitive mini-keys and handy controls for the most important FL Studio functions, while the more luxurious FLkey 37 variant is equipped with 37 standard-sized keys and Pitch/Modulation knobs—in the case of the Mini replaced by touch strips. The keyboards are powered via a USB port.
Dimensions, connectivity and prices
Novation FLkey Mini – dimensions 258 x 463 x 77 mm, USB-B port, input for sustain pedal, mini-jack MIDI Out, price approx. 110 euros.
Novation FLkey 37 – dimensions 258 x 555 x 77 mm, USB-B port, input for sustain pedal, five-pin DIN connector MIDI Out, price approx. 230 euros.
Also included are the XLN Audio Addictive Keys, Spitfire Audio LABS Expressive Strings, Klevgrand R0Verb, AAS Session Bundle, Klevgrand DAW Cassette and a six-month trial version of the FL Studio Producer Edition DAW application.
If you have found an error or typo in the article, please let us know by e-mail info@insounder.org.