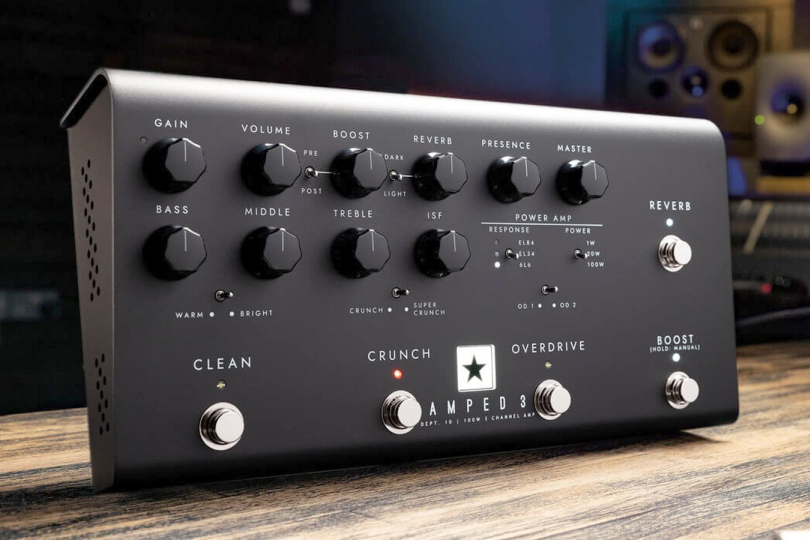 Programmable Pedal Amplifier Blackstar Dept. 10 Amped 3
Blackstar is slowly but surely becoming one of the leaders in guitar floor amplifiers. After last year's Dept. 10 Amped 1, the brand introduced a significantly upgraded version of the Amped 2. Its final coat of red chassis has perhaps not even had time to dry and the British manufacturer is already offering the third generation of this edition, called Dept. 10 Amped 3. How does the new model differ from the previous "number two" series?
The main change is the transition to a programmable concept, which, compared to the Amped 2 variant, reduces the effects section (drive, modulation, delay) and, on the contrary, strengthens the offer of channels with footswitches Clean, Crunch and Overdrive. Clean – Warm / Bright, Crunch – Crunch / Super Crunch, Overdrive – OD1 / OD2.
The manufacturer also states that it has increased the amount of distortion in the third channel, so even fans of more punchy genres will find it useful, and if the amount of gain is not enough for some players, there is a freely assignable boost with its own foot switch, level potentiometer and Pre/Post options, which means that the boost can also function as a so-called jump serving to increase the volume, useful for example in solo parts.
In addition to the gain, volume and three-band EQ controls and the ISF parameter, allowing for smooth adjustment of the sound with an American or British character, a Presence correction potentiometer has been added, affecting the upper midrange bands. A footswitch-activated digital reverb with Dark/Light modes and a Freeze function can be included with all channels.
The Class-D power amp with a maximum output of 100 W has a master and a three-position switch reducing the output level (steps 1 / 20 / 100 W). As with the "2" model, it includes emulation of classic power amps equipped with EL84, EL34 or 6L6 tubes.
There is a four-channel sound card, a patented CabRig DSP unit with algorithms simulating cabinets, speakers, microphones, room acoustics,  Resonance and compression, with detailed editing handled by the company's Architect application (PC and Mac). According to the brand, this system offers zero latency with no phase shifts and also greater flexibility than IR pulse technology.
The rear side of the aluminium chassis is equipped with input and output jacks (impedance 8 – 16 Ohms), send/return effect loops with selectable +4/-10 dB sensitivity and serial or parallel connection, MIDI In/Thru minijack jacks, CabRig XLR/jack line connectors with three modes and separate volume, USB-C port and a pair of barrel connectors for external effects power supply (max. 9V, 500 mA). Dimensions: 288 x 80 x 149 mm, weight: 1.96 kg, European price: approx. 600 euros.
 
If you have found an error or typo in the article, please let us know by e-mail info@insounder.org.