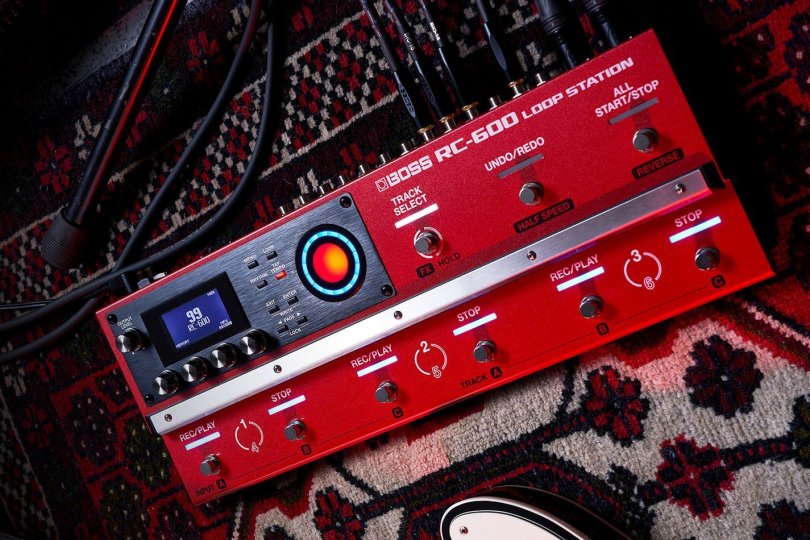 RC-600: The New Flagship of Boss Loopers
Boss has introduced the new RC-600 looper, the flagship of its popular Loop Station series, which, not counting desktop loopers, has so far included the RC-1, RC-5, RC-10R, RC-300, and RC-500 models. The next-generation floor looper will offer six simultaneously usable stereo tracks, best-in-class sound, an extensive dual built-in effects section and unmatched real-time control.
The manufacturer calls the feature-packed new product the world's most advanced pedal looper, as it ushers in a new creative era for guitarists, bassists, singers, producers, composers, multi-instrumentalists, and other musicians who work with loopers. In this case, the company's marketing statement doesn't seem to be far from the truth.
In addition to the aforementioned six stereo tracks that can be used simultaneously, and premium 32-bit audio, the RC-600 features
nine freely assignable footswitches that can operate in three selectable modes, and extensive external control support. Loops can be enriched with any of a total of 102 effects, divided into Input FX (49 types) and Track FX (53 types) categories, with up to 4 effects assigned to each section at once.
More than 200 built-in rhythm patterns and 16 drum kits are provided for creating synchronized grooves; time-based effects (delays, modulations, etc.) offer automatic synchronization with the rhythm and tempo of the loop; and the resulting signal can be routed to three groups of outputs as needed. The bank has room for 99 presets, each of which accommodates assigned effects, playback settings and other parameters in addition to the six tracks.
Boss Tone Studio and RC Rhythm Converter editing software handle import/export of tracks and patterns, full MIDI support is standard, looper operation is facilitated by an LCD display with selectable display modes, complete with a large circular indicator informing of loop status, and power is provided by a PSB adapter.
The rear panel of the sheet metal chassis is reserved for two XLR microphone inputs, two pairs of Inst1/Inst2 stereo jack inputs, an equal number of Sub1/Sub2 outputs, a pair of main audio outputs, a headphone jack, two inputs for switching external controllers or expression pedals, a USB-B port, MIDI In/Out DIN connectors, a power switch, and a power jack.
The official European price of the Boss RC-600 Loop Statiton professional looper, measuring 435 x 163 x 66 mm and weighing 2.4 kg, is around the €420 mark. A Boss adapter is also included in the package.
If you have found an error or typo in the article, please let us know by e-mail info@insounder.org.