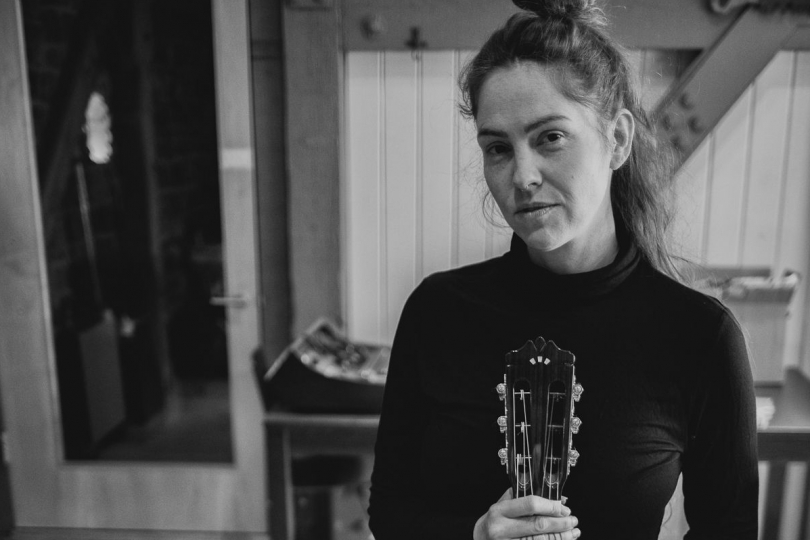 I don't have to play loud and violently to sound heavy, says Emma Ruth Rundle about her new album. | Photo: Bobby Cochran
Review Your Record #1: Emma Ruth Rundle's Decade of Darkness and Despair
This is the first part of a series in which musicians go through their own recordings, describe the creation process, reminisce and reflect on their work so far. First up is Emma Ruth Rundle. Her new album Engine Of Hell is weighty, yet musically so simple. The distinctive American songwriter has put aside her trademark waves of electric guitars this time around and relied solely on piano and her voice. Thus, she closes the first decade of her solo career with a surprisingly quiet and fragile record that captures the heaviness and turns to long unresolved personal traumas and issues.
The Engine Of Hell album started to take shape in January 2020—and then covid interfered. The musician, who has spent the last few years only on the road and in concert, suddenly found herself stuck in one place against her will. She spent the first months of the lockdown on drugs and with a creative block, but she eventually confronted her demons. "I had to start dealing with the personal stuff I was used to running away from," Emma said, adding that Engine Of Hell became a kind of therapy for her.
Engine Of Hell is not an easy album to listen to. In a musically unadorned record where everything was recorded live and in one take, Emma deals with years of trauma from her childhood and adolescence, as well as her struggle with addiction. By the way, the piano was not chosen at random either. It was the first instrument she learned to play before she traded it in for the guitar. For Emma, it functioned as a time machine, which only added to the urgency of the record. The album's oppressive atmosphere has its catharsis in the last song, "In My Afterlife," where the artist observes her own life with distance and bids farewell with the assertion that we are all free now.
In interviews, Emma declares that Engine Of Hell is the last chapter of an era. As to what comes next, even she herself has no idea. However, there was a good reason to go through the discography so far and have Emma comment on each of her albums.
Electric Guitar 1 (2011)
I made this record in a van on tour with the Red Sparowes, who I played with. On the road between gigs. We had two vans at the time. One was just me and the driver. I don't think anybody wanted me in the car because I smelled so bad. I recorded the songs on the computer during the tour and after the tour I organized a crowdfunding campaign so I could press the result on vinyl. To this day, it's my favorite album. Probably because it was such a spontaneous work. The record is mostly instrumental, experimental. It's more about guitars than singing. I prefer that, actually. Sometimes I'm sick of singing, even my own, haha.
Some Heavy Ocean (2014)
This is my least favorite album. The complete opposite of the debut. Some Heavy Ocean is in the spirit of classic singer-songwriting. I recorded the album at the house of Cathy Pellow, who is the founder of Sargent House Records. That's what brought my work and Sargent House together. We just knew each other. I think on Some Heavy Ocean I was looking for my sound, a way to compose, and at the same time a way to make my work more accessible to listeners. This is definitely a more folky album than any other in my career. I guess I just wanted to please people. I don't know, I have bad memories associated with that time... This record is just a disaster.
Marked For Death (2016)
Marked For Death is often referred to as my breakthrough album. I know. And I also know it's a lot of people's favorite. I recorded this album in the desert where Cathy had her house. When I think about it, I've moved around a lot in my life, never had a permanent home, but I've actually lived with Cathy the most. Marked For Death is definitely harder than anything I'd done up to that point. There are some pretty heavy guitars and full drums, and for the first time ever there's a full band playing. We recorded Marked For Death the traditional way, instrument by instrument: tracking drums, then guitars, then bass.
Interestingly, I was living alone in the desert for a while back then. It was a really weird time. It was cold, so I had to keep a fire going non-stop. I know I drank a lot. It was also weird that the electricity was so bad in that place that we couldn't use the clean sound amps during the recording because then they would just squeak and growl. So all the clean guitars were recorded through a DI box, not through amps. I was annoyed at the time. But now when I listen to the record, I think we created such a special and unique sound because of that. I would say it was a happy coincidence in the end.
On Dark Horses (2018)
I have only fond memories associated with this record. We recorded at La La Land in Louisville, Kentucky with Kevin Ratterman. At that time I wrote all the songs for specific musicians that I wanted to record with. I love that sound. It reminds me of a happy time. I love what Kevin was able to do with Young Widows. Red Sparowes played with them in 2010 and I really fell in love with their sound and especially Evan Patterson. I even married him but it didn't last, we divorced this year after separating. However, this record is a nice reminder of that time.
Engine Of Hell (2021)
My latest. Ten years ago, I couldn't have made a record like this. I had to experience something first, and this record is a return to my roots. The first few months of the pandemic were very depressing for me, I drank a lot, ate tons of mushrooms, and was constantly out of it. But then I said stop. I had to sober up. I went back to the piano, which was my number one instrument growing up.
Engine Of Hell is therapy. I think it's the heaviest record, even though there's minimal production. I don't have to play loud and violently to sound heavy. Sure, at first glance it sounds like an awkward cliché—a girl singing and playing piano. But that doesn't automatically mean I'm gonna sing about flowers and sunshine. We recorded Engine Of Hell live, all in one take. There's basically no editing.
What do I think is my best album? I don't know, every record is different. Even though I know artists should say that the best album is the current one, I don't think so. The first one is still my favorite.