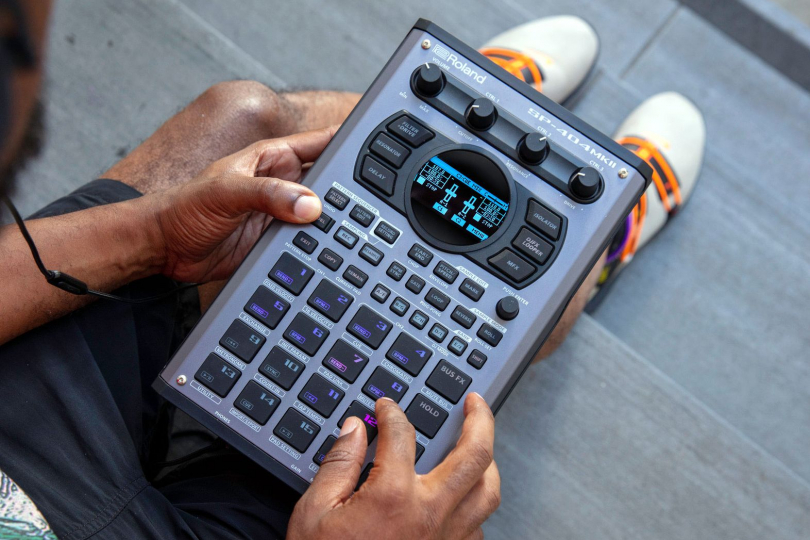 Roland SP404MKII: The New Generation of SP Series Samplers
The Roland SP-404SX and SP-404A samplers are still among the premium products in the beatmaking category, and their great advantage is that, in addition to the standalone concept without the need to connect a computer, they are also mobile, allowing you to process ideas and create music almost anywhere. Following in the footsteps of the proven models is a fresh new product, called SP404MKII. During its development, the brand not only paid considerable attention to the integration of new features or improvements to the internal architecture, but also tried to incorporate the opinions of users of older versions, including the very first SP-404 variant from 2005.
On the front panel with a circular graphic Vivid OLED display—which serves, among other things, for more convenient sample editing—we find encoders and buttons, 17 speed-sensitive RGB pads with adjusted physical response and low latency. Loading and launching of samples is faster, storage capacity is 16 GB, and additional data can be backed up, exported, or imported from an SD/SDHC card (not included).
The pre-installed sound library contains 144 high-quality, professionally recorded samples and patterns; samples can be edited in real-time or auto-chop; and there is automatic tempo detection (BPM), pitch-shifting, and envelope/resampling for layering sounds and phrases. Another handy feature is Skip Back Sampling, which can capture the last 20 seconds of a project in progress, improvisation, etc.
With up to 32-voice polyphony, the SP404MKII has space for a total of 2560 samples and the same number of patterns (16 samples/patterns x 10 banks x 16 projects), with a maximum sampling time of 16 minutes while maintaining an average volume of 176 MB per sample. The device works with WAV, AIFF, and MP3 formats, and the sequencer with a resolution of 480 ticks per quarter note is equipped for patterns of 1 to 64 bars.
The extensive effects section offers a total of 39 items, including classic SP effects such as the Vinyl Simulator and DJFX Looper, with new additions such as the Cassette Simulator, Resonator, Lo-fi, an upgraded Vocoder, Auto Pitch, and a Guitar Amp Simulator unit linked to the mic/guitar input.
The SP-404MKIIAPP software editor for Mac and Windows platforms provides direct access to samples, detailed waveform editing, sample management, pad assignment, and MIDI file import—and it is of course compatible with projects created on the older SP-404SX and SP-404A models.
Connectivity consists of dual stereo line inputs and outputs, MIDI In/Out mini-jack connectors, guitar and microphone inputs, USB-C port, headphone output, and DC connector. Power is supplied via an adapter, 6 AA pencil batteries (2.5 to 3.5 hours depending on cell type), or a USB-C port with the option of using a mobile phone battery.
In addition, the SP-404MKI's visuals can be customized for a look that is as distinctive as the user-designed sounds. Simply use the front panel template to create your own sticker, change the boot screen to your preference or choose a screen saver to suit your taste.
The official European price of the lightweight, portable, and powerful Roland SP404MKII sampling workstation (measuring 177 x 70 x 276 mm and weighing 1.1 kg) is just under 500 euros. A power supply is included and a BMIDI-5-35 TRS/MIDI cable can be added.
If you have found an error or typo in the article, please let us know by e-mail info@insounder.org.