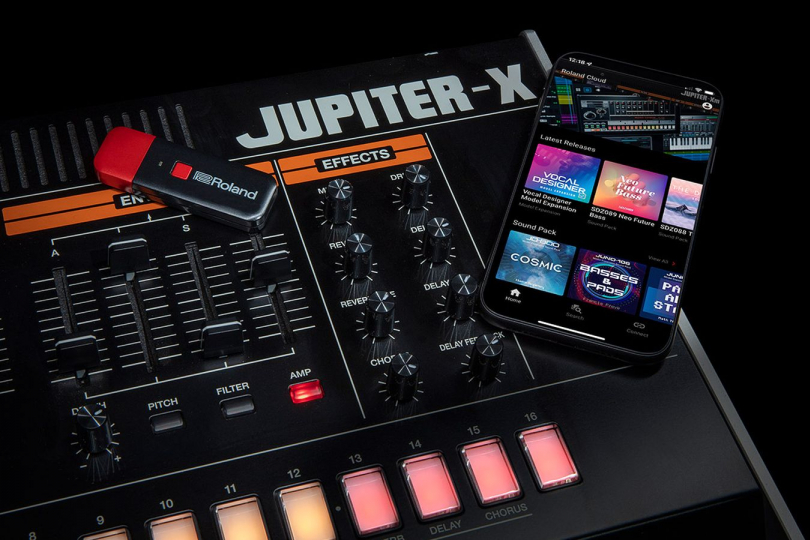 Roland WC-1 Wireless Adapter and Vocal Designer Software for Jupiter X and Xm Synths
If you are an owner of Roland Jupiter-X or Xm synthesizers and you use the services of the company's cloud, where many different software modules, packages, and other add-ons are available, then the Japanese brand has prepared right for you the Roland Cloud Connect WC-1 adapter providing convenient wireless communication with this platform. Along with the adapter, the manufacturer has also added the virtual Vocal Designer Model Expansion to the cloud, expanding the capabilities of the Jupiter-X and XM models.
The Roland WC-1 wireless adapter connects the Roland Jupiter-X and Jupiter-Xm synths via Bluetooth 5.0 protocol to the Roland Cloud Connect app, which works on mobile devices (iOS and Android) and allows previewing, playing sounds, and installing Sound Packs, Wave Expansions, Model Expansions, etc. directly into the instrument. This gives the player access to a library of more than 30,000 sounds, as well as a one-year membership to Roland Cloud Pro. The Roland Cloud Connect app is available in the App Store and on Google Play.
Roland has longtime experience in vocal synthesis, as proven by many models including the famous VP and V-Synth keyboards. The Vocal Designer Model Expansion package now brings the top of this technology also to Roland Jupiter-X/Xm synthesizers, so musicians using the aforementioned instruments can include entirely new elements in their parts.
Both synths are equipped with an XLR/TRS microphone input, to the circuit of which the Vocal Designer connects, allowing you to use your voice to control and shape the synth sounds. There are 26 different vocal synthesis algorithms to choose from, ranging from vocoders through choruses to vocal modulations covering both classical and hypermodern registers. In addition to the traditional connectors, the microphone can be plugged into a USB port and 90 presets are provided.
The Roland Cloud Connect kit, consisting of the WC-1 adapter measuring 23.5 x 70 x 10 mm (weight approx. 15 g) and a one-year license to use the company's cloud services, costs 99 euros. For the software version of the Vocal Designer, you will pay 149 euros; in case of a pre-paid Roland Cloud Pro membership, this package is of course free.
If you have found an error or typo in the article, please let us know by e-mail info@insounder.org.