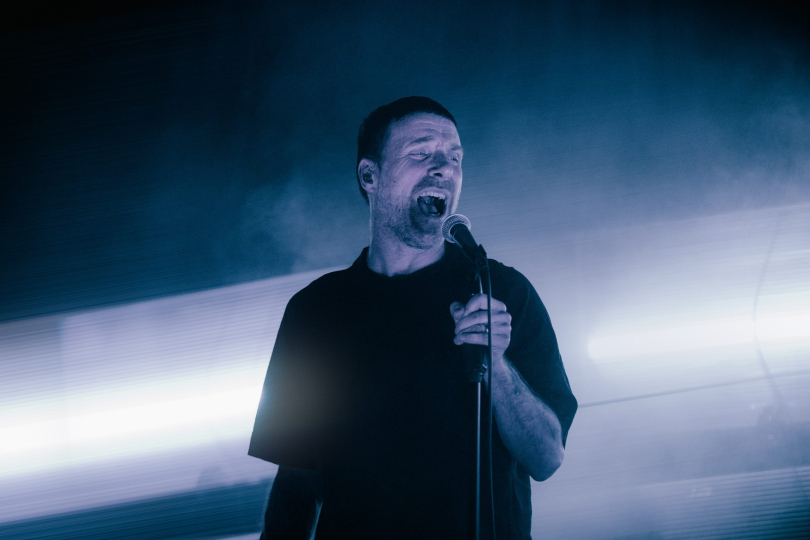 Sleaford Mods' Jason Williamson at Roxy, Prague | Photo: Kateřina Fialová | Fource Entertainment
Sleaford Mods: Some Things Need to Be Said
If you thought that you had seen it all in 2023, as all genres have been explored and the great variety of today's music acknowledged, you might be wrong. At least until you have seen Sleaford Mods. A little bit electronic, a little bit punk, but at the same time neither of the two, this musical act has profoundly changed our idea of what music and musical genres are.
Formed in Nottingham in 2007, they have a long career behind them, and their twelfth studio album UK Grim, released in March of this year, has met with considerable (and well-deserved) success. An EP released on the 20th of October, More UK Grim, follows in the album's wake. Iggy Pop and Steve Albini called Sleaford Mods the greatest rock band on the planet. And how can you blame them? Jason is an indefatigable wordsmith; he dances like a flamboyant cockerel and wiggles around the stage as he talks about bad government and the dire social situation in which we find ourselves these days, and in doing so he exchanges occasional faux-compliant smiles with the audience.
Andrew might seem to be just hitting play and pause to the songs he has preemptively composed, and dance around. But believe me, that is more than enough. His ability to engage the audience is unparalleled, and the music is one with Jason's voice. This cracking duo rocked the Roxy in Prague, on the 25th of October, for an hour and a half. It was a full-house event, but the atmosphere was pleasant, and the acoustics were killer: you could hear and feel the duo's irreverent lyrics and driven electronics from anywhere in the venue. And the audience fully succeeded in reciprocating Jason and Andrew's impetuousness. I had the opportunity and honour of meeting them just before their performance; we had a short but dense talk about their music, inspiration, way of life – and mods, of course.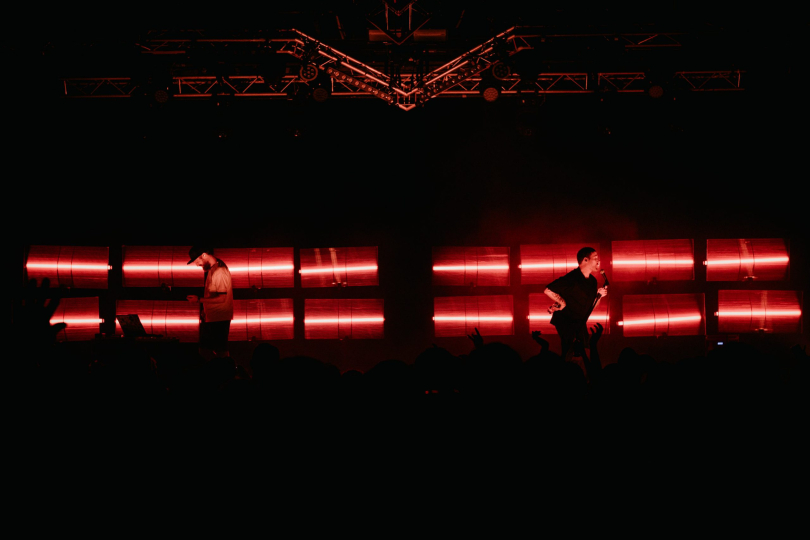 It's a pleasure to meet you. How is the tour going so far?
J.: Good. Really well!
A.: Yeah, it's great.
How was your arrival in Europe? How did the audience respond during your first German shows? 
J.: It's fantastic. Every night has been sold out, more or less. 
Your new release, More UK Grim, went out on Friday the 20th. Where does the need for more "grim" come from?
J.: I don't know, really. I think we just needed to tie it in with the album. So that's the reason why "More UK Grim". "More Grim" would have sounded a bit weird, I think.
A.: There were songs that didn't make it to the album that we recorded at the same time.
In the past, you had very meaningful collaborations, for example with Billy Nomates and Dry Cleaning's Florence Shaw. In UK Grim, you had the chance to feature Perry Farrell and Dave Navarro. How did you get to meet them?
J.: Perry Farrell got in touch. He was interested in doing something, so we thought it'd be a good idea. He's a really interesting guy.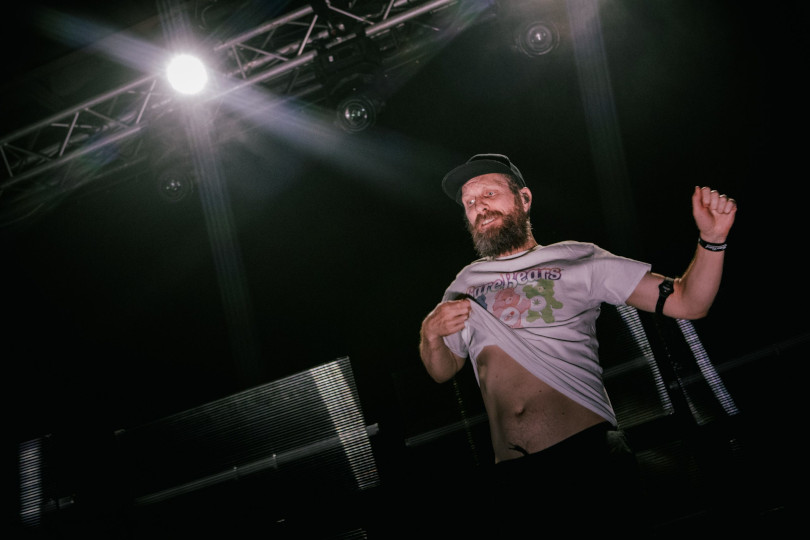 Were you in the same artistic environment?
J.: Not really.
A.: The only connection was the Sub Pop label. But I am not sure – he knows a lot of people, I might have got that wrong! (he laughs).
I know that you're interested in different forms of art. In particular, the lyrics are reminiscent of the sprechgesang, that is spoken singing, and intellectuals such as John Cooper Clarke and Shaun Ryder come to mind. What's your main music inspiration, and where does your approach to singing come from?
J.: From rap, wanting to rap. Also from punk. Not necessarily from any of those you mentioned. Shaun Ryder perhaps a bit. But essentially just from wanting to rap, and I just thought that spoken word was a bit more effective than singing.
Do you think that people out of the UK get your message? Or are you even interested in people getting your message?
J.: Not really. I mean, they get the music and I think they get the message too, of course. I think they're fans because of it. So they get from it what they want, I suppose.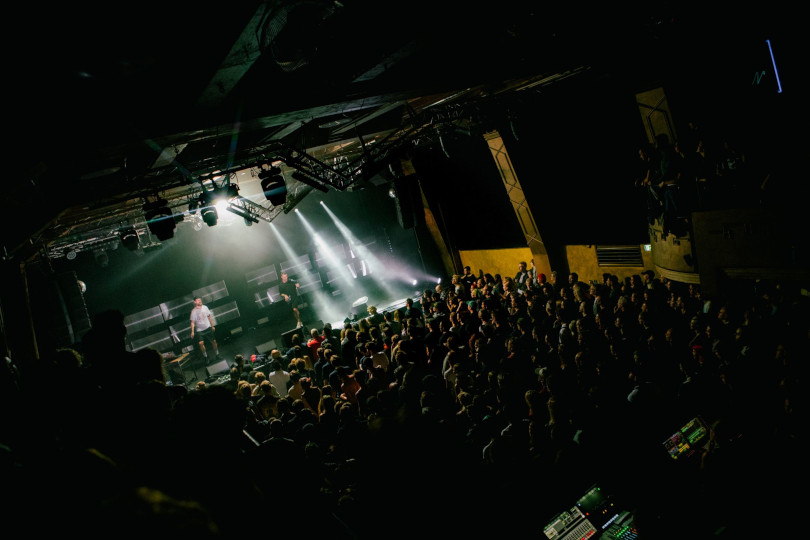 That is probably also because what you describe in your songs refers to a crooked and corrupt situation, which is more or less similar everywhere. So, is singing a way for you to express your feelings, to let out emotions or is it also something that you want to communicate?
J.: Yeah, of course, to let out things, totally. Also, some things need to be said, don't they?
Let's talk a bit about your creative process. Jason, are the lyrics of the songs coming from improvisation, or do you choose your words carefully?
J.: A bit of both. I don't really improvise, if I'm recording, everything is written down. But I do it on the spot, or I take my time with it.
And Andrew, your music is defined as minimal, even though in my opinion it sounds way more complex and sophisticated than it seems. What are the tools you use for creating your songs?
A.: Just different things, all kinds of different things – plugins, modular gear. I just try not to make it sound like it's the same all the time. Because we're not like a live band that has to use the same guitars or likes to use the same guitars. To have different sound sources keeps it fresh, I think.
And the concept of not really playing anything live, did it occur right from the beginning?
A.: Yes, totally. It was kind of a happy accident in a way. It's quite funny because I was reading something about Chris Lowe from the Pet Shop Boys. Because he actually beat me to it. At the time, in the 80s, everyone was dressing up and playing keyboards and stuff. And he purposely didn't want to do anything. Because he looked shit, you know? (he laughs). And it is kind of dishonest. In the 80s, there were a lot of people miming, not just on keyboards, but also on guitars. So why bother?
Is it also you playing the guitar and bass lines in the songs, or do you make use of collaborations with other artists for music parts and samples? 
A.: Primarily, I play a large majority of it. Jason played some guitar parts too. You know, if a bassline is needed, I'll play a bassline on it, I am a bit of a jack-of-all-trades. I'm not a virtuoso on any instrument in particular. A little bit of punk work ethic, it's in the sort of DIY nature of being able to (be versatile, Ed.). It is different for example for guitar players because they have their set style, and they have a familiar style.
And how does music and lyrics building work? Do you always work together during the compositional process?
J.: Yeah. Andrew works on the music at home and he sends it through. And then I work on some lyrics. And then we get together and we record the song.
A.: What we do is definitely a very British post-punk thing, Jason always supplies the melody to the track. So if I do up a fairly complete piece of music and I send it to him, he'll add more. That's artistic freedom, and that's a very important thing in modern music, I think. If you had a manager telling you to do this or that, you'd hate that and you'd sound awful.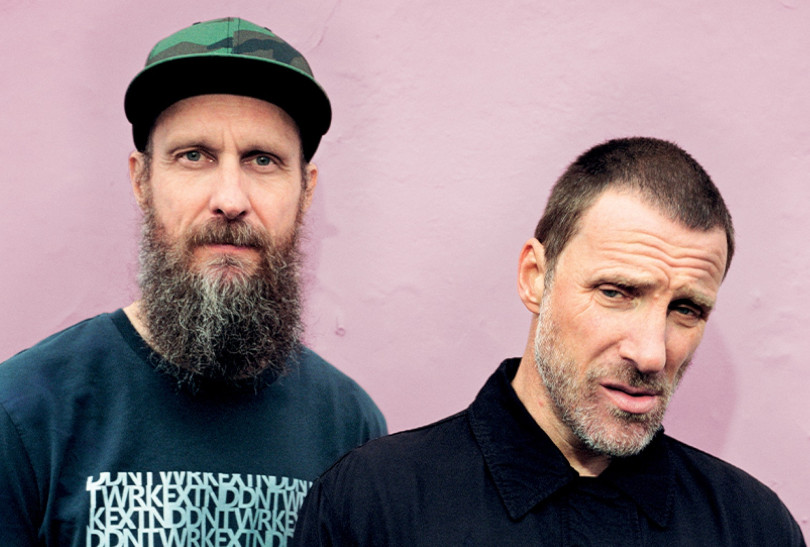 Going back to the DIY phenomenon, there is a very funny song in your last album called "DIwhy". Do you make fun of the "do-it-yourself" philosophy?
J.: It's just about people from that area that believe that they're completely right and everybody else is wrong. And also, about the naivety attached to it. When it kind of largely promotes itself as something that isn't naive. So, I thought that was quite interesting.
A.: Yeah, we both come from a small scene in Nottingham, where there's a lot of dickheads ruining the idea of DIY. I mean, manifestos and stuff like that.
J.: Everybody believes in doing the right thing, I suppose. At the end of the day, you're gonna get differences of opinion, it's just that those opinions are quite small-minded – and just a little bit "aaah"!
A.: As well, it's just a commentary to it. It's like people might get too serious about that, this is what Jason is saying in that song. 
It's interesting how you mix the seriousness of some topics (wages, corruption, the Brexit disruptive era and working-class issues) with the irony of your lyrics and performances. Is it intended in the way that ultimately people just don't need to care about problems?
J.: Well, yeah. You know, you've got to laugh.
A.: Definitely, yeah. It's a very British condition, but I'm sure it translates to other countries. You know, even if everything's really shit, you gotta step back.
And how much are you attached to your roots? Would you be able to create your art somewhere else?
A.: We're away a huge part of the year now anyway, so it's just somewhere that we live in. I don't live in Nottingham anymore, but Jason still lives there. But we don't go out and we can't go to the Chameleon. We don't have any time for it.
Are there still mods in the UK? Do they still exist?
(Jason and Andrew both laugh)
J.: Yeah, probably, yeah.
A.: I mean, it's funny, I saw a dude who was wearing a Hull t-shirt, but he wasn't a mod. He was just a guy my age. He probably used to be a mod.
And what's your relationship with the people on social media? I see that you, Jason, often use X for asking things like which clothes to wear or which shoes are better for running. What's your relationship with the social media world from your artistic point of view?
J.: It is everything, isn't it? It's a way to tell them about the music and also just to communicate with people, and for other things. So, meeting people, networking, whatever.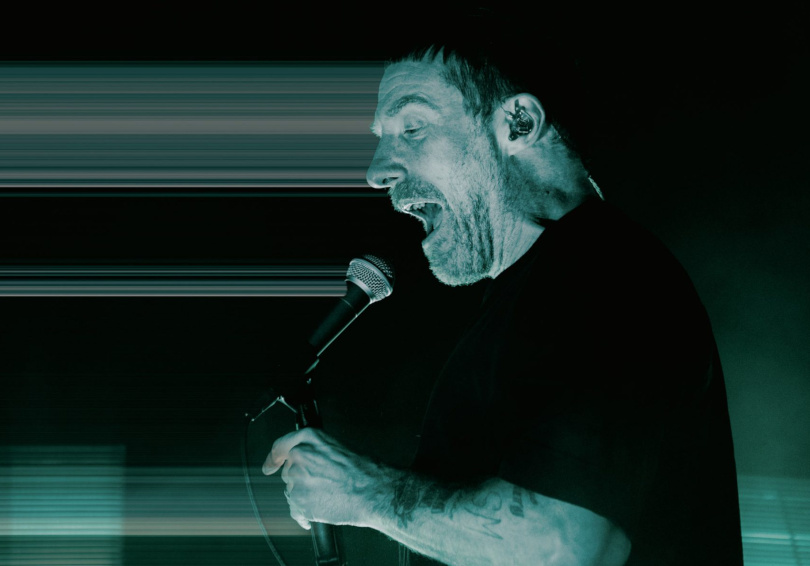 And does the same go for you, Andrew?
A.: Yeah, I guess so. I mean, I believe I use them differently. Twitter is a horrible kind of place. I just try to enlighten the mood on there and try not to get too serious. And then Instagram, I just use it for music, to post stuff about what we're doing. But, you know, it's quite corrosive. I try not to use it.
And what are you listening to these days?
J.: I am listening to ABBA, Napalm Death...
A.: Carcass.
J.: Oh yeah Carcass, Slo Burn, Kyuss. Stuff like that.
Is this also the music that inspires you when you produce your music?
J.: Yeah, kind of.
A.: Kind of, quite indirectly. I'm guessing that a lot of stuff regarding Carcass and the other music, we've not listened to much before. Just on tours, you've got five-hour drives, you've got to listen to something, entertain yourself while you're driving around.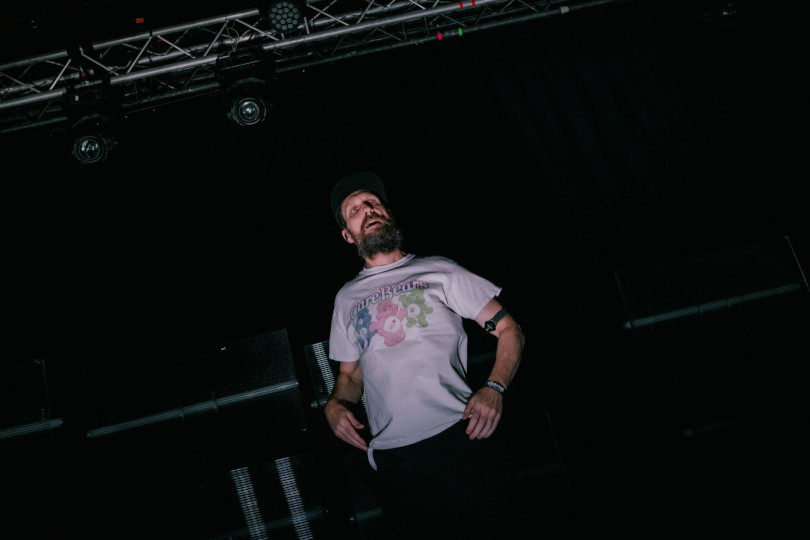 Jason, in your songs, you often refer to yourself directly, speaking to "Jason". Where does this come from?
J.: It's just another way of rhyme, just another way we talk to ourselves. So, it's just another way of rhyming basically.
Are you currently working on some new material?
J.: We are tinkering now, aren't we?
A.: Oh, yeah.
So, I guess we will have to wait a little bit for some new stuff then. And the very last thing: if you had to say one sentence to your fans, what would it be?
J. and A.: (smiling and laughing) Keep at it!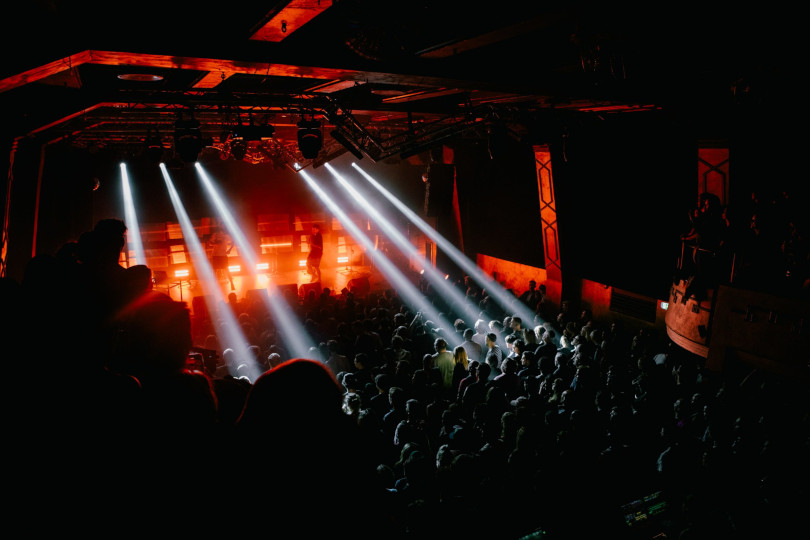 Sleaford Mods – Setlist – Roxy, Prague, 25th of October 2023
"UK GRIM"
"On the Ground"
"Pit 2 Pit"
"In Quiet Streets"
"Big Pharma"
"Force 10 From Navarone"
"McFlurry"
"Giddy on the Ciggies"
"Five Pound Sixty"
"Tilldipper"
"I Don't Rate You"
"Smash Each Other Up"
"Mork n Mindy"
"Fizzy" "Thick Ear"
"Dlwhy"
"Keep Out of It"
"So Trendy"
"Strike Force"
"Don"
"Tory Kong"
"Nudge It"
"Tied Up in Nottz"
"Jobseeker"
"Tweet Tweet Tweet"
If you have found an error or typo in the article, please let us know by e-mail info@insounder.org.