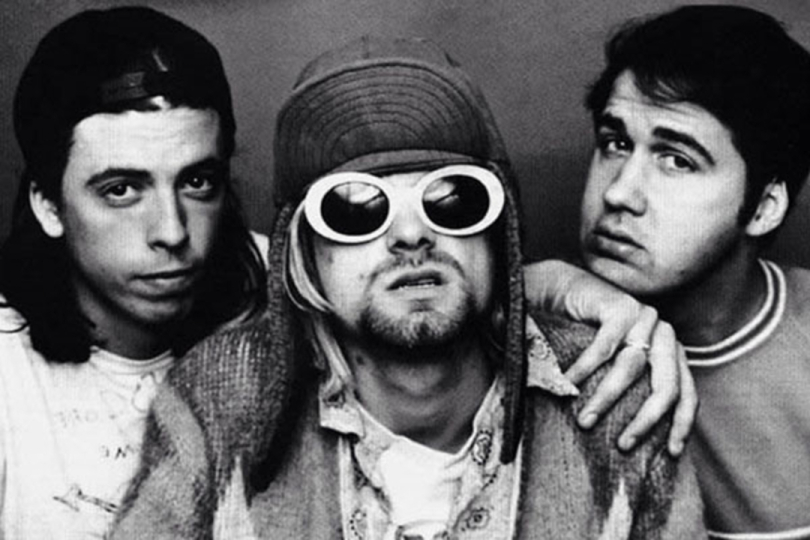 It has become an anthem for Generation X who head-banged their way through their teens listening to it. | Photo: Wes Candela Photography (CC BY-NC-ND 4.0)
Story of a Hit #3: "Smells Like Teen Spirit"
Grunge itself was a relatively small genre of alternative rock in the 80s, but that all changed with the release of "Smells Like" in 1991. The song rocketed Nirvana and grunge to worldwide fame, enthralling a new generation of disenfranchised youth. To quote Rolling Stone magazine: "Few songs by any artist have reshaped rock and roll so immediately and permanently."
Nirvana emerged from the Seattle grunge scene in the late 80s, alongside Pearl Jam, Soundgarden, Alice in Chains and many others. Their sound blended metal and punk, combining heavy beats in slower tempos, distorted guitars and angsty lyrics – while the genre arguably only lasted a decade, it influenced rock music immeasurably. Nirvana already had a strong underground following, with their first album Bleach (1989) and a few other releases, and they eventually signed on to the major label DGC Records.
They brought out "Smells Like Teen Spirit" as the lead single of Nevermind, and while it didn't initially chart, that changed with the release of its iconic video clip on MTV. After premiering on the late show, its popularity quickly sent it into regular daytime rotation. It's easy to see why – the video clip captures the song perfectly. From the bored teenagers sitting in the school stands, watching the cheerleaders mull out their moves in tops marked with red anarchy symbols, to Cobain's dishevelled hair, a dancing janitor and the inevitable head-banging that has come to define the chorus – it's a classic, no doubt there.
It's worth noting that the song might not have given Nirvana the same level of fame if it weren't for this clip. And while it was not shot in a school, if that surprises you at all, the looks of boredom on the kids might well be genuine, as the cast had to sit through take after take. Cobain apparently asked the director if the kids could let off some steam towards the end, so some of the most intense parts of the clip could well be genuine too – Kurt later said: "Once the kids came out dancing, they just said "fuck you" because they were so tired of his shit throughout the day."
After the staggering success of the song, Nirvana became famous worldwide, and neither Kurt Cobain, bassist Krist Novoselic nor drummer Dave Grohl were comfortable with being elevated to that level so fast. Apparently, after Nevermind was released, it was easy to tell the new fans from the old by who called out requests for their most famous song. In their later years, the band actually refused to play it sometimes. Of course, to us today, "Smells Like Teen Spirit" is quintessentially Nirvana and pretty much defines the genre of grunge. It has become an anthem for Generation X who head-banged their way through their teens listening to it. For many who grew up in the 90s, it is a song that expressed the frustration and resentment of their youth.
What is it about this song? Is it the lyrics that are responsible for capturing the attention of a whole generation of 90s kids worldwide? The line "I feel stupid and contagious, here we are now, entertain us" was voted the 3rd favourite lyric in the UK in 2006. And it's not the only line that has so powerfully been drilled into our memories: "hello, hello, hello, how low". A great deal of the words escape definite meaning, and it is one of the ongoing mysteries about the song – what does the song actually mean anyway? Check out how different the lyrics were before the definitive recording was made. For example, the iconic opening lyric "load up on guns, bring your friends" was originally "come out and play, we've got no rules". I'm glad they made that change.
The words are incredibly difficult to make out in any version because Cobain mumbled and slurred when he sang them, which you might say is half of the power behind the text anyway. But some of the lyrics defy explanation, like the famous rhyming couplet: "A mulatto, an albino, a mosquito, my libido". People have been trying to explain their meaning for 30 years, and even Cobain changed his story a few times, although he never said much specifically. Dave Grohl once said: "Just seeing Kurt write the lyrics to a song five minutes before he first sings them, you just kind of find it a little bit hard to believe that the song has a lot to say about something."
One thing is for sure, the name of the song comes from something a friend wrote on the wall of his apartment: "Kurt smells like teen spirit." At the time, Cobain was dating her bandmate, and it was a joke about the deodorant she used, "Teen Spirit". He interpreted it as a revolutionary slogan, and thus a legend was born.
Cobain was a big fan of the Pixies, and he often compared the contrast between the verse and chorus – the light and the heavy – as being directly inspired by them. That driving riff in the chorus is one of the most memorable parts, and it's unquestionably catchy the way the song moves between it and the sparse and open verse. The chord progression never changes, just 4 power chords F / Bb / Ab / Db, but the dynamic transforms the song, creating waves of tension and release. If you think the riff is brilliant, then you have to check out the similarity to a few other hits of the past that Cobain even compared it to, namely "Louie Louie" from the 50s, and Boston's "More than a Feeling" (the riff kicks in at the chorus at 0:42). Of course, both of those riffs have quite different chord progressions, and they're also in major keys, but the rhythmic similarity is there.
When you compare it to other songs with elements that resemble that iconic riff, you can see that "Smells Like" really got it right. Aside from that, it's actually very simple. The verse is basically a simple drum beat, a bass line and two notes on the guitar – but I would argue that it's the lyrics and Cobain's drawling voice that make the magic. The way it calls to you, to your desire for revolution, to stick it to the establishment, and that pre-chorus... that chilling greeting repeated over and over, leading into that iconic drum break. Maybe it's just the simplicity of it that makes it work so well.
There's no doubt about it, it is one of the biggest hits of our lives, and may well continue to be, with nearly a billion and a half streams on Spotify alone and counting. It has become so famous and well-known that references to it crop up in all sorts of places. Maybe you haven't heard Tori Amos's version (which Grohl described as "pretty hilarious"); or the scene of men dancing in tuxedos chanting the lyrics in the movie Moulin Rouge; or even the Muppet's Barbershop parody version? But special mention must be made for "Weird Al" Yankovic's cover, with a video clip that at first glance seems to be an exact copy. When Cobain, after giving him permission to cover it, asked what the parody was about, Yankovic said: "It's about how nobody can understand your lyrics."
What do you think – is "Smells Like Teen Spirit" the quintessential song of Generation X? What would you choose?
Leave us your opinion in the comments below!
If you have found an error or typo in the article, please let us know by e-mail info@insounder.org.